MACCABI GB NATIONAL SHUL TABLE TENNIS LEAGUE (NSTTL)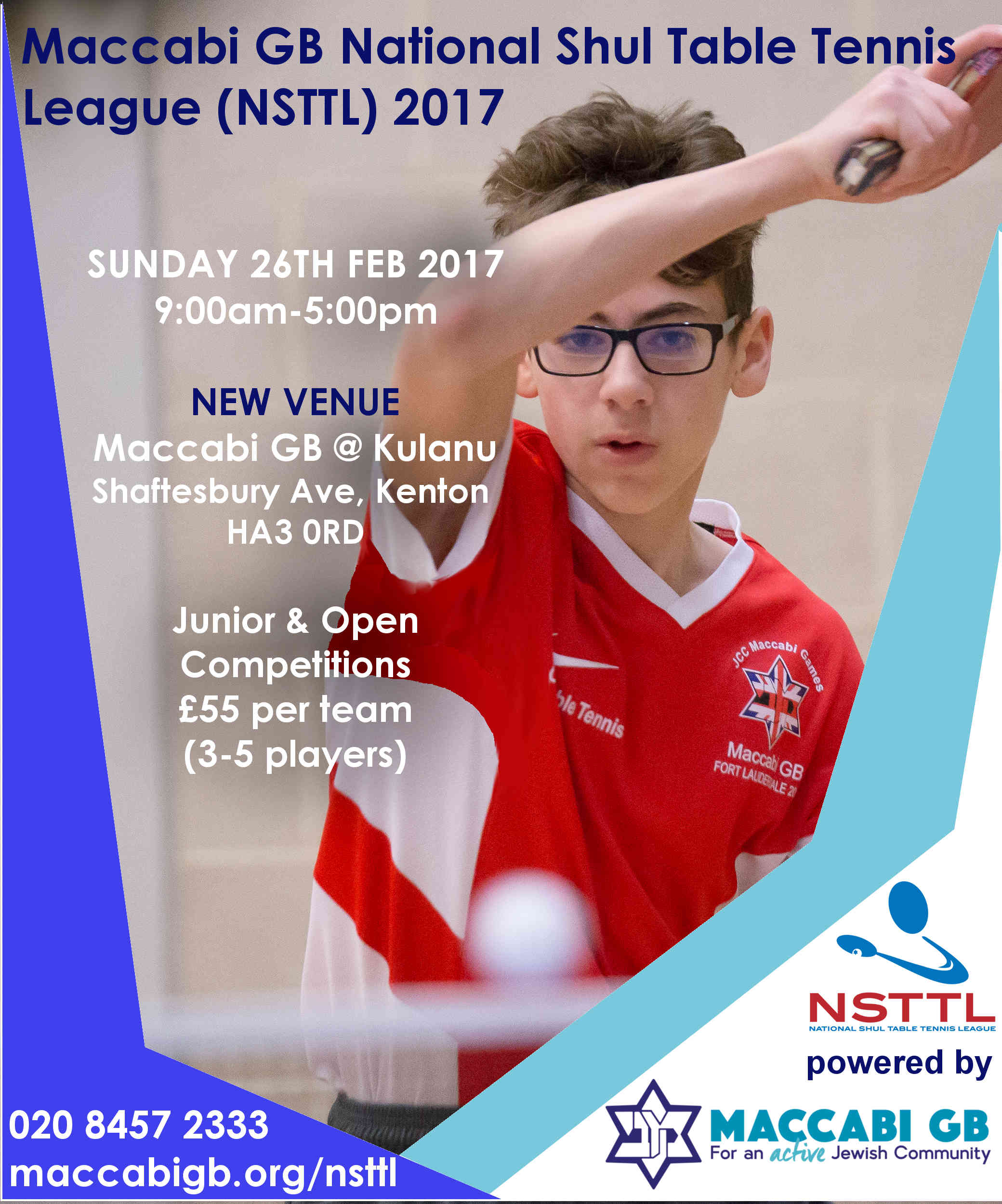 SUNDAY 26TH FEBRUARY 2017
Maccabi GB @ Kulanu, Shaftesbury Ave, Kenton, HA3 0RD

9:00am-5:00pm

All ages and abilites welcome - U17 & Open events
£55 per team

One of the biggest and best Jewish Table Tennis Tournaments of the year. Enter your Shul team of 3 to 5 players. Open & Junior competitions. COMPETE TO BE THE BEST!
Other Jewish organisations wishing to enter a team may be able to at the sole discretion of the organisers.

Complete the form below to apply.
PLEASE NOTE THIS EVENT IS NOW SOLD OUT

Rules and Regulations
1. Players must be a member of the synagogue whose team they are representing or close relation attending that Shul. Guest players are allowed subject to organisers approval.
2. Players should report to the control table on arrival and must do so at least 15 minutes before the start of the event. Players must not leave the hall without obtaining prior permission from the Referee.
3. There will not be any separate women's/girl's event but we welcome female players to play for their respective team.
4. The event will be run in accordance with ETTA and ITTF Laws, Rules and Regulations unless otherwise stated herein.
5. Entrants to the Junior team event must be born on or after 1st January 1999
6. Each synagogue team can register up to 5 players to play throughout the day, however a team match will consist of 3 players a side where all player play all, therefore a match will be the best of 9 games. However the team to reach 5 games first wins the match and therefore the match ends.
7. Each set will be the best of with 3 or 5 games up to 11 points.
8. Team members are required to umpire their matches and should alternate their responsibility for this with the opposing team.
9. We request that white clothing (apart from shoes and socks) should not be worn during match play.
10. The decision of the Referee shall be final in all cases of dispute or otherwise.
11. The event may be videoed/photographed by the media and the NSTTL for news and promotional reasons. By entering the tournament you are agreeing to appear in these videos/photographs.
12. The NSTTL or any members of its Committee accept no responsibility for any loss or damage to personal property or personal injury whatsoever or howsoever caused
13. The Referee may modify or vary any of the events without any prior notice at his sole discretion.
14. It is expected that there will be a consolation event for 1st round losers.
15. This is an all‐day event and you should expect to reserve the day in case your team moves forward to later rounds.
16. All winners and runners‐up will receive trophies/medals.