Maccabi GB Community Fun Run @ Home Online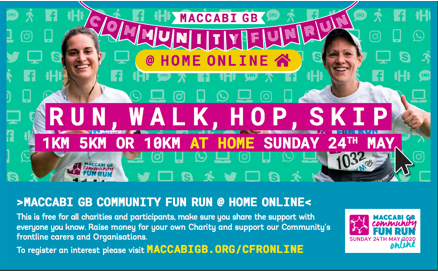 If you missed the Maccabi GB Community Fun Run @ Home Online Ceremony powered by JLGB Virtual at 4pm today, don't worry you can watch it here!
Charities taking part: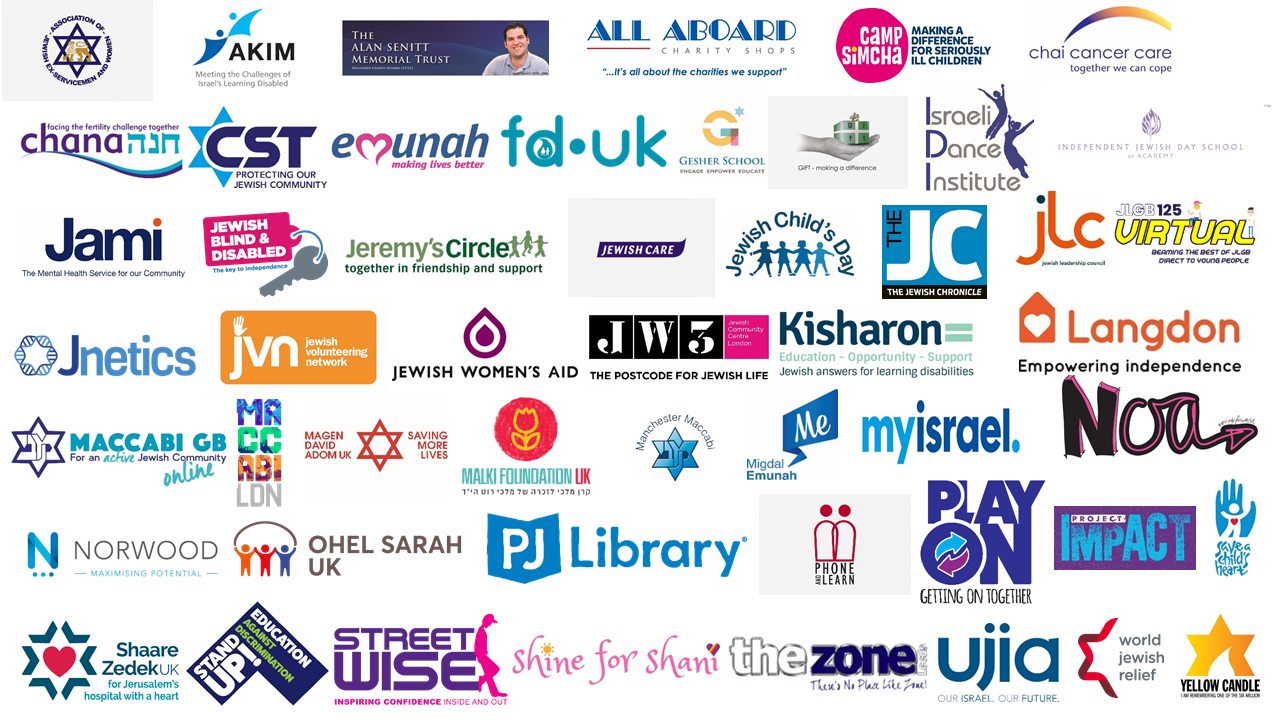 Maccabi GB hosts the first ever Maccabi GB Community Fun Run @ Home Online
On Sunday 24th May over 50 charities and hundreds of people from across the Community took part in the Maccabi GB Community Fun Run @ Home Online. Not only did the @ Home event take place in Great Britain, but countries from across Maccabi Europe held their own Community Fun Runs @ Home Online which saw thousands of people take part.
The Community were asked to get involved in many ways, including walking, skipping, jogging or hopping 1km, 5km or 10km or even from the comfort of ones couch. The main objective was to engage the whole community while getting active and raising money for our communal frontline services and organisations.
In addition to participants raising money, Maccabi GB ran a successful text to run campaign where proceeds of the campaign were split equally amongst the registered charities. The full amount raised by the Community via the event is being collated currently.
Maccabi GB and Maccabi Europe Chief Executive Martin Berliner said 'We were really sorry that we weren't able to hold the actual Maccabi GB Community Fun Run this year. However we are thrilled with the amount of people that took part whilst raising money for the Community's frontline charities and organisations. It was great that off the back of the Maccabi GB event, we saw Maccabi Organisations from across Europe take part as well.'
Throughout the day, social media feeds were awash with people sharing pictures and videos of their challenge, creating a real buzz and capturing the fun of the Fun Run.
The day culminated with a special online ceremony powered by JLGB Virtual. To date, over 14,000 people within the community either joined us for the live ceremony or watched it after. The ceremony included messages from across the community, including Chief Rabbi Mirvis, His Excellency Mark Regev Ambassador of Israel to the United Kingdom and Ruth Brook, aged 96 who completed her challenge raising money for Jewish Care. The ceremony also included highlights from the community showing people completing their challenge with their certificate in hand.
Chief Rabbi Mirvis said in his video message 'I'd like to congratulate you all on what you have achieved instead, it's been absolutely extraordinary, congratulations to Maccabi GB for inspiring and empowering so many people to participate this year in the Maccabi GB Fun Run @ Home Online, and to all of you, the participants congratulations on running, hopping, skipping, jumping 1km, 5km, 10 km and not just for the sake of good exercise but far more importantly in order to raise desperately needed funds for our charities at this time'.
Within Maccabi Europe, there were over 30 countries that participated including Ukraine, Germany, Spain, Italy, France, Scotland, Switzerland, Hungary, Finland, Ireland, Turkey, Gibraltar and Czech Republic. All getting their members to keep active and fundraise for their own frontline services.
Outside of Europe, Maccabi USA, Israel and Brazil took part in making the event successful worldwide.
We would like to thank The Jewish Chronicle our Media Partners, JLGB, all the participating charities, our sponsors, donors and supporters to help make this event happen.
Maccabi GB very much look forward to welcoming the Community back at the Maccabi GB Community Fun Run in June 2021.
To make a donation:
To make a donation, please click here. Under designation, from the drop down menu please select 'donation to Maccabi GB' if you would like to donate to Maccabi GB. If you would like to donate to all registered charities please select 'Fun Run 2020 General Donation' from the drop down.
Text to Donate terms and conditions:
All proceeds from this initiative will be split equally amongst the charities once charges have been deducted.
*text cost £5 plus network charge. Maccabi GB receives 100% of your donation and will split equally amongst all charities. Please obtain bill payer's permission. Maccabi GB Charity No: 1098206. Customer Care@ Maccabi GB 0208 457 2333.