The 2nd Online Pan-European Chess Tournament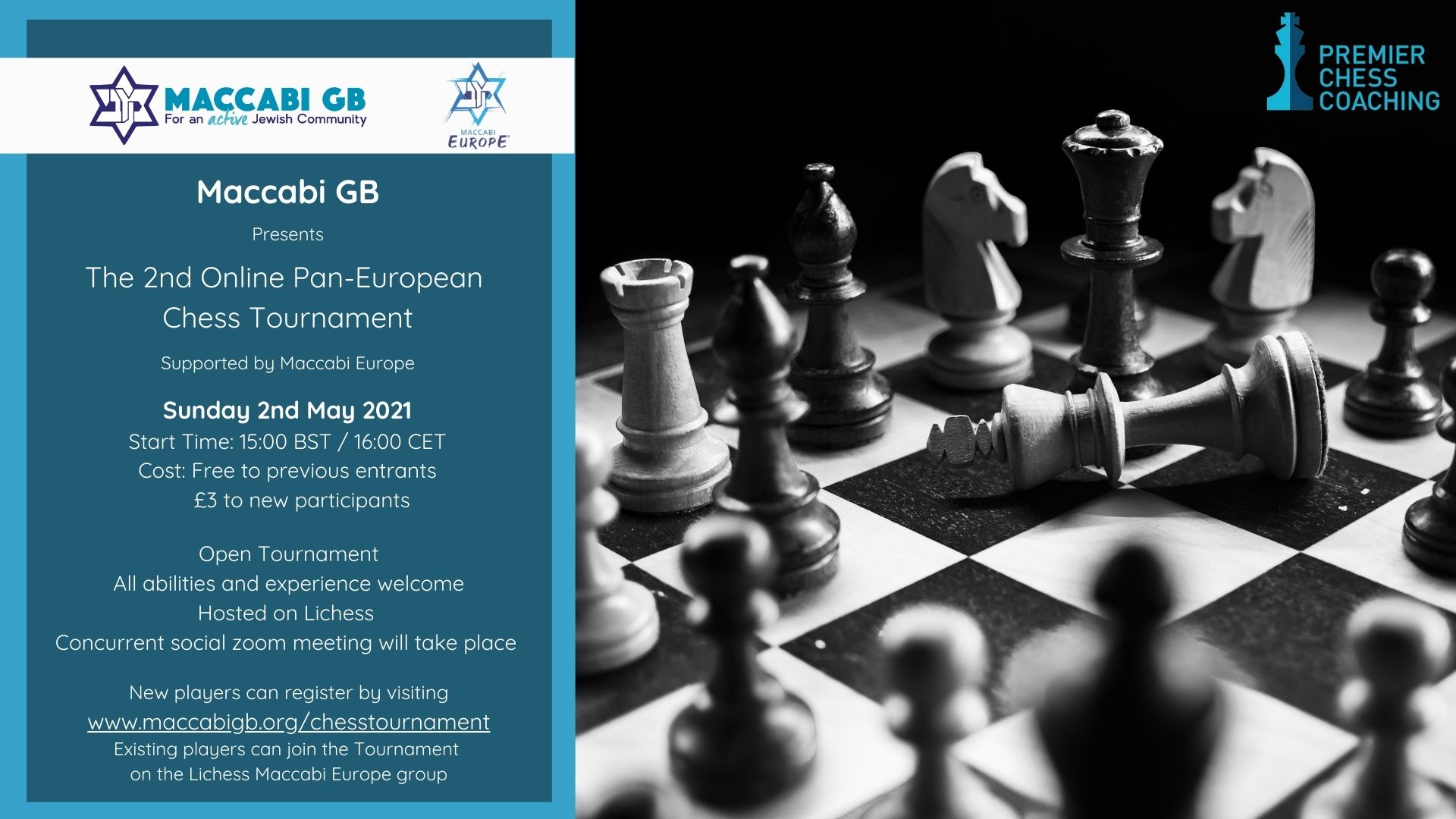 *Registrations are now closed*
Maccabi GB, supported by Maccabi Europe and in partnership with Premier Chess Coaching are delighted to announce:
The 2nd Online Pan-European Chess Tournament
Taking place on the Lichess.org platforms, the Tournament is open to all abilities and experience.
The Tournament will take place on:
Sunday 2nd May 2021
Start Time: 15:00 BST/ 16:00 CET
An informal Zoom room will be open to all participating players during the Tournament and will include chess coaching and discussion about the games. Zoom link will be shared on the Maccabi Europe Group prior to the beginning of the Tournament.
New Players
New players can register by clicking here
A nominal charge of £3 will be required to participate in the Chess Tournament.
New players will have to create a Lichess profile and use the same Username in your application form to Maccabi GB.
Once registered, please login to Lichess with your username, then click this link: Maccabi Europe • lichess.org and request to join the 'Maccabi Europe' Team.
PLEASE NOTE: if your Username does not match your application form, entry will be denied.
Existing Players
Chess players who took part in the first Maccabi GB Pan-European Chess Tournament and are already members of the Lichess 'Maccabi Europe' Team, can simply sign up to the Tournament on the Team page at no additional charge.
Pan-European Chess Tournament Format
· The tournament will be played in the Swiss format (Please find more information about the Swiss Format here)
· There will be one Tournament for all age groups and all Chess rankings
· Tournament length will be 2 hours - from 15:00 – 17:00 BST (16:00 – 18:00 CET)
· Each player will play a maximum of 9 matches
· Each match will be played in the 5+3 timing format
· Pairings will be based on points and tie breaks within the Tournament (Please Note: your first match you will have a random matchup of any level, from then on you will be matched based on your tournament record
· If there is a tie break to decide the winner this will be done using the Sonnerborn-Berger Score (Please find more information about the scoring system here)
· You do not need an ELO or Lichess ranking to play in the tournament, it is open to everyone
· Prizes will be awarded for overall winner and also for highest ranked Under 18 player (If the overall winner is Under 18 then the second placed Under 18 will win the Junior competition)
Fair play
By signing up for this tournament you are agreeing to play fairly, using no outside help or influence including books or computer software to gain an unfair advantage. Lichess has anti-cheat measures built in and using any software could result in you being disqualified or banned from the website. This is at the websites discretion and nothing to do with Maccabi GB, Maccabi Europe or Premier Chess Coaching.
If you require any further information, please contact Jordan Sapler on Jordan@maccabigb.org