Leadership by Streetwise 2021 Application Form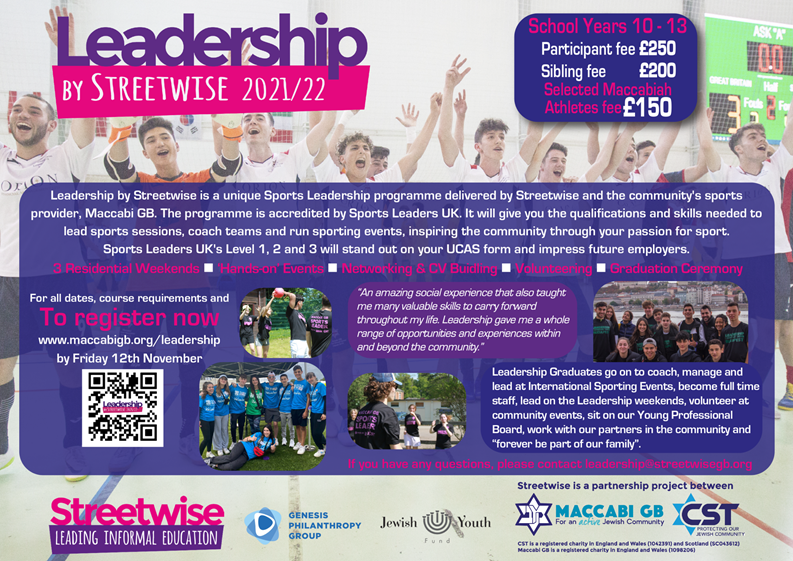 Leadership by Streetwise is a unique Sports Leadership programme delivered by Streetwise and the community's sports provider, Maccabi GB. The programme is accredited by Sports Leaders UK.
Leadership will give you the qualifications and skills needed to lead sports sessions, coach teams and run sporting events, inspiring the community through your passion for sport. Sports Leaders UK's Level 1, 2 and 3 will stand out on your UCAS form and impress future employers.
The Course is open for young people in school years 10 – 13.
The Leadership by Streetwise programme will run from December 2021 to September 2022.
We are delighted to be back in person facilitating the programme. We will be following the Government Guidelines and may need to update elements of the programme if there are any changes to social distancing, etc.
SPECIAL PRICE FOR 2021/22
General Fee - £250
Sibling Fee (the second sibling would pay this) - £200
Maccabiah Athlete Fee - £150
We recommend any Year 10 – Year 13 attending Maccabiah 2022 to participate in the Leadership by Streetwise Programme.
(Bursaries are available upon request)
The Leadership Calendar
- First Residential Weekend – 10th – 12th December
- Second Residential Weekend – 11th – 13th March
- Hands on Events (Volunteering Days) – February Half Term & Beyond
- Networking & CV Event – 24th April
- Third Residential Weekend (MGBCFR Special) – 24th – 26th June
- Graduation Ceremony – 8th September
As well as Sports Leaders UK curriculum, our participants explore their Jewish Identity through connecting with Jewish peers across the global Maccabi network, learning about their heritage, experiencing Shabbat as a community and much more. We also aim to teach the core leadership skills that are transferable to any circumstance in life. Our young leaders graduate as confident, capable and committed leaders of the community.
Sports Leaders UK Accreditation & Requirements for 2021/22
· Level 1 Award in Sports Leadership (year 10) – 1 hour of volunteering
· Level 2 Award in Sports Leadership (year 11) – 5 hours of volunteering
· Level 3 Award in Higher Sports Leadership (year 12–13) – 16 hours of volunteering. Please note that this course provides graduates with 16 UCAS points.
All participants will also be required to complete written course work. This will be heavily supported by Leadership Staff.
For more information on the Sports Leaders UK accreditation, please go to this link… https://www.sportsleaders.org/qualifications-programmes/sports-leadership
As an organisation, we will provide many opportunities beyond the Sports Leaders UK requirements. We aim & have proved to create young leaders that aspire to gain leadership roles with us and other organisations. Our Leadership graduates have gone on to coach/manage at International Events, become part time & full time members of staff at Maccabi GB & Streetwise, sit on the board for Maccabi GB Young Professionals, and much more!