AARONS AIM TO TAKE GREAT BRITAIN INTO A CLASS OF ITS OWN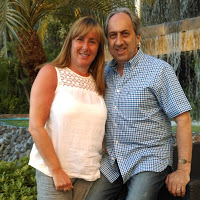 Maccabi GB (MGB), in partnership with UJIA and the Jewish Chronicle (JC), are delighted to announce that Janice and Ian Aarons will be heading up the Great British Delegation for the JCC Maccabi Games in Stamford, Connecticut in August 2016.
The duo will be overseeing their first JCC Squad, having attended their maiden JCC Games in 2015 as Assistant Heads of Delegation. Both of them possess a wealth of experience in Jewish sport having attended a number of international sports competitions, including the Maccabiah Games in 2013. Ian will be looking to draw on his managerial experience from taking the helm at numerous Junior Football teams. Janice Aarons has been heavily involved in a selection of sports during her three years at Maccabi GB, including managing Badminton, Table Tennis, Basketball and Netball events.
Maccabi GB will be looking to build on their recent JCC Maccabi Games success, where the Delegation returned from Fort Lauderdale, Florida, with a fantastic 79 medals.
When asked what it felt like to take charge of Maccabi GB's JCC Games squad, Janice Aarons said, "It is an absolute honour for Ian and I to be heading-up the next JCC Maccabi Games Delegation. Having experienced the Games recently we are aware of the importance of bringing young, Jewish athletes together to take part in sporting, social and Jewish experiences. This is something we will be communicating to all applicants throughout the trial and selection process. There are eight sports to choose from, which is more than last year, so we anticipate a large influx of young, sports stars and we anticipate taking around 70 participants aged between 13 to 16 years old. Trials have started and we are recruiting for athletes across the UK."
Ian added, "Any international Games is special and next summer's JCC Maccabi Games will be no different. Events like these are the ideal stepping stone for budding sportspeople and Managers to make their mark on Anglo-Jewry's 'sporting landscape' and to also make a name for themselves. Who knows – we could see Maccabiah athletes in the making! Of course, it would be amazing to return with many medals, but the real importance of the JCC Maccabi Games is friendship, sportsmanship and Judaism. Stamford is known for its world-class school system and we aim to show the rest of the participating countries that we are a class apart!"
The JCC Maccabi Games is an annual event held in America for Jewish athletes that fall into the U13-U16 category. Next summer it will be held from 4th-14th August.
Maccabi GB is currently accepting applicants to represent Team GB in the following disciplines – Football (Girls and Boys), Lacrosse (Girls), Swimming (Girls and Boys), Tennis (Girls and Boys), Table Tennis (Girls and Boys), Dance (Girls and Boys) and, new for this year, Golf (Boys and Girls) and Basketball (Boys). There is also one more position available for a Table Tennis Coach/Manager (Must be over the age of 21).
For more information on the JCC Maccabi Games and to apply, please visit www.maccabigb.org/jccgames or call 0208 457 2333.