CELEBRATING A YEAR OF JEWISH SPORT AS MACCABI GB SPORTS AWARDS 2016 WINNERS ANNOUNCED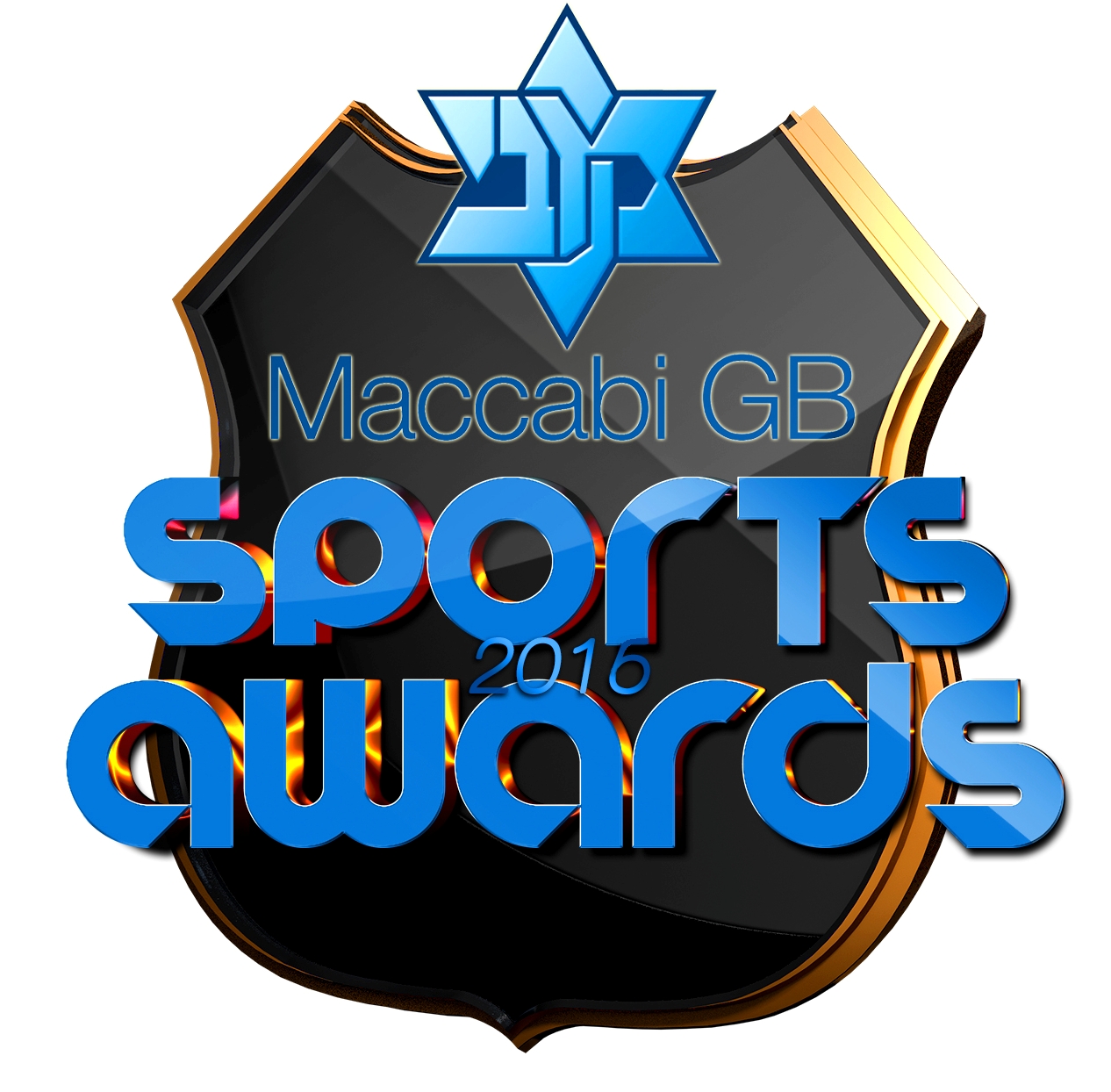 December is usually the time of year to reflect on the highs and lows of the previous twelve months. For Jewish Sport there were definitely more peaks to celebrate as the winners of the Maccabi GB Sports Awards 2016, sponsored by the Pierre Gildesgame Memorial Fund and in partnership with UJIA and the Jewish Chronicle (JC), were officially announced this week. The big winners were Junior Swimmer, Lara Tobias-Tarsh, Junior National distance runner, Gilad Nachshen, and Great British wheelchair athlete, Freya Levy.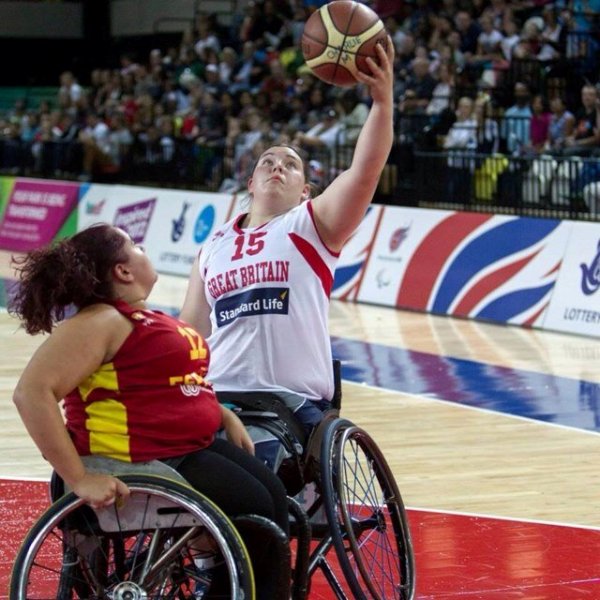 Susan Halter Elite Athlete Award winner, Freya Levy
Levy's journey over the past twelve months has been nothing short of astounding. The wheelchair basketballer and first-time winner of the Susan Halter Elite Athlete Award became homeless at the start ofthe year and had to apply for her local council's sheltered housing scheme. She was accepted and had to separate from her family to live in a residential home for the elderly – the only accommodation available which was wheelchair-accessible. This meant she had to drop out of selection for Team GB's Paralympic Wheelchair Basketball selection process for the 2016 Paralympic Games as one of their requirements was that Freya would have had to stay at the Paralympic training programme in Worcester every other week from spring. She missed out on competing in Rio, however this did not dampen her determination and she helped her club side – the London Titans – win the Great Britain Wheelchair Basketball Association (GBWBA) First Division to gain promotion to the GBWBA Premier Division. Her accomplishments did not stop there. She was selected for Great Britain's U25 Women's Basketball Team and went on to win the European Championships in Elxleben, Germany beating the hosts 51-44 in the Final. If that was not enough, she ended 2016 being selected as one of 12 young people in the world to be part of Michael Johnson's 'Young Leaders Programme'.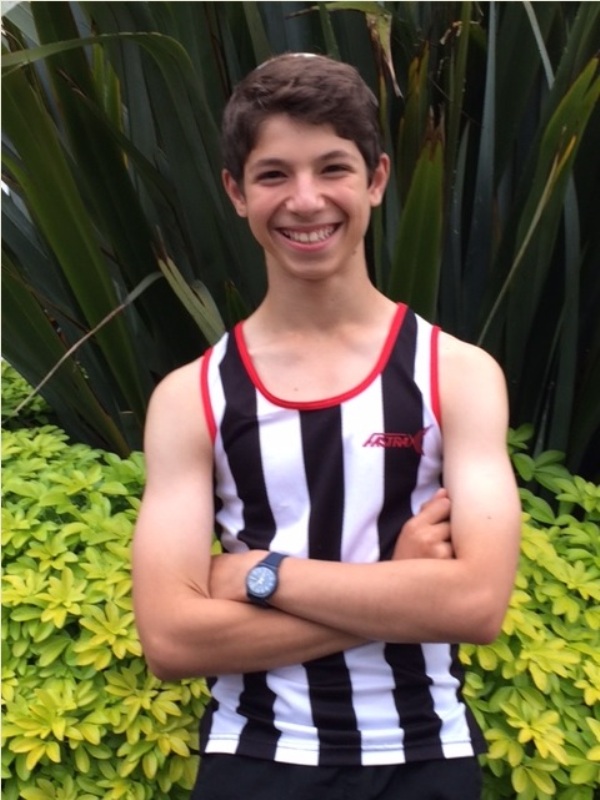 Gilad Nachshen, winner of the John Dymant Award for Top Athlete at a National Level
Gilad Nachshen, who won the John Dymant Award for Top Athlete at a National Level, also had to overcome adversity to achieve success this year. The 800m track runner, who is just 12-years-old, returned to competition after several months out through injury and was determined to prove himself as one of the country's top, young runners. An observant Jew, Gilad was unable to enter several regional and County Championships as they were held on Shabbat. However, when meets were not on a Saturday he gained two victories for his club, Shaftesbury Barnet Harriers, in the Eastern Young Athletes League, getting a Personal Best of 2:13.69 in the process which made him the third-fastest U13 runner in the UK. After the track season ended Nachshen extended his competing distance to 3km and helped Shaftesbury win the Middlesex Young Athletes' Road Relay Championships before also medaling in the Southern Counties event. In both cases he set the fastest stage times of the day.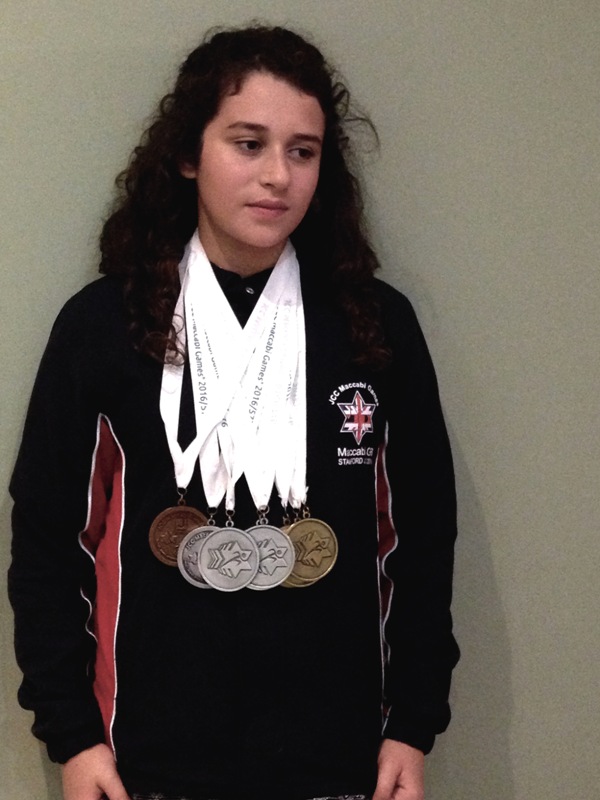 Sam Bulka JCC Maccabi Games Award winner, Lara Tobias-Tarsh
The Sam Bulka JCC Maccabi Games Award is awarded to Team Maccabi GB's stand-out team or athlete from the annual Games in America – this year held in Stamford, Connecticut. In a tough category it was Lara Tobias-Tarsh who won the prize. Swimmer Lara had an incredibly successful JCC Games, winning eight medals (three Gold, four Silver and a Bronze). She did this despite swimming against competitors in the older age category, at her maiden international, Jewish Sports Tournament. Lara also had to overcome numerous injuries to even get to the Games, including a serious shoulder injury, making her accomplishment even more impressive.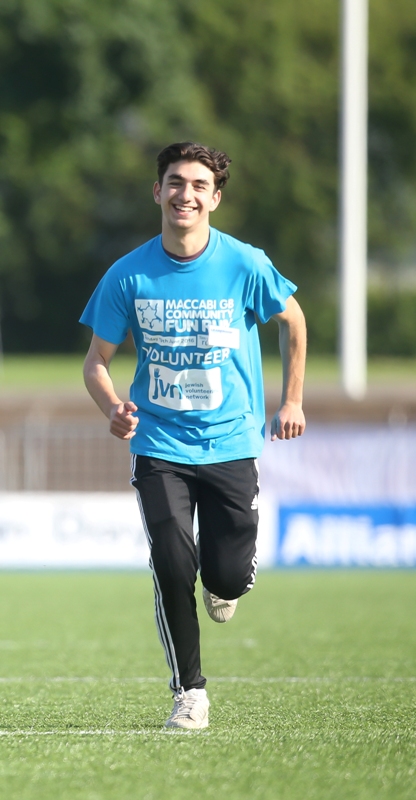 CST Young Sports Leader Award winner, Ben Rosen
The CST Young Sports Leader Award was won by Ben Rosen. The Award recognises the standout participant of the 'Leadership by Streetwise' Programme which trains young, communal sports leaders. Ben, who is now in his final year of the Programme, has become an integral part of the course. Highly commended by his Bogrim (graduates of the programme) and those who run 'Leadership', he is always willing to better himself and help others. An active volunteer and Leader within the Community, Ben delivered sports programmes in various settings this year for the likes of Jewish Care and Langdon.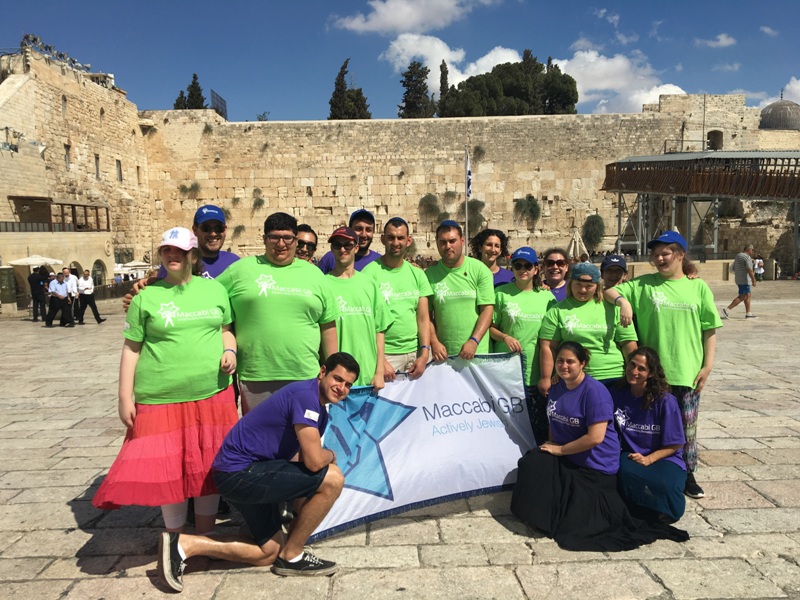 The Maccabi GB Challenge Israel Tour received a special award from UJIA
A new award for this year is the UJIA Award for the Maccabi GB Challenge Israel Tour. This unique award recognises the accomplishments of a group of young people with learning disabilities who spent 11 days touring around Israel as part of MGB's biennial trip. Whilst in Israel the nine participants, and their seven leaders, took part in cultural, historical, social and Jewish experiences which mirror the standard Israel Tour, which many 16-year-olds attend as a rite of passage. The Tour has added significance as each day saw the group take part in an activity which literally 'challenged' them in some way. The significance of the Tour and its positive impact on the participants is palpable. It gives them the unique opportunity to explore Israel with their peers, whilst developing friendships, confidence, social skills and general life-skills. Each participant thoroughly deserves this award.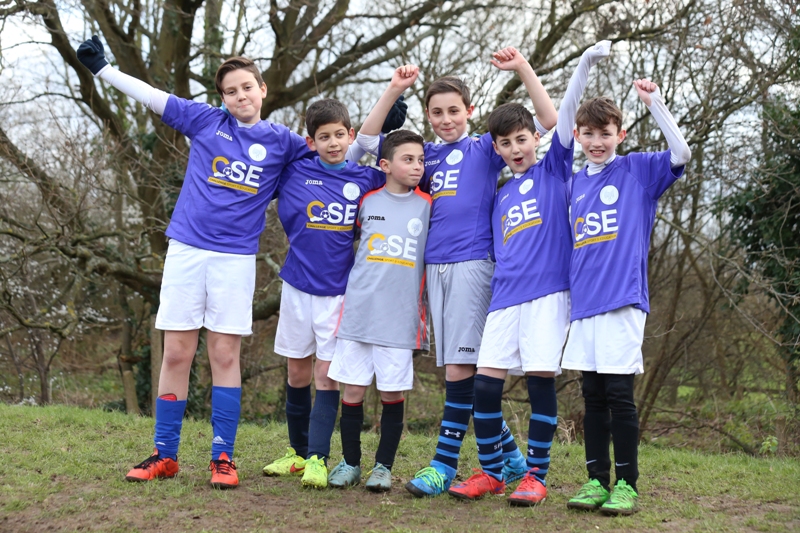 An HJPS Boys Football team took part in a recent Maccabi GB & Jewish Chronicle School Sports Tournament
Hertsmere Jewish Primary School (HJPS) won the Jewish Chronicle School Sports of the Year Award. The Radlett-based School was recognised for their commitment to teaching their students about healthy living, team work and sportsmanship. They ensure that their pupils have a variety of sports clubs available to them and organise school-wide sport and wellbeing events. This year the school won a Gold Kitemark for PE, a Youth Sports Trust Gold Award and have been nominated for the Primary School of Year Award by Watford and Hertsmere School Sports Partnership.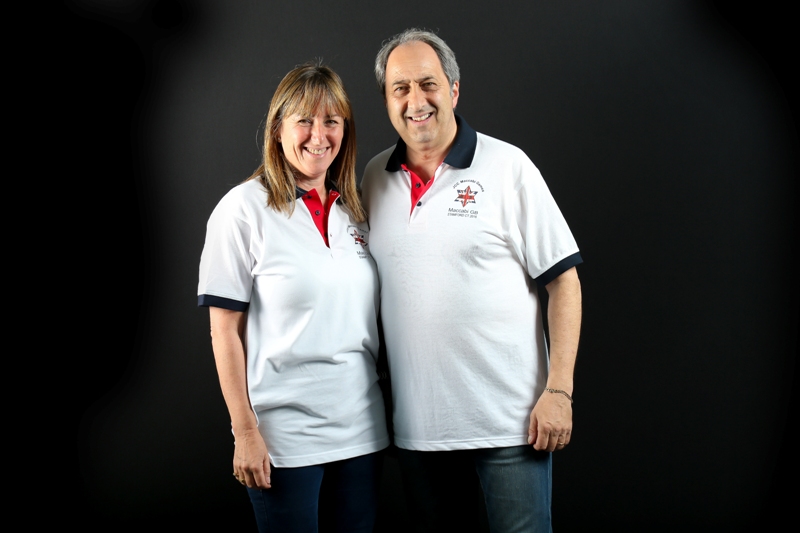 Ian Aarons (right) won the Fred Worms Outstanding Volunteer Award
The Fred Worms Outstanding Volunteer Award was presented to Ian Aarons. As co-Head of Delegation for Maccabi GB's JCC Maccabi Games 2016 Delegation with his wife, Janice, Ian has been an ever-present as an MGB volunteer for two years. He has spent many hours of his personal time ensuring that Great Britain's young athletes had the finest experience in America. He always made himself available to the participants or their parents at any time in the build-up to, or during, the JCC Maccabi Games. Ian selflessly threw himself into the role and showed true commitment and passion to Jewish sport at youth level.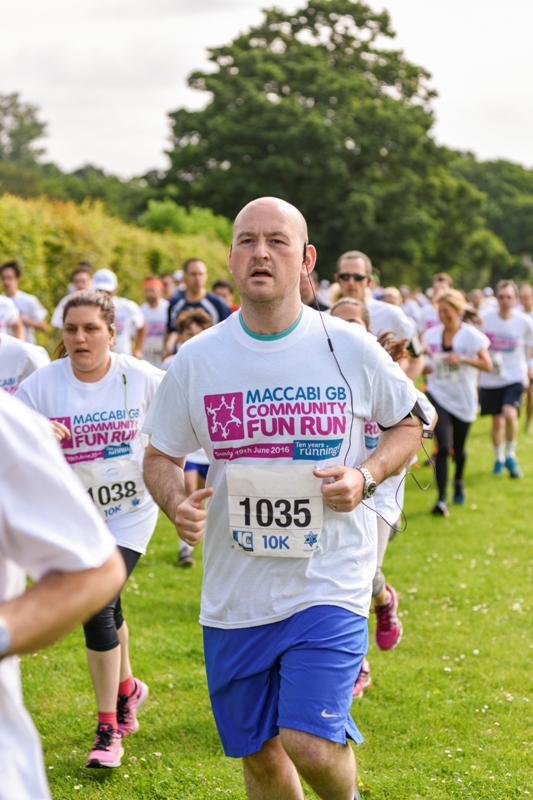 Steven Brodie won the Maccabi GB Community Fun Run Award
The Maccabi GB Community Fun Run Award was created to recognise a Charity or individual that went above and beyond to raise funds, awareness or inspire at this year's event. The judging panel made a unanimous decision on the eventual winner – recognising the achievements of participant, Steven Brodie. Steven, ran the 10km race at the MGB CFR in June, just four months after he and his wife, Rachel, lost their son Isaac who was born with a brain tumour. He was inspired by the bravery and strength of Isaac and decided to take up running – despite never previously done it - to raise money for one of the charities that helped them, Camp Simcha. Steven has since run several other races but the Maccabi GB Community Fun Run was the first and an especially poignant one as it took place on Father's Day – a day which should have been very different for him and Rachel, had it not been for their tragedy.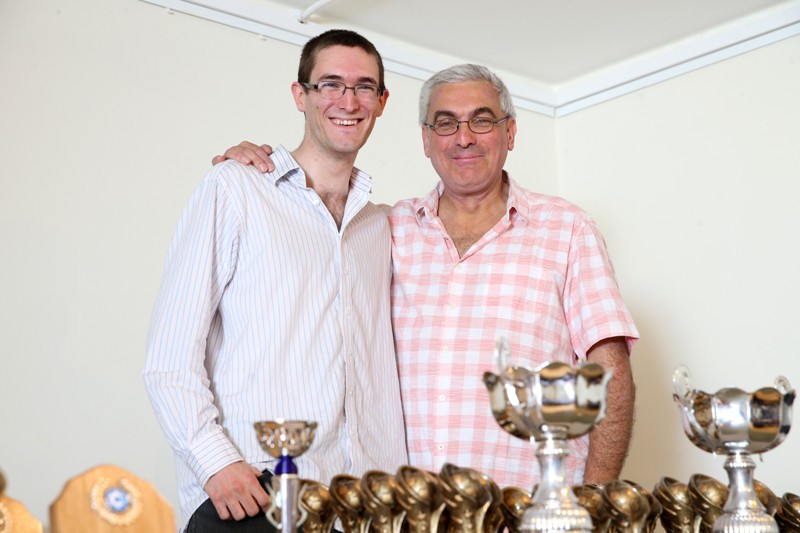 Laurence Thorne (right) was recognised for his passion and commitment to Jewish Sport this year
The final, prestigious accolade for 2016 was awarded to Laurence Thorne who won the Richard Urban Lifetime Achievement Award. Laurence has been a permanent feature in Jewish sport for over 40 years. He was a former Maccabi GB Head of Delegation for three consecutive JCC Maccabi Games before managing the Junior Girls Football Team at the 2009 Maccabiah Games. He has helped provide sport to many communal Primary Schools and thrives in his current role as a PE Teacher at Mathilda Marks Kennedy School. Laurence has been synonymous with the Maccabi Football Leagues for many years, particularly as Chairman of the National Football Committee for 10 years and a well-respected Maccabi GB Southern Football League (MGBSFL) referee. He has officiated matches come rain or shine since he qualified in 1976. It is at a younger age group where his impact truly shines. In just over a decade as Chairman of the Maccabi GB Junior Football League (MGBJFL), Laurence leads a Committee who oversees grassroots, Jewish Football for over 500 young boys and girls on a weekly basis. He has helped grow the League become arguably the largest of its kind in Europe. Laurence's dedication and love for youth football is one of the reasons why the MGBJFL has flourished and he thoroughly deserves to be recognised for his work.
Speaking about the Maccabi GB Sports Awards 2016 the organisation's Chair, David Pinnick, said, "The Maccabi GB Sports Awards is one of the highlights of the Jewish Community's sporting calendar. To recognise the talent, commitment, dedication and achievements of all those involved in Jewish sport over the past year is incredibly important and Maccabi GB is proud to host this event. We are dedicated to growing and nurturing Jewish sport from grassroots to elite level and these Awards are a culmination of many years of hard work and commitment by the organisation, Jewish sportspeople and their managers, coaches, families and friends.
"We would like to thank everyone who nominated the athletes and teams, a 'thank you' to the judging panel – who had a tough task picking the winners. Finally, an enormous 'Mazel Tov' to all the winners. We are also grateful to all our supporters and donors to this event, including the Pierre Gildesgame Memorial Fund, UJIA and the JC."
A full list of winners can be found below:
Susan Halter Elite Athlete Award: Freya Levy (Wheelchair Basketball)
John Dymant National Athlete Award: Gilad Nachshen (Athletics)
UJIA Award for the Maccabi GB Challenge Israel Tour 2016: The Maccabi GB Challenge Israel Tour 2016 participants (Alexa Silverstein, Benjamin Robertson, Chloe Leigh, Daniel Bernard, Joseph Port, Natasha Marlow, Sophie Greenbaum, Shani Singer and Ted Morris)
Sam Bulka JCC Maccabi Games Award: Lara Tobias-Tarsh (Swimming)
CST Young Sports Leader Award: Ben Rosen
Jewish Chronicle School Sports of the Year Award: Hertsmere Jewish Primary School
Fred Worms Outstanding Volunteer Award: Ian Aarons
Maccabi GB Community Fun Run Award: Steven Brodie
Richard Urban Lifetime Achievement Award: Laurence Thorne
For more information on Maccabi GB, please call 0208 457 2333