COMMEMORATIVE PLAQUE DISPLAYS LINK BETWEEN SINAI SCHOOL AND MACCABI GB
Following on from the London 2012 Olympic and Paralympic Games, members of Maccabi GB's Senior Management Team visited Sinai School on Monday to present them with a commemorative plaque demonstrating the strong and ever-growing relationship between the two and assure that The Games' legacy of 'Inspire a Generation' still remained. The plaque, which was presented during a special assembly involving the whole school, will be permanently put up in Sinai's new gym to show the link between the communities main sports provider and the largest Jewish Primary school in the country.
Maccabi GB have been providing Sinai, and numerous schools within the community, with PE classes and after-school sports clubs for the last four years through qualified coaches. They plan to present more plaques to the other schools they work with, in the near future, identifying the sports sessions that Maccabi GB deliver.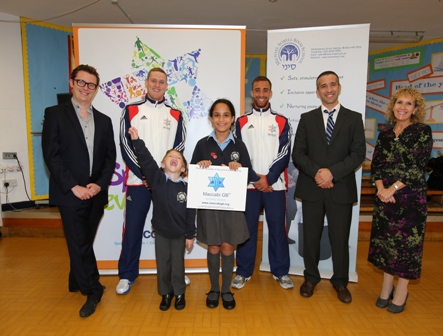 Speaking about the affiliation between Sinai and his organization, Maccabi GB Operations Manager, Ashley Lerner, said, "It is really important to build our relationships within the community and we are so pleased to be providing Curriculum PE lessons to Sinai School. Maccabi GB is ensuring that young, Jewish children receive a quality education in PE, we hope that, by developing their skills and enjoying sports from a young age, these children will grow up within the Maccabi family and keep playing sports with us for years to come."
Maccabi GB Sports Department Manager, Matt Travers added, "The PE lessons are just one part of the many activities Maccabi GB provides for the Jewish community. Through our work in schools we get the chance to educate and develop young people over five or six years; teaching them not just about sports, but about leading a fit and healthy lifestyle for the rest of their lives."
Sinai School's Head Teacher, Mr Robert Leach, spoke about the improvement of having an expert PE teacher, "To have [Maccabi GB Coach] Scott Shulton in our school teaching PE is fantastic. The quality of his lessons are excellent and all the children enjoy them. We are thankful to Maccabi GB for providing this service and look forward to further developing our relationship over the coming months and years."