COMMUNAL ORGANISATIONS TO BENEFIT FROM RECORD-BREAKING MACCABI GB COMMUNITY FUN RUN 2016 TOTAL FUNDRAISING FIGURE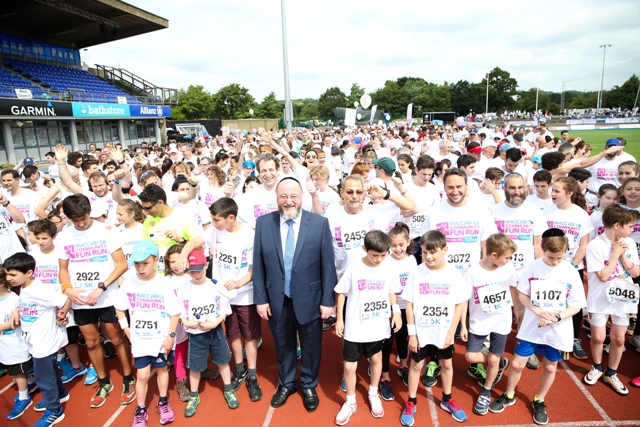 Following its record-breaking success last month, which welcomed more people than any other UK Jewish communal sporting fundraiser in history, the Maccabi GB Community Fun Run 2016 (MGB CFR 2016) continues to break more records as the official fundraising figure was released today at an incredible £290,000 – eclipsing last year's figure of £210,000.
This number was raised by the 2,500 runners (who took part in one of five race distances - the 10km, 5km, 5km Walk, 1km and Tri-Run) for the 69 record-breaking Jewish charities and Schools, all present at Allianz Park on Sunday 19th June 2016.
Sam Clifford, Director of the Yoni Jesner Foundation, spoke about her charity's involvement in the event, "Whilst this wasn't my first year taking part [in the Maccabi GB Community Fun Run], it was my first time bringing an organisation. The support from the team at Maccabi GB has been great the whole way though and the day itself was wonderful. The Yoni Jesner Foundation really enjoyed taking part – both as being part of the charity fair and having runners in each event – and it really made a big difference to our charity from a fundraising perspective. It's a great day for the whole Community, particularly kids, and gets them so excited about fundraising and tzedakah. My 5-year-old was so excited afterwards [from taking part] that he went to his school disco wearing his medal!"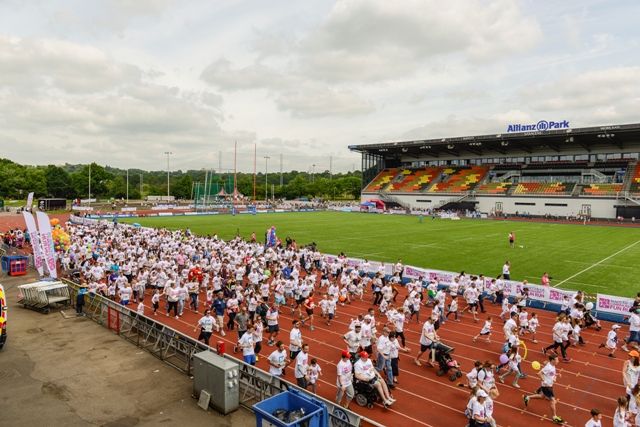 Speaking about the final fundraising figure Neil Taylor, Maccabi GB's Head of Sport & Community Partnerships who oversaw the event, said, "We always had a feeling that with more Jewish charities involved than ever before, plus Schools being involved for the first time, the final fundraising figure was going to increase from previous years. However, we had no idea it was going to be this incredible. Just because the number of participants also increased, there is no guarantee that there would be more funds raised for the organisations who were part of the MGB CFR. However, the participants and the Community as a whole, have really outdone themselves in ensuring that as much money as possible was raised for these amazing Jewish causes that all play such a big part in our communal lives.
"Most of us are brought up knowing the importance of tzedakah, but how many Community events can say they bring so many Jewish people together from all backgrounds and unite them in a common cause of raising charitable funds? This money will make a huge difference to these organisations and the impact of that will reverberate for many years to follow. An enormous 'Thank You' to everyone who helped raise this total."
The 69 charities and Schools involved on the day were Aims2Cure, Aish, AJEX, All Aboard, Boys Town Jerusalem, British Friends of Rambam Medical Centre, British Friends of Reuth, British Friends of Shalva, Camp Simcha, Chai Cancer Care, Clore Shalom Primary School, CST, Emunah, Etz Chaim, ForCrohns, GIFT, Independent, Israel Guide Dog Centre , Israeli Dance Institute , JAMI, Jewish Agency for Israel , Jewish Blind & Disabled, Jewish Care, Jewish Child's Day, Jewish Deaf Association , Jewish Volunteer Network, Jewish Women's Aid, JLGB , Jnetics, JNF UK , JW3, Kisharon, Langdon, Laniado, Limmud , London Jewish Family Centre , Maccabi GB, Magen David Adom, Make Sense of It , MANNA - UK Branch of Meir Panim, Masorti Judaism Movement for Reform Judaism , Nicki's Smile, NIGHTINGALE HAMMERSON, North West Jewish Day School, Norwood, ONE FAMILY UK , ORT UK, The Paperweight Trust, Phone and Learn – PaL, Rambam Sephardi Community, Resource Centre, Save a Childs Heart, SEED, Shaare Zedek UK, Sinai School, Step By Step Kids, Streetwise, The Benji Hillman Foundation , UJIA, UK Friends of Schneider, United Synagogue, World Jewish Relief, Yachad, Yad Sarah, YONI JESNER FOUNDATION, Zichron Menachem , Akiva Primary School, Rimon Jewish Primary School.
Since its launch in 2007 the Maccabi GB Community Fun Run has raised over £1,500,000 for a broad range of Jewish charities. Next year's event has already been announced for Sunday 11th June 2016. The event has been so influential it has been the initiator in a global campaign to launch Worldwide Maccabi Community Fun Runs, involving a number of Maccabi Delegations around the world.
A special thanks go to the sponsors and partner organisations of the Maccabi GB Community Fun Run: CREDO, The Creative Clinic, The Jewish Chronicle, Allianz Park, CST, Squires Estates, Jewish Leadership Council, Jewish Volunteer Network, JW3, Spire Bushey Hospital, Express Vending, Concorde Graphics, AAI, Wrap a Wish and West End Travel.
All photos can be viewed in the Maccabi GB Photo Gallery.