Community's children riding high thanks to Step by Step and the Maccabi GB Cycle Club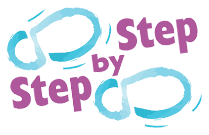 Step by Step and Maccabi GB have been changing the lives of 16 young, Jewish children with moderate/severe physical, mental, emotional and learning disabilities by forming the Maccabi GB Cycle Club as part of a Community partnership.
The move has seen Step by Step obtain a Government Grant from the Children's Aid Committee together with Maccabi GB - the largest provider of Jewish sport, health & wellbeing programmes in the UK - and apply it to cycling sessions for Step by Step clients. The sessions, held and Lee Valley Indoor Velodrome at the Queen Elizabeth Olympic Park, sees the young riders cycle on specialised bikes, learning about cycling safely while exercising and socialising with their new, Jewish friends.
The introduction of the programme and its physical impact on its participants have had positive consequences on those involved and the quality of life of the participants and their families - many of whom live in Stamford Hill, North London - is clear to see. Anna (not her real name), a delighted mother of one of the children, said, "It strengthens his core [muscles], which means he is more confident walking, and I can now go out with him on Shabbos, something I was never able to do before."
The Stamford Hill community really comes alive over Shabbat, with families visiting each other and taking time out to meet and greet friends. However, the area does not currently benefit from an eiruv. This means that Shabbat can be frustrating for many who rely on wheelchairs, being stuck at home until Havdalah. Their families cannot go out to Synagogue, to enjoy meals/hospitality in the homes of friends or even walk to the park together. By improving the overall physical strength of our children/teens through cycling the initiative has given them a wonderful gift of being able to enjoy Shabbat on a whole new level, with their families, their friends and the wider Community.
Two further case studies show a remarkable change in members of the Maccabi GB Cycle Club. The names have been changed to protect the families' privacy.
Jonah and Sarah both joined the programme being terrified of falling off the bikes and in need of a lot of coaxing and physical support to even sit on the saddles. At the Velodrome there is a strict policy that only permits the use of two wheeler bicycles and these children in particular were nervous that, without the use of stabilizers, they would certainly fall and hurt themselves. The Velodrome provides 'balance bikes' (bikes without pedals) that allowed them to get used to the sensation of balancing, to build up key muscle groups and to learn to trust themselves. After several weeks using balance bikes both childred have progressed to pedal bikes (with volunteer support) and even rush to get on the bikes when they arrive at the venue. They are so proud of this fantastic achievement.
Michael is affected by multiple severe disabilities and also joined the programme as a very nervous cyclist. His physical limitations mean that he is unlikely to cycle independently. However the sessions have been invaluable to him as he has developed more self-confidence to try out new things and, even more amazingly, meet new people and make new friends. Whenever he is at the sessions, he shrieks with happiness and smiles from ear to ear, eager to get on his bike and cycle with his fresh group of friends.
Following a trial period over the summer of 2015, the Grant was accepted and the Maccabi GB Cycle Club was initially agreed to run over 15 weeks from 26th January 2016. However, due to its success there is a possibility that the scheme will continue for longer, giving Jonah, Sarah, Michael and all their friends a greater opportunity to live a healthier, happier life.