COMMUNITY'S FEMALE ATHLETES CELEBRATE INTERNATIONAL WOMEN'S DAY AT THE MACCABI GB COMMUNITY NETBALL DAY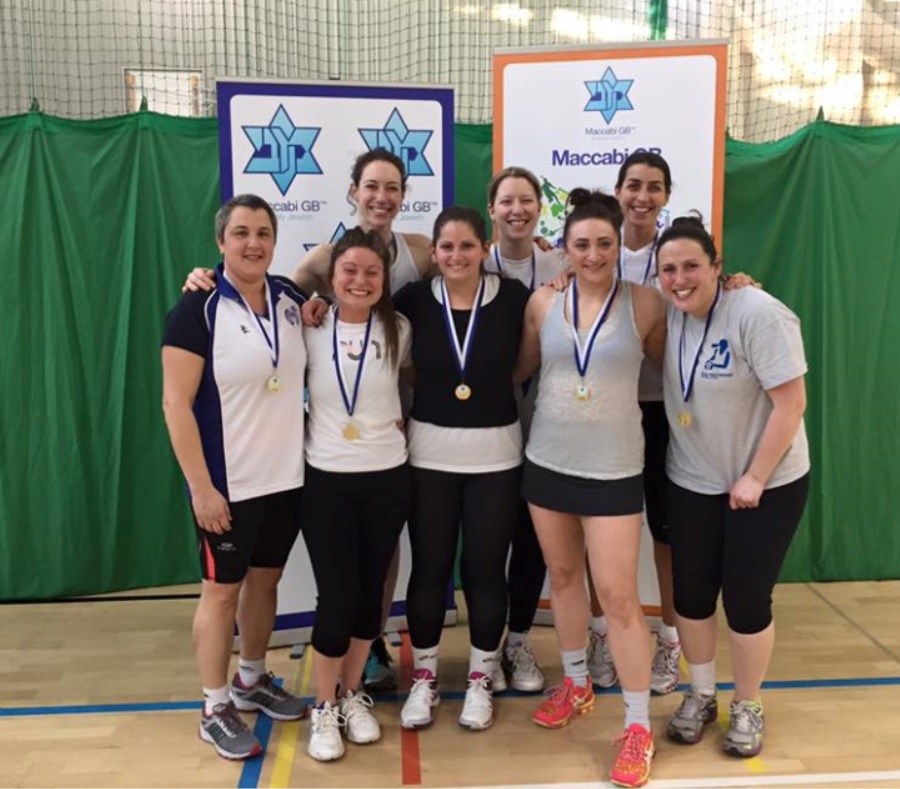 Jewish women and girls celebrated the recent International Women's Day by demonstrating their passion for sport, health & wellbeing at the Maccabi GB Community Netball Day on Sunday.
The largest Jewish Open Women's Netball Tournament in the UK welcomed 130 women to JFS in Kenton which was held in partnership with International Women's Day and, for the second consecutive year, the Sport England initiative 'This Girl Can'. As part of the celebrations the event hosted its first ever Sport, Health & Wellbeing Hub specifically designed to boost the wellness and fitness of our Community's female contingent. The Hub included Personal Trainers, a Nutritionist, a Physiotherapist, a Herbalife Wellness Coach, a Women's Health Specialist and a Reflexologist. Each one gave the participants advice, tips and talks on how to live a healthier lifestyle.
On the court and mothers, daughters, sisters, friends and colleagues combined with twelve teams competing in the tournament – the highest number of teams to enter the event. Women ranging from 14-55 years old, of varying ability levels and Jewish backgrounds, were brought together to play sport, make new friends and have fun all at the same time. It was particularly poignant for some of the participants who had not played Netball since they had left Secondary School, 20 years prior. There were even some attendees who, despite never playing the sport before, were inspired to take part in the day for the social and active element.
This is now the fourth instalment of Community Netball – part of Maccabi GB's Community Sports Days which encourage members of the Community to get active, regardless of age, gender or ability.
During the competition, the standard of play was fast-flowing and exciting. The teams were split into two groups, with the top two teams progressing to the Semi-Finals. The tournament was eventually won by Team 09, who proudly won their third Community Netball Tournament in four years.
Speaking about the impact of Maccabi GB's Community Netball Day, Event Coordinator Gilah Samuels, said, "To say this day was a success is an understatement! Maccabi GB works tirelessly to provide women and girls with outlets to play sport and remain active, sometimes for personal fitness but also, as this event has shown, for social reasons. The Sport, Health & Wellbeing Hub was a huge success and we know that almost every participant took something away from the day which would assist in their personal wellbeing overall."
She continued, "This was a fitting way to celebrate International Women's Day and This Girl Can. Sport has the capacity to strengthen, unite and empower women and we encourage more Jewish women and girls to find a sport to play, stay active and live a healthier lifestyle. We want to thank all the health experts, referees, organisers and, of course, the participants who were here today."
Maccabi GB would like to thank the following health experts who were present at the event:
Shirley Joffe - Herbalife
Anna Schuchman - ACE London
Laura Southern - London Food Therapy
Abi Brazil - Reflexology Room London
Sarah Bradley - Spire Bushey Hospital
To find out more about women's sport, contact the Maccabi GB office 0208 457 2333.
Event Photos now available in our Photo Gallery