COMMUNITY'S LADIES HAVE A BALL THANKS TO MACCABI GB'S FIRST EVER SENIOR NETBALL TOURNAMENT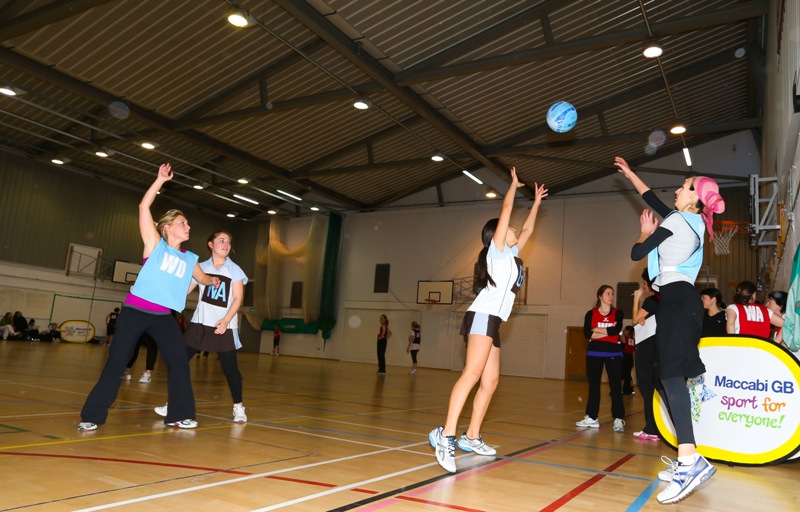 Maccabi GB hosted the largest Jewish Senior Netball Tournament in the UK on Sunday as over 90 women sold out the first ever 'Ladies-Only Community Netball Day' at JFS, Kenton.
Mothers, daughters, sisters, friends and colleagues combined, ranging from 14-55 years old, with 10 teams competing at the event, which was part of Maccabi GB's 'Sport for Everyone' Programme. On the day, women of all ability levels and Jewish backgrounds were brought together to integrate, exercise and have fun all at the same time. It was particularly poignant for some of the participants who had not played Netball since they had left Secondary School, 20 years prior. There were also a number of representatives from Team GB's 19th Maccabiah Games Squads. In total over 120 people, including spectators, were part of the fantastic day.
Despite the variation in abilities, the standard of play was high. The teams were split into two groups, with the top two teams progressing to the Final. The Tournament was eventually won by 'Team 09', who proudly triumphed over 'The Tuesday Girls', 14-6, at the end of the competition.
After the event one of the attendees, Suzy Rothberg (33) from Hampstead, spoke about the opportunity the Community Netball Day provided her and her friend, "What a fantastic afternoon! It is really great to be able to attend an event with other women where we can do something different to get active and feel good. As a full time Jewish mother, I find it difficult to do activities such as this where I can get some exercise whilst feeling entirely at ease with those taking part along with me. I have had a brilliant time and I have already met a group of other women who are keen to take part in something like this in the future."
This is the second Ladies-only event hosted by Maccabi GB in recent months, following on from the success of the 'Dance-A-Thon' at the end of last year. In total over 125 women took part in that day and these numbers, combined with the figures from Community Netball, have shown the high demand for sports events tailored for women within the Community.
Speaking about the impact of Maccabi GB's Community Netball Day, Project Manager Jessica Overlander-Kaye, said, "It was great to be able to host another event just for women. There was a great atmosphere with the women enjoying playing their games and being part of a sporting event specifically for them. Responding to the positive feedback, Maccabi GB is already planning another tournament for the summer, as well as other Ladies-Only events of different kinds."
See great photos from the day here.
---
Maccabi GB runs a weekly netball club for all ages and abilities. To get involved and find out more contact the Maccabi GB office 0208 457 2333 or visit www.maccabigb/netball.