COMMUNITY'S SCHOOLS DIVE INTO THE ANNUAL MGB SIMCHAT HA'MAYIM SWIMMING GALA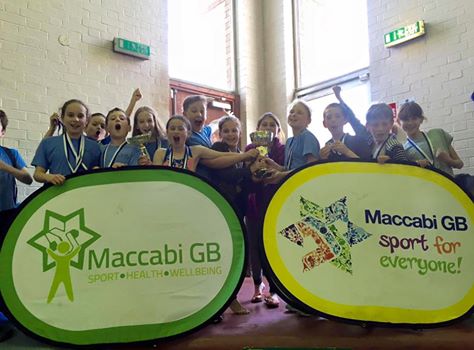 The Community's young people showed that the talent pool of swimmers is vast at the latest Maccabi GB Simchat Ha'mayim Swimming Gala on Sunday.
The annual event, held at Barnet Copthall Swimming Pool, Mill Hill, engaged seven Jewish Primary schools from across London including Rosh Pinah, MMK, Kerem, Independent, Wolfson Hillel, HJPS and North West. Each school brought a squad consisting of both boys and girls aged between eight and eleven years old. In total, 150 young people took part in the event, who were well-supported by over 200 parents.
The competition was a huge success with all participants enjoying themselves and showing some fine swimming ability in numerous races throughout the day. Standout School was undoubtedly Akiva who took the overall prize, however there were some potential future Team GB stars in the pool in many of the teams.
Speaking about the Simchat Ha'mayim Swimming Gala, Maccabi GB's School Sports Manager, Alex Elf, said, "Another Simchat Ha'mayim has concluded and it really was a brilliant event. Despite it being hosted once a year it is definitely one of our most popular events, with all eight schools showing a keen interest to enter full teams and having their pupils get exercises in a fun, sporting and social environment. We want to thank all the schools for being a part of it, all the young athletes for competing, all the parents for cheering their hearts out and, of course, Mazel Tov to all the winning schools."
Full list of winners:
Overall Winning School: Akiva Primary School (above picture)
Winning Girls Team: Avika Primary School
Winning Boys Team: Rosh Pinah
Winning Small School: Kerem
For more information on Maccabi GB School Sports visit www.maccabigb.org