COMMUNITY'S YOUNG ATHLETES ON TRACK AT MACCABI GB'S LATEST SCHOOL SPORTS TOURNAMENT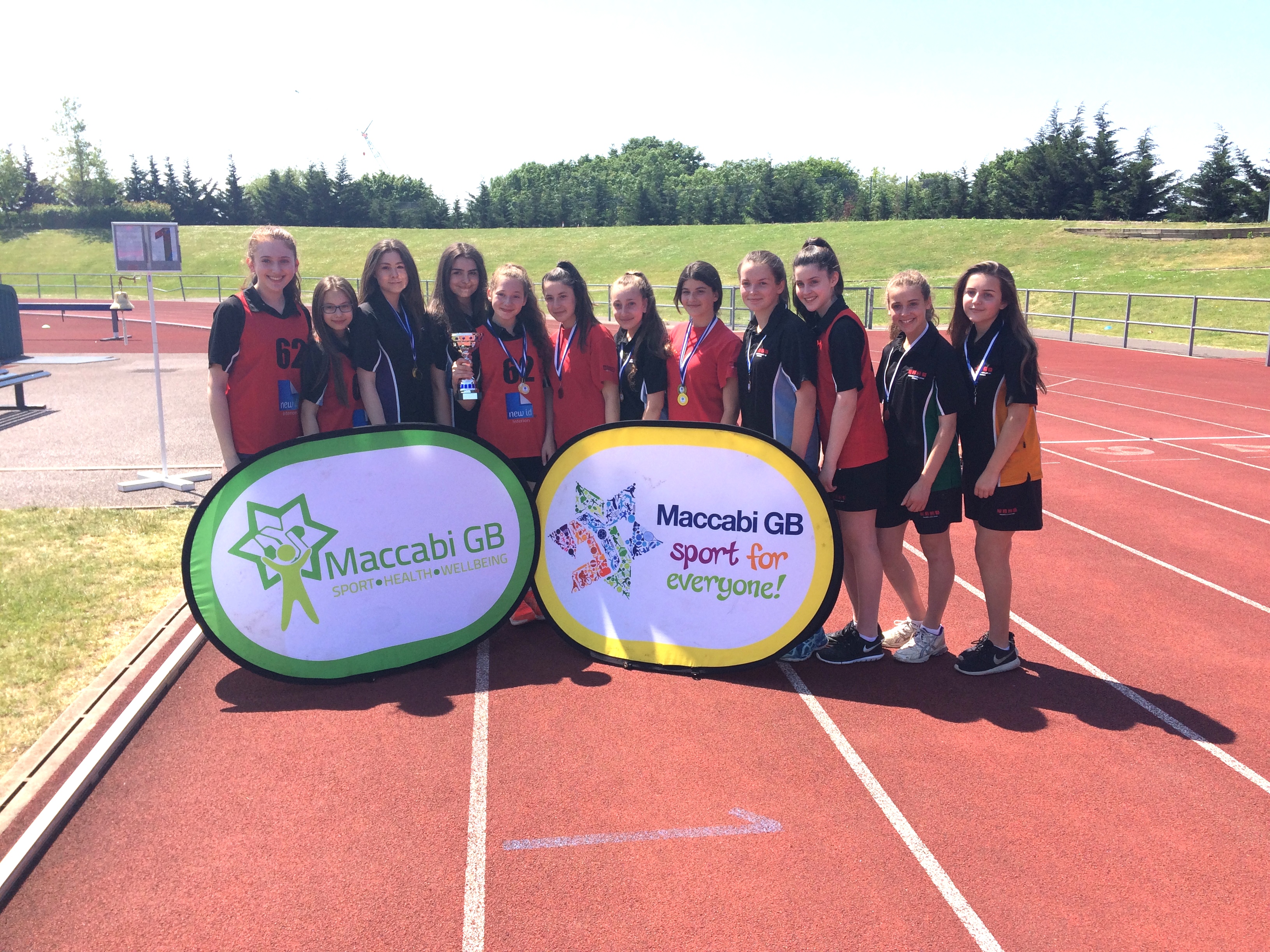 Lee Valley Athletics Centre in Essex, was the epicentre of the Community's young athletes on Monday as Maccabi GB held the annual Secondary Schools Track & Field Tournament, in partnership with the Jewish Chronicle. The event, one of the highlights of the school's calendar, is always one of the best attended with students from Years 7, 8, 9 and 10 taking part - JFS, King Solomon, Yavneh College and JCoSS.
A very hot and sunny morning started with 90 girls competing in a variety of different events including 70m hurdles, 100m, 200m, 300m, 800m, Long Jump, High Jump, and Shot Put, as well as the Team Relays. There were a number of superb performances throughout the morning and all the athletes were cheered on from the stands by their respective school teams. Each year group was run as separate tournament, resulting in four separate team winners. King Solomon stood out as the day's strongest school taking the winner's trophies for Years 7, 8 and 10 competitions. However, Yavneh College bucked the trend winning the Year 9 category.
The 70 male athletes followed a similar format - although the 400m replaced the 300m and there was the addition of a 1500m race. There were some superb performances and some extremely close races.
The 4x100m Relay was a great spectacle and the Year 10 race was a perfect finale for the event with the boys sprinting through the final leg of the race and producing a photo finish between King Solomon and Yavneh College in front of a great support from the packed stand. King Solomon produced a clean sweep winning the years 7, 8, 9 and 10 competitions.
The afternoon finished with a sporting medals ceremony for the winning Year Group teams. Special thanks must go to all the students who took part in the event. Once again the day proved hugely successful and everyone involved thoroughly enjoyed themselves.
Alex Elf, Maccabi GB Head of School Sports, was impressed with quality of the competitors as well as the sportsmanship on show, "We have seen some great competitive displays today, with fantastic athletes in both the girls and boys competitions. Year-on-year we are seeing an increase in the numbers of people attending this event, it is great to see all these Secondary Schools here today. What is just as amazing is the sportsmanship between the athletes. All the participants were laughing and joking in between the competitiveness of the Track & Field events and you can tell these are the start of some long-term, Jewish friendships. Some of the athletes here today will be going with Maccabi GB to Israel next summer for the 20th Maccabiah Games. Based on today's performances I'm sure they will bring back some medals!"