END OF SEASON MESSAGE FROM THE CHAIRMAN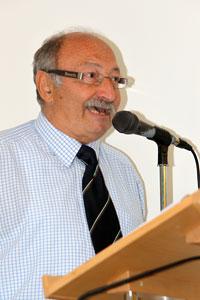 The season is now over and the time has come to review. The terrible weather in mid-season spoilt the continuity for us all and some teams found it difficult to get back into the rhythm when it all resumed.
Let me start by congratulating Hendon United Sports A on their magnificent treble. They are really worthy champions and a great credit to the league for their magnificent sportsmanship as well as their great talent. It is a real achievement by going through the entire season unbeaten. I always find it a great pleasure to go along and see them.
Norstar London Raiders are another magnificent outfit and this is proven by the fact that all three of their teams fared so well. The A team were pipped at the post but made a fantastic challenge and their B and C teams proved their obvious abilities by winning their respective divisions. Like Hendon, Norstar B also went through their league programme unbeaten.
I would also like to make mentions of Oakwood who came third in the premier division. They are always a pleasure to watch for their uncompromising style which is always fair and their obvious ability. I have no doubt with the influx of lads from the North who are setting here and whom they attract, they will be challenging in future seasons. They equipped themselves well in the National Peter Morrison Cup Final by taking the match to penalties.
Woodford Wanderers who were managed by professional coach Tony Charles looked a real class outfit and should more than hold their own in the top flight. Likewise, the re-emergence of North West Neasden albeit with different players are also capable of making their way in the top flight. Stirling Kaye would have nothing else.
Let me also mention the very young and talented Redbridge Jewish Care B team that have been together under the management of Jon Jacobs since they were young children are also a very talented group that will make their mark for years to come.
It is also nice to see L'Equipe take their first honours after several years of membership in the league and I wish them every success in their elevated status.
I was also pleased with the success of our new joint competition with the Maccabi Masters League and congratulate Norstar London Raiders B, the first winners and Hendon United Sports B, the runners up. Thanks are given to Stuart Lustigman and David Goldberg for their input and help and also to Jem Silverstone for sponsoring the competition.
We are still a thriving league, despite what the press may have said about us some years ago, and with new teams on the horizon I hope we get stronger numerically next year and the ones to follow.
This season, we have been sponsored by Maccabi GB and I would like to place on record our thanks for this ongoing support. We are affiliated to a National and World Wide Organization of which we can be truly proud. Their office support when required is greatly appreciated.
Your Management Committee have, as always, been hard working with everyone playing their part. In particular Nigel Burns who has to battle the weather to accommodate the fixtures and Martin Fox who somehow, like the conjurer, produces referees out of the hat.
Behind the scenes we have Adam Rynhold who controls the registrations and match sheets. Lee Silver who sends you those lovely fine notices. Paul Dobkin who ensures the results and goal scorers are properly recorded and sent to the press. Our treasurer Rob Cohen who safely guards the finances. Our Vice Chairman, Stuart Cohen who offers sound advice whenever called upon. Our divisional Representatives who collect and collate the results and deal with and represent their divisions.
I must make mention, separately, of our long serving General Secretary, Bev Newman, who has completed 25 years of loyal service to the league. He is the quite man but I can assure you a very steadying influence who makes sensible contributions at the meetings as well as arranging them and keeping a record of proceedings. His service was correctly recognized by the London Football Association.
I really do not like to mention my own efforts but I really cannot let this article pass without thanking the Management Committee and league for the wonderful dinner that was given to me to mark my 50 years of service to the league. It was wonderful to meet up with old friends who I had not seen for years. I am also thankful to The Football Association for the medal they awarded to me together with the letter of acknowledgement from Barry Bright, Leader of Council at the FA. I can honestly say that I have enjoyed most (if not all) of the time of my involvement especially my weekly visits to see you all play and the wonderful warm welcome that you always give to me. I hope to be able to continue this so long as I have the health and strength.
The season, although concluded, still has one major event left and that is the European Maccabi Football Trophy 2014 that will be held in London for only the second time ever in its history. Matches will be held at Maccabi London Brady Sports Ground, Rowley Lane, (for football) and SportHouse, Dagenham, (for Futsal) on the weekend of 15th June. The British team – 'Team Maccabi GB' - that consists of boys from the league, is being run Robert Richman and Jonathan Green and I am sure that you will wish them and all the squad every success. The tournament also houses a Masters and Open age Futsal Tournaments and a Ladies tournament too.
Now, before I close, for dear old West Ham United. It's been a difficult season but the proof of the pudding is in the eating. We finished 13th in the league and despite our desperate position at the yearend DID NOT get relegated. I like many others did not enjoy the negative football and would rather see us back to our open style of play for which we are renowned. But we don't have a playmaker like Brooking or Devonshire or skillful players like those of the past so we have to 'cut the cloth'. I cannot say that I'm a fan of Allardyce but he did the job he was asked and now I just hope the two David's will bring in the players needed together with the 'attacking coach' they advocate to make us more attractive. I have renewed (what a surprise after nearly 60 years) my season ticket for the penultimate season at the Boleyn but do not look forward to leaving Upton Park…..too nostalgic and too many memories!!
Have a great summer and see you next year.
David Wolff
Chairman
Maccabi GB Southern Football League
Read more stories from the Maccabi GB Southern Football League via the dedicated section on our website