FINAL DAY GOLD RUSH SEES TEAM MACCABI GB SMASH JCC MACCABI GAMES MEDAL TALLY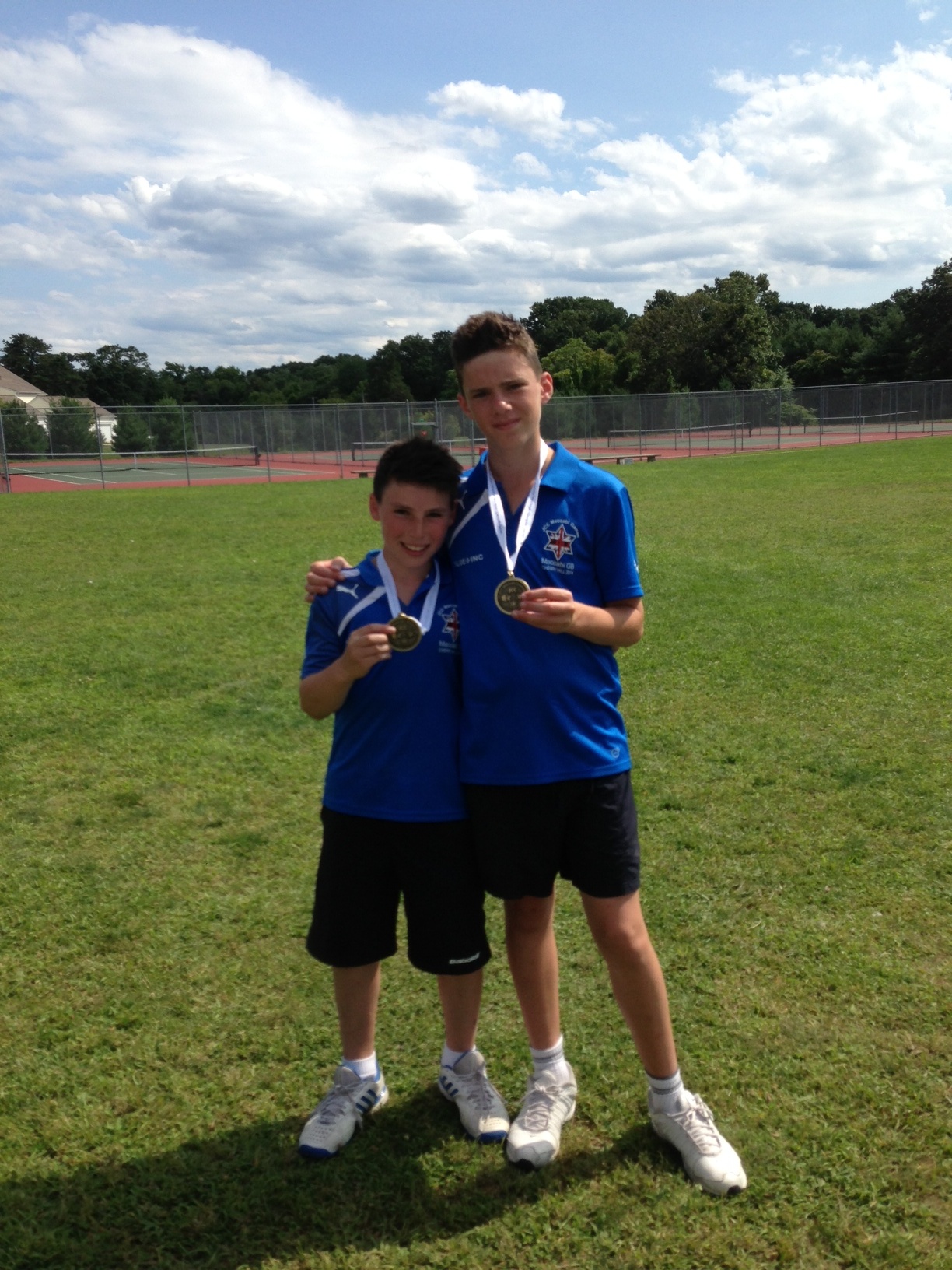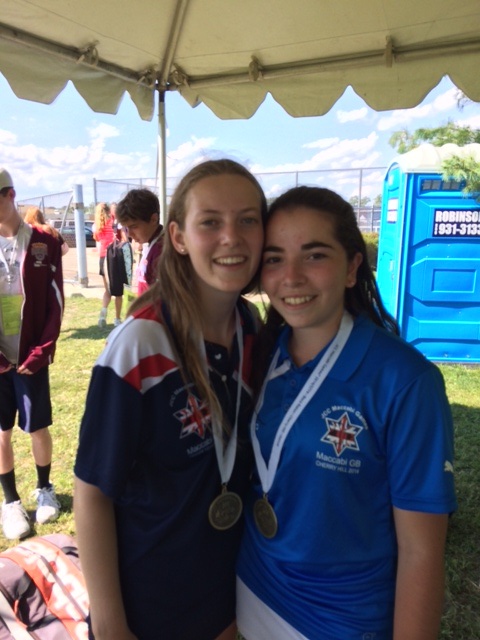 As the final whistle, bell and horn rang out across Cherry Hill, New Jersey, Team Maccabi GB can now proudly return to the UK knowing that their final day medal haul of 62 has seen them break all previous records to bring home a record-breaking 142 medals.
The Team MGB Track & Field side has arguably been Great Britain's standout performers in America, winning a hatful of medals from the first day to the last. Rounding off the competition there were awards for Alana Jacobs, who won Bronze in the Girls High Jump; Aidan Raphael and Ben Oehley, who won Silver and Bronze respectively in the Boys High Jump; the whole Team Maccabi GB Track & Field Girls Team who won another impressive Gold, this time in the Sprint Medley Relay; and the Track & Field Boys took Silver in the male category. In the 4x100m Co-Ed Relay (2 boys, 2 girls) Team MGB's team of Aidan Raphael, Jessie Wolmark, Rachel Ayrton and Adam Mizrahi won Gold with Silver going to Isabelle Flitterman, Tal Pelmont, Alana Jacobs and Benjamin Oehley, also from Great Britain.It was a similar story in the 4x400m Co-Ed Relay - Gold went to Tal, Isabelle, Jessie and Aidan; Silver to Adam, Alana, Rachel, Benjamin. This ended what was, undoubtedly, one of the most successful Track & Field events ever for a Team Maccabi GB delegation.
From the track to the table as Great Britain's Table Tennis athletes also did their country and Community proud. In the Main Competition Singles Doddy Stelzer won Silver and Sammy Kaye won Bronze after he beat compatriot, Joe Kaye, 4-2. In the Main Competition Doubles Team MGB won a Gold, Silver and Bronze, thanks to the pairs of Carl Breindel/Sammy Kaye, Joe Kaye/Scott Leveson and Doddy Stelzer/Nathan Sonn, in that order. With the Main Competition all wrapped up, it was time for the Plate Competition to commence. The Singles were dominated by our athletes again with Oliver Weisfeld (Gold), James Rich (Silver) and Jake Bluston (Bronze) rounding off Great Britain's success.
Into the pool and in the Swimming competition, Team Maccabi GB's young athletes were figuratively drowning in medals - Eleven to be exact. There were Golds for Chloe Jacobs in the 50m Backstroke, Elisha Kramer in the 200m Freestyle Relay, Daniel Rinkoff in the 200m Freestyle Relay and Daniel Schindler also in the 200m Freestyle Relay. There were Silvers for Daniel Schindler in the 200m Individual Medley and for Chloe Jacobs in the 200m Individual Medley. Finally, there were Bronze medals for Elisha Kramer in the 100m Breaststroke, Chloe Jacobs in the 200m Freestyle Relay, Molly Leizer in the 200m Butterfly and Daniel Rinkoff in the 200m Butterfly. A wonderful week for the swimmers and a special mention for Daniel Schindler, who won a medal in all 12 races he competed in.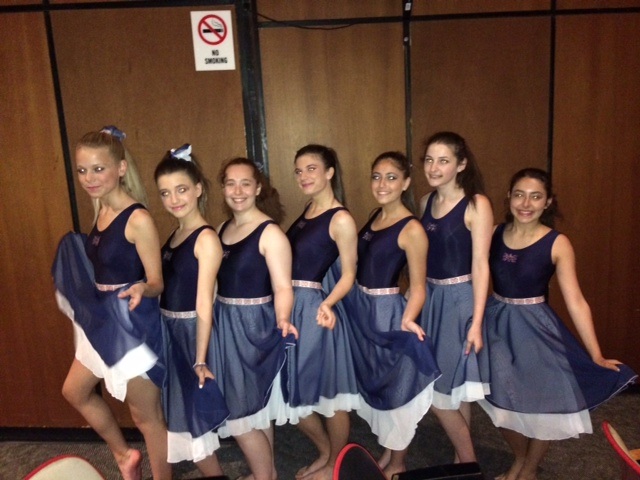 Team Maccabi GB's Dance participants had a real spring in their step come close-of-play on Thursday. By then, Leanne Poluck and Tamar Goldwater had won the Gold and Silver in the U16 Jazz Solo event, and Team Maccabi GB had won the Silver medal in the Group Israeli Dancing. Also triumphant on the day were Hannah Grunwerg and Daisy Margolis who picked up six medals between them – Hannah with two Silvers and two Bronzes, Daisy with a Silver and a Bronze for U16 Girls Choreography.
In what was their toughest fixture of the JCC Maccabi Games so far, Team MGB's Boys Football had to face Maccabi Mexico for a place in the Gold Medal Match. In normal time Great Britain were the better team, but were put off their rhythm when Jayden Tomlinson was stretchered off with a dead leg (He has subsequently recovered). Our players looked like they had won the game when they scored with a minute left on the clock, but a lapse in concentration let their Mexican opposition score straight from the kick off to finish Normal Time as a 2-2 draw. Unfortunately, Team Maccabi GB conceded two more goals in Extra Time, losing 4-2 in the process. However, there was some consolation as the boys easily won the Bronze medal, beating East Bay 7–2 in their final game in America.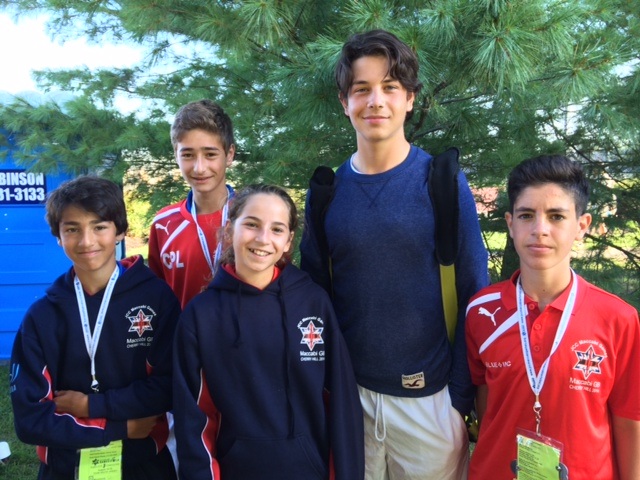 Our Delegation's final medals came in the Tennis competition. In the Main Competition, Tash Mosheim and Tammy Salt won Girls Doubles Gold and Jack Miller and George Bier won the same in the Boys Doubles category. In the Singles event Tali Fraser took home the Bronze medal. Over to the Plate Competition and there was more success, this time for Charlie Pentol-Levy and Jonathan Mizrahi who both won Gold in the U16 and U14 Singles competition respectively. Jimmy Benjamin unfortunately had to withdraw half-way through his Bronze medal match in the U16 Boys Bingles as he damaged his shoulder. But all-in-all, the Tennis athletes had an impressive JCC Maccabi Games.
Although no medals were won for the Lacrosse and Girls Football teams, Delegation Head, Brian Green had this to say of the athletes, "If Gold medals were given out for team spirit and effort then I would be reporting something different as the girls have been fantastic and a true credit to Great Britain's Jewish Community. Unfortunately, they did not have enough on the field of play to progress just that little further and win a medal but they have had great fun trying and have all made plenty of friends along the way – which is what these Games are all about".
It has been a fantastic week for Team Maccabi GB out in New Jersey, experiencing sporting, social and Jewish occasions that will last a lifetime and, hopefully, to future Maccabiah and European Maccabi Games. For now, the JCC Maccabi Games culminated in the Closing Ceremony at the Aquarium on Thursday and our managers and athletes returning home this weekend.
FINAL MEDAL TALLY
Gold: 63
Silver: 49
Bronze: 30
TOTAL: 142
(previous record - 108 medals in 2013)
A huge 'Thank You' must go out to all those responsible for overseeing and organising Team Maccabi GB's JCC Maccabi Games Delegation over the last nine months, and a special thanks must go to all those that have travelled to America and joined the 'Barmy Army' to cheer on our athletes.