FUTURE SPORTS LEADERS KEEP COMMUNITY ACTIVE WITH LEADERSHIP BY STREETWISE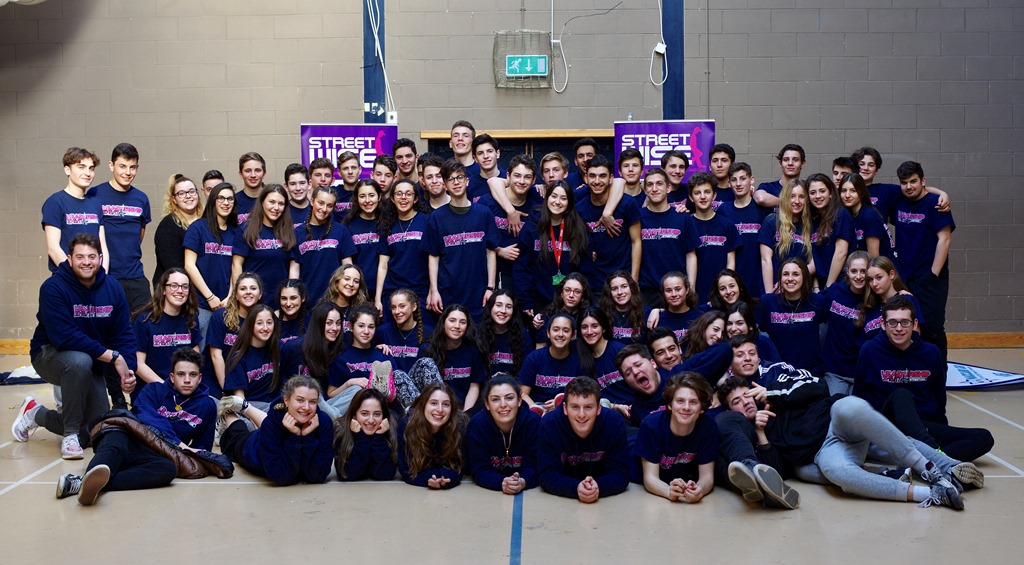 The Leadership by Streetwise Programme for 14 – 18 year olds looking to qualify as Sports Coaches has been keeping its young leaders very busy this month.
In February half term, over 25 of their Sports Leaders took part in 'Hands on Event' days where they delivered programmes for Jewish Care, both with their elderly day centre members in Golders Green and their young half term scheme group in Redbridge. Emma Benson, from the youngest year in the Leadership Programme reflected on her experience saying, "It was my first hands on event and I learnt many skills such as how to plan a session for elderly people, and also to fulfil everyone's needs and make it inclusive. I spent a lot of the session talking to one woman in particular and managed to create a good bond with her as the session progressed. I found the afternoon very enjoyable and know that the skills I learnt will be transferable to other situations."
As well as two Hands on Events, Leadership by Streetwise delivered a Table Tennis Junior Umpire Course in conjunction with the Table Tennis Association. The course saw 23 of the Level 3 group qualify and some went on to volunteer and help deliver Maccabi GB's National Schools and Shuls Table Tennis Competition.
Last weekend saw 70 young leaders and 15 graduates attend the Second Residential Weekend Away in Rochester, Kent. The Sports Leadership Weekend had a prominent theme of The Maccabiah Games. The eldest group planned and led an 'Opening Ceremony' and the group got to participate in 'The Maccabiah Games' all day Sunday. Other activities on the weekend included a whole group Zumba dance class, communal Havdallah led by the Year 12 group, learning about the history of The Maccabiah and creating and pitching business ideas in a 'Dragons Den' style programme. Speaking about the theme of the weekend, Sam Lander, 17, said "It really helped to create a tight-knit sense of community and friendship amongst us leaders".
As the theme was Maccabiah, there was a clear sports element throughout the whole weekend. Leadership by Streetwise's Weekends Away are designed to develop and explore each of the leaders' Jewish Identity around and during teaching them the curriculum from Sports Leaders UK. The group participated in a morning full of fitness activities that showcased to them different examples of sports that they could copy and facilitate to different groups of people in the community. For example, one of the sports games was a version of football for the visually impaired and another was a seated aerobics class that could be for an elderly group.
Hearing from the young leaders, Levi Freud, 15, said "Leadership was arguably the most enjoyable thing I've ever done. I have been able to make life-long friends whilst pursuing my leadership career. I have been able to gain confidence whilst I lead sessions and also be able to put forward my opinion when participating in sessions. One notable activity was the opening ceremony led by my peers, it was fantastic!"
Leadership by Streetwise Manager Yvie Curtis was thrilled with the weekend and said "It's so special that we can bring so many young people together for a weekend of personal development. Using sport as the tool to educate allows us to interact with a different group of young people in our community and give them the platform to not only progress on a sport level but also on a personal level too. The theme of The Maccabiah was one of the most relevant themes we have had in years as it encompasses all that we try to teach our young people, about Jewish continuity, sportsmanship and teamwork."
The next few months will see the Leadership by Streetwise programme hold more Hands on events with various organisations and charities and hold specialised training days up until a Graduation Ceremony for all in early Summertime, a brand new event for this year.
For more information about the Streetwise Leadership programme please contact yvie@streetwisegb.org or visit www.maccabigb.org/leadership