Inspiring Maccabi GB Community Fun Run Stories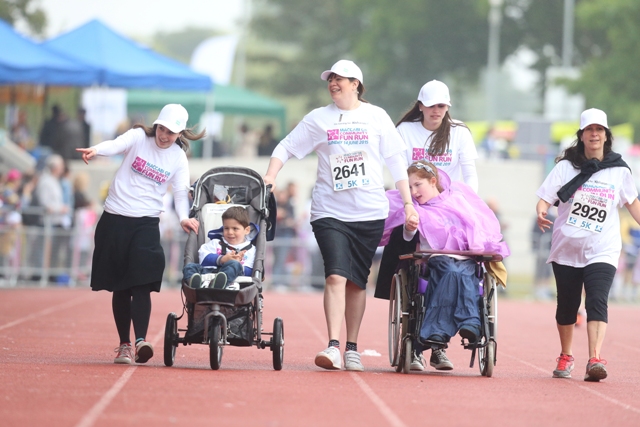 The Maccabi GB Community Fun Run is full of inspiring stories, with every participant bringing a different story as to 'why they are running/jogging/walking' on the day. Below we have some incredible stories of a handful of people who make the day what it is:
Zichron Menachem
Eliran Gaburi has everything going for him. He is graduating Bar Ilan University with a degree in Social Work and his wife of three years is expecting their first child in the next month.
It's hard to believe that just six years ago, Eliran was sick with leukaemia and so frail he couldn't speak.
At the time, Eliran was 25 years old, and had been through three­ difficult years of treatment, including a bone marrow transplant. He was unable to eat and malnourished, as well as depressed. A bout of pneumonia in July 2010 resulted in him needing to be intubated at points during his illness and recovery.
"I was so sick that when Zichron Menachem told me about their trip to London, I said there was no way I could participate," he said. "A week before the trip, my condition stabilised and I reluctantly agreed to go. At that point there really seemed to be little hope."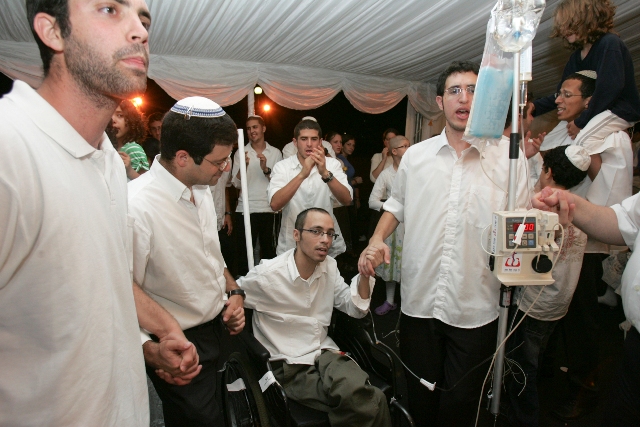 Zichron Menachem supports Israeli children suffering from cancer and their families with activities, advice, a day centre in Jerusalem and more. Eliran spent a week in London at the summer camp that the organisation holds every three years for children who are suffering from cancer or who are within a year of treatment. It flies in around 150 children and young people, along with doctors, nurses, trained counsellors, and 2.5 tonnes of medical equipment.
In London, Zichron Menachem enables these children to participate in activities they cannot normally do from a hospital bed, including sightseeing, visits to theme parks, drives in racing cars and nightly parties.
"I had participated in Zichron Menachem events in Israel, but the camp in London gave me something different," he said. "To get out of my environment. To see new things. Everything we did was focused on bringing us happiness. My outlook on life changed."
After returning to Israel, Eliran's condition slowly improved, and doctors were able to remove his feeding tube. A year later, he was well enough to consider himself fully recovered. His experience with cancer, led him to run a support group for children who have a relative battling cancer.
"Had I not gone to Zichron Menachem's camp in London, my recovery would have taken much longer," he said. "I wouldn't have been in the same place psychologically. After all that I went through, I now want to give back."
To see more of the work that Zichron Menachem does:
Please visit www.zichron.org or contact Eli@zichron.org or Tel: 020 8731 8150

Yoni Jesner Foundation
Louisa Rose will be 6 months pregnant when she 'waddles' her way round the MGB CFR. It might not sound like much of a challenge but to her the most important aspect is not the challenge, but rather that it's a great reason to fundraise for a brilliant charity. Yoni was a friend of hers whose spirit still lives on in so many of his family and friends. People use the word 'inspirational' very loosely these days but when it comes to describing Yoni Louisa is confident that anyone who knew him would say it's the perfect word. It takes a special person to leave such a positive imprint on the lives of so many - and Yoni did so not only in life but also in his passing. Through YJF, Yoni's unique legacy continues such that young people today are inspired to achieve their potential and become the leaders of tomorrow. To Louisa, that's worth waddling for!
See more at www.yonijesner.org
Chai Cancer Care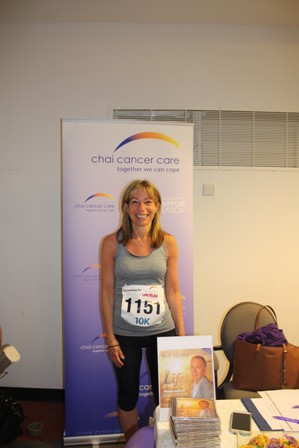 Chai's Chief Executive, Lisa Steele, will be taking part in the 10km run.
She said, "At Chai we recognise the importance of keeping fit and running is a personal interest of mine. It is such a privilege to run alongside some of our clients and supporters and I'm so thrilled to be taking part in this wonderful community event!"
Visit www.chaicancercare.org to find out more
Jewish Deaf Association
Like thousands of other people from across the country, 71-year-old Michael Corney will be taking part in the Maccabi GB Community Fun Run. But unlike any of the other participants, Michael suffers from Usher's Syndrome and is Deafblind.
Hoping to raise vital funds for The Jewish Deaf Association, where he is an active participant, Michael will be walking the 5k race on Sunday 19th June, supported by two communicator guides provided by JDA.
Having been born deaf, Michael became blind in his 40's and now communicates using "hands-on" sign language, relying on interpreters as his gateway to the outside world.
Michael is one of some 50 staff, volunteers, supporters and service users of all ages working hard to raise money for JDA which relies solely on donations and fundraising efforts.
This will be the third time Michael has taken part in this race.
He said: "I am doing this because I want to raise money for the JDA, which has done so much for me over so many years. It is always a challenge but I found the previous two times I walked such a fantastic experience that I wanted to do it again.
"It is so good to just get out of the house and to be a part of something great with other people. Because I am deafblind the experience is even more special because just to feel the fresh air on my face and the buzz of being around others is amazing. It is my way of thanking the JDA for everything it has given me."
JDA, the only specialist Jewish facility of its kind in the UK, offers a huge variety of practical and emotional support and assistance to the profoundly deaf and deafblind community who communicate in British Sign Language.
Sue Cipin, Chief Executive of the JDA said: "We are so grateful to Michael, as we are all our supporters, for taking part in the fun run in aid of the JDA. Being deafblind in a hearing and seeing world can be an immensely isolating experience. While completing the 5k course will be no easy feat for Michael we know he will rise to the challenge once again and we wish him and all the participants the very best of luck. We simply couldn't do what we do without people like them supporting us."
Find out more information at www.jdeaf.org.uk

These are just some of the amazing stories from the Maccabi GB Community Fun Run. Write your own by taking part at Allianz Park from 9am on Sunday 19th June 2016