IT'S RAINING MEDALS AS TEAM MACCABI GB STORM AHEAD ON DAY 2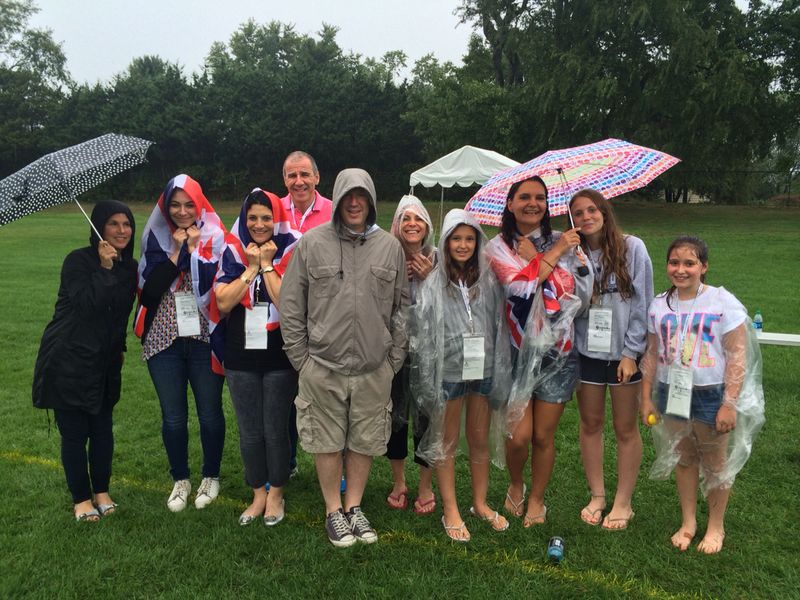 Even though the weather was not kind it did not dampen the spirits of Team Maccabi GB as the medals kept pouring in on Day 2 of the JCC Maccabi Games with the Delegation winning an incredible 46 across all sports. However, a special mention must firstly go to the Lacrosse Team and their parents who braved the horrendous weather in order to play their afternoon fixture, even though they were given the option not to play due to adverse conditions. The game versus Baltimore was played in the most fantastic spirit and, at the end, both teams sang and danced in the rain. It was at times like this that the score line was unimportant and showed the true communal spirit that the JCC Maccabi Games brings.
The Team MGB Track & Field side added to Day 1's medal haul with Adam Mizrahi winning the 300m Hurdles and also winning another Gold in the 800m Mixed Relay along with Rachel Ayrton, whilst Tal Pelmont and Alana Jacobs finished in Silver position. Izzy Flitterman won Gold in the 100m Hurdles with Jessie Wolmark winning Silver. Adam Mizrahi continued his purple patch by winning the 100m Hurdles, beating his teammate, Ben Oehley, who took the Silver. In the High Jump Izzy Fltterman won Silver with compatriot Jessie Wolmark winning the Bronze and Ben Oehley taking the Silver in the Boys' event. Rachel Ayrton collected another medal, winning Gold in the U14 Girls 800m and also came home first in the joint-U14 & U16 race. Aiden Raphael won Gold in the Boys 800m with Tal Pelmont obtaining Bronze; and in the Shot Put Ben Oehley won Boys' Gold with Jessie Wolmark and Alana Jacobs winning Silver and Bronze respectively. Finally, Team Maccabi GB cleaned up in the 200m, with Monday's 100m superstars Benjamin Oehley and Aiden Raphael winning the Gold and Silver medals, and Adam Mizrahi taking Bronze. In total, an astounding 18 medals were won by Great Britain in this competition, on top of the 12 won yesterday…long may it continue!
The Swimming saw more mixed results, with six athletes gaining medals on Tuesday. Daniel Schindler won Gold in the 400m Relay, Silver in the 100m Free and Silver in the 50m Fly; Chloe Jacobs won Silvers in the 200m Backstroke and 400m Relay, respectively; Alicia and Talia Slater took Silver in the Relay; and Daniel Rinkoff and Elisha Kramer took Bronze in the Mixed Relay.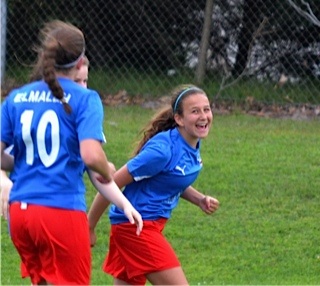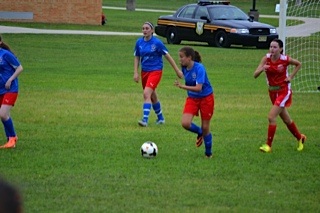 The Team Maccabi GB Girls Football Team was the outstanding performers of the day. They won both their games quite comfortably and are going from strength to strength. Having notched up two 6-1 scorelines (against Greater Washington and North Miami Beach) they will be hoping to get a favourable draw in the Quarter Finals on Wednesday. Joint-Delegation Head, Helena Green, said, "Great credit must go to [Managers] Matt Travers and Debra Silver in building up such a good spirit within the squad. We cannot wait to see what they have in store next." However, the rule for the Boys Football Team is 'Be careful what you wish for!'. As the players were complaining that they were winning each game too easily so far in this competition they came up against a very good North Miami Beach side who beat them 4-3. Although Team MGB had a chance to equalise they unfortunately missed a penalty and had to play the last 10 minutes with a man short as Tyler Smith was dismissed for a second bookable offence. This means that despite Maccabi GB winning three out of their four Seeding Games, they will probably be seeded third and play against the sixth Seed on Wednesday.
Tuesday was the second day of Seeded Matches for the Tennis competition before Wednesday's draw. Jimmy Benjamin will be the No. 1 seed in the U16 Boys as he has won all his four games and remains the only unbeaten Team MGB Player. George Bier, Charlotte Salt, Tamsin Salt, Jack Miller and Oliver Jacobson all won three out of four. The knockout competition starts tomorrow.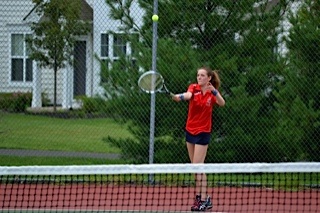 Team Maccabi GB's Table Tennis participants did Great Britain proud in the Team Event with a hattrick of medals. Nathan Sonn was undoubtedly the star of the day, winning all six of his matches to finish in the Silver Medal-winning team with Scott Leveson (due to their teammates' results). However, Gold was reserved for their countrymen Jake Bluston, Carl Breindel, Sammy Kaye and Oliver Weisfeld. Bronze Medal was given to the team consisting of Jonathan Stelzer, Joe Kaye and James Rich. Individual competition resumes on Wednesday.
Following a tough time in the Dance event on Monday, it was fair to say Team Maccabi GB's athletes came to the party the following day. It was a clean-sweep in the Ballet Solo event with Hannah Grunwerg, Daisy Margolis and Tamar Goldwater taking Gold, Silver and Bronze respectively. In the U16 Tap Solo Leanne Poluck won Gold and Hannah Grunwerg finishing with the Bronze. Daisy Margolis also won Bronze in the U14 Tap Solo. Brian Green could not hold his excitement, "I am delighted to say that I was there to witness the excellent performances from all our dancers. They knew they had to step it up after Monday's event and that's exactly what they did. They should be immensely proud of themselves!"
With Wednesday packed with more medal-winning opportunities for Team Maccabi GB, the Delegation will be hoping to add to their current total of 63.
The JCC Maccabi Games is an annual competition held in the United States for young athletes, aged 16 and under, to taste international competition in a variety of sports, whilst integrating with other young, Jewish athletes from other countries. This year the competition runs until 18th August.