JCC MACCABI GAMES 2016 REPORT: Opening Ceremony starts the competitions in Stamford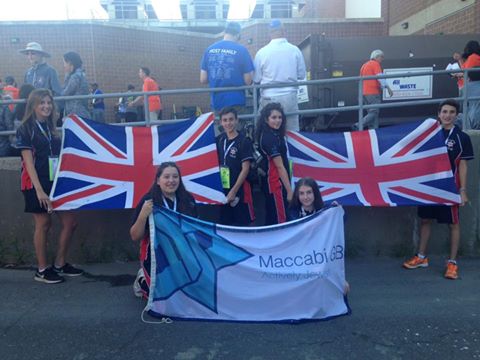 Team Maccabi GB joined the other Delegations from around the world to help kick off the JCC Maccabi Games 2016 Opening Ceremony.
Thousands of cheering, Jewish fans packed the Webster Bank Arena in Stamford, Connecticut, to welcome in the young competitors - aged 13-16-years-old - and their Management Teams. Maccabi GB received one of the loudest cheers of the night as the 66-person squad entered the stadium to rapturous applause.
Before Team Maccabi GB entered proceedings, there was the important matter of announcing the official Flag Bearers for Great Britain - deemed to be a prestigious honour. Carrying the Delegation flags for Great Britain (above) were Abi Wonder and Rio Rosenberg (Maccabi GB Flag), Gemma Jacobson, Josh Hennes, Louis Shaw and Lara Tobias Tarsh (Union Flags).
The Opening Ceremony officially opens the JCC Maccabi Games and JCC Maccabi Artsfest 2016, with competitions starting on Monday.
FOLLOW MACCABI GB ON FACEBOOK, TWITTER & INSTAGRAM FOR UP-TO-THE-MINUTE RESULTS AND NEWS FROM THE USA