Joel Nathan appointed as Great Britain General Team Manager
Maccabi GB, in partnership with UJIA and the Jewish Chronicle, are delighted to announce that Joel Nathan has been appointed as Great Britain's General Team Manager for the 15th European Maccabi Games taking place in Budapest in 2019 and the 21st Maccabiah Games in Israel 2021.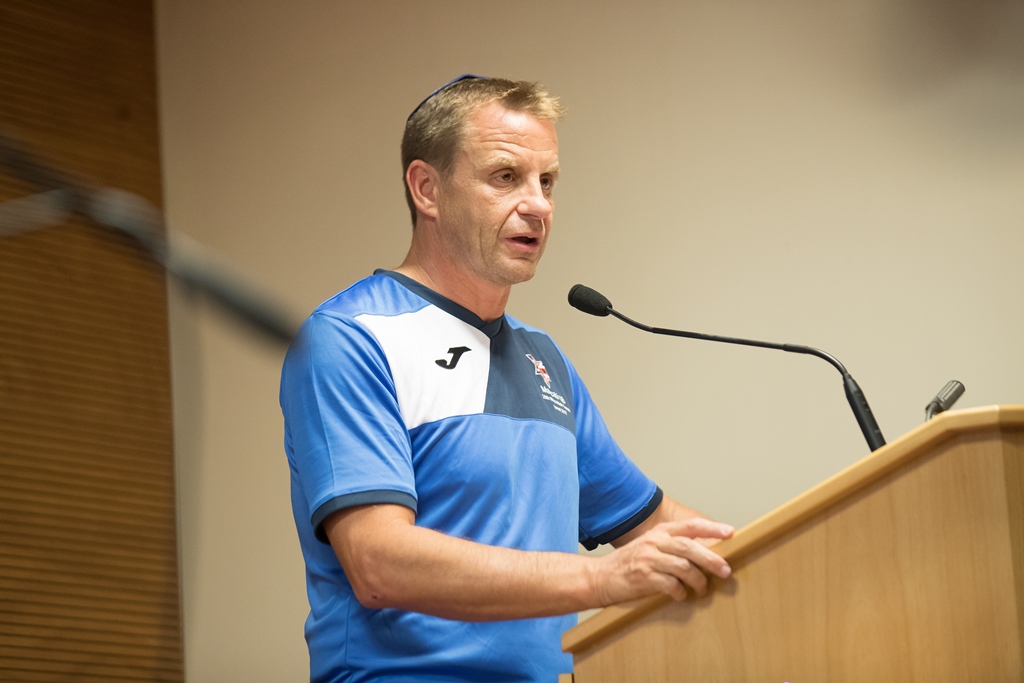 The announcement comes as applications open for the European Maccabi Games for all managers and athletes who want to represent Great Britain across a number of sporting disciplines.
The appointment of Nathan follows an incredible summer of success at the 20th Maccabiah Games, where Nathan oversaw Team Maccabi GB win 38 medals. This was preceded by his leading the team at a record breaking 2015 European Maccabi Games in Berlin, where Nathan oversaw Team Maccabi GB's 91-medal-haul.
Joel Nathan has a strong affiliation to Jewish sport. A constant member of Brady Maccabi since the club's doors opened in 1979, having played football at every age group. During his time with the club he won numerous honours and titles, culminating in leading Brady to their first ever Peter Morrison Cup in May 2013. He joined the Club Council in 2005 and became Club Chairman in 2008, overseeing the merger between Brady Maccabi and London Maccabi. On an international level, Joel represented Maccabi GB at the European Games in Amsterdam in 1995 and, in 2009, was asked to coach the U16 Football team at the 18th Maccabiah Games. This was followed by a gold-winning stint as the U16 Football Team Manager for the 2011 European Games in Vienna, before adding a Bronze medal as Manager of the U18 Football Squad in Israel at the 19th Maccabiah Games (2013). This has culminated to-date in successes as General Team Manager at the European Maccabi Games in 2015 and the 20th Maccabiah Games in 2017.
Speaking about his appointment, Joel Nathan said, "After such a successful Maccabiah it was a great honour to again be asked to lead the Maccabi GB European and Maccabiah squads for the next four years and after some careful consideration and talking through with my family, was something I just had to continue doing. The last two Games are going to be very hard to beat, however that is what is driving me on and now the search begins not only for top quality managers and coaches but more importantly athletes that are going to represent the Jewish community of Great Britain on the international front.
Over the last four years we have increased our female participation across all age groups and that is something that we will look to continue, but one of my aims now is to increase our participation in the minority and individual sports. This is something we have already started working on that but if you are out there and play, manage or coach one of the sports on the European Maccabi Games application list, Maccabi GB want to hear from you. Likewise I want our squad to be representative from every corner of Great Britain, so wherever you are in the country we want to hear from you."
Maccabi GB Chairman David Pinnick spoke about the appointment, "Whilst Medals are important our true measure of success is the health and wellbeing of the squad and to ensure that the aims and objectives of the Maccabi movement are upheld. That is key to any appointment we make and Joel has more than demonstrated a real understanding of those aims and has in addition brought a real winning energy to the role. It's not an easy job and for Joel to build on the success of the past two games Joel will once again require the full support of his Organising Committee, the Junior Management team and his Sports team managers in addition to the full resources of the Maccabi GB professional team".
Maccabi GB is recruiting Junior, Open and Masters Athletes, Sports Chairs, Managers and Coaches and medical professionals across a wide range of sports. To apply visit www.maccabigb.org/emg2019