JUDGING PANEL ANNOUNCED FOR MACCABI GB SPORTS AWARDS 2014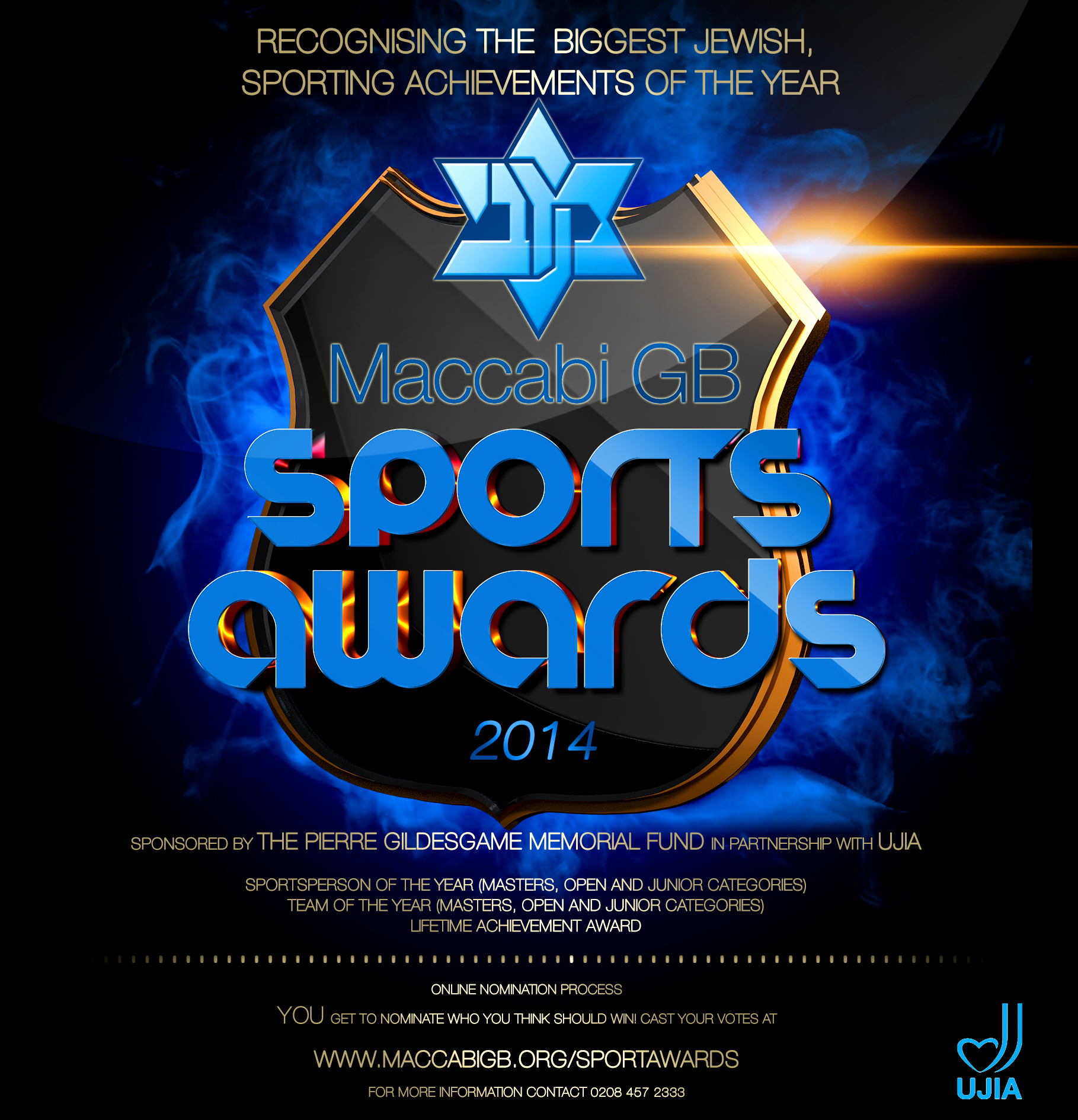 Maccabi GB, in partnership with UJIA, is delighted to announce the official judging panel who will determine the big winners at this year's Maccabi GB Sports Awards 2014, sponsored by the Pierre Gildesgame Memorial Fund. It will consist of Daniel Collins, David Pinnick, Helena Green, Danny Caro and Matt Travers.
Team Maccabi GB's Head of Delegation for the 2015 European Maccabi Games – and Maccabi GB Vice-Chairman - Daniel Collins, has had his eye cast across Jewish sportsmen and women across the UK for many months in the build-up to next Summer's international tournament in Berlin. He is no stranger to Jewish sport at the highest level, having been involved with the Maccabi movement for a number of years. He was Maccabi GB's Head of Sport since 2008 and has been involved with Brady Maccabi for 25 years. Daniel has also represented Team GB at the 18th Maccabiah Games in 2009 as part of the Master's Futsal team, having won a Silver medal four years earlier. At last summer's 19th Maccabiah Games he was also heavily involved as Player/Assistant Manager of the Masters Over 45's Football Team.
David Pinnick is one of Maccabi GB's most experienced and respected lay leaders and, as of September 2015, will be the organisation's new Chairman. He was General Team Manager for Team Maccabi GB at the 19th Maccabiah Games, overseeing the Delegation of 440 who brought home 31 medals in 2013. His long list of sporting achievements include Football Chair for Team Maccabi GB at the European Maccabi Games in Antwerp (2003), Head of Football for Team Maccabi GB's 17th Maccabiah Games Squad (2005) and Maccabi GB Organising Committee Member for the 2007 European Games in Rome. In 2009 David was given the prestigious position of Head of Delegation of Team Maccabi GB for the 18th Maccabiah Games, which he completed in style taking over 513 athletes in 27 sports.
Since 2010 one name has been synonymous with Jewish Youth Sport at international level – Green. Helena Green, along with her husband Brian, have overseen five consecutive JCC Maccabi Games on behalf of the Great Britain Delegation (with next summer's Games in Fort Lauderdale being their sixth). She has seen the start of many a great Jewish athlete and has overseen more medal-winners collectively than any other Team Maccabi GB International Delegation Head. This summer, her JCC Maccabi Games' Team brought back an astonishing 142 medals – a new record for a Jewish Delegation from these shores at the JCC Maccabi Games.
As the Sports Editor of the Jewish Chronicle, Danny Caro has dedicated his entire professional career to mainstream Jewish sports media, spending the last nine years as the driving force behind the JC's coverage. He is widely regarded as one of the most knowledgeable figures on Jewish Sport, both in the UK and around the world. As well as writing on Jewish Sport, Danny has experienced it first-hand having been heavily involved for more than 30 years. He has represented his country in cricket - winning medals at both the 2005 and 2009 Maccabiah Games – and has also won the Maccabi GB Sports Personality of the Year and Special Award for Services to Jewish Football from the Maccabi GB Southern Football League. Over the years he has played cricket for the likes of Casual Nomads (where, as Captain, he helped them become the first Jewish team to win the League and National Cup Double), Belmont & Edgware and London Maccabi Vale; and football for teams including the MGBSFL Rep Team, Temple Fortune, North West Neasden, South Mancs, Brixton Old Boys and Faithfold, whom he currently plays for the in the Maccabi Masters League.
The final member of the panel is Matt Travers. Travers is Maccabi GB's Head of Sport. He is responsible for the running of all Jewish School Sports Tournaments and Weekly School PE Curriculum Lessons and School Sports Clubs across six Jewish Primary Schools. Under his management, Matt has ensured MGB engages over 1,500 young people each week in Primary Schools alone. He also oversees many of Maccabi GB's regular Jewish Sports Clubs and, in his time within the organisation, has assisted in the creation of over 20 different clubs across many sports. Matt is also an experienced international Manager, having overseen numerous Team Maccabi GB Boys Football Squads for the JCC Maccabi Games – winning gold in 2009, 2010 and 2011 – and the Girls Football Squads in the same competition in 2012, 2013 and 2014. Travers also sits on the Committee for the MGBSFL.
The Maccabi GB Sports Awards 2014 will see a total of seven winners announced before the end of the year. A full list of awards for this year can be found below:
John Dymant Senior/Open Sportsperson of the Year Award
Sam Bulka Junior Sportsperson of the Year Award
Masters Sportsperson of the Year Award
UJIA Open Team of the Year Award
UJIA Junior Team of the Year Award
UJIA Masters Team of the Year Award
Richard Urban Lifetime Achievement Award
Members of the Jewish Community across the UK are encouraged to nominate who they think should win each category by visiting www.maccabigb.org/sportsawards
For more information, please call 0208 457 2333.