LUSTIGMAN AND CAPLIN CHOSEN TO MOULD TEAM GB'S U16 FUTSAL STARS AT 20TH MACCABIAH GAMES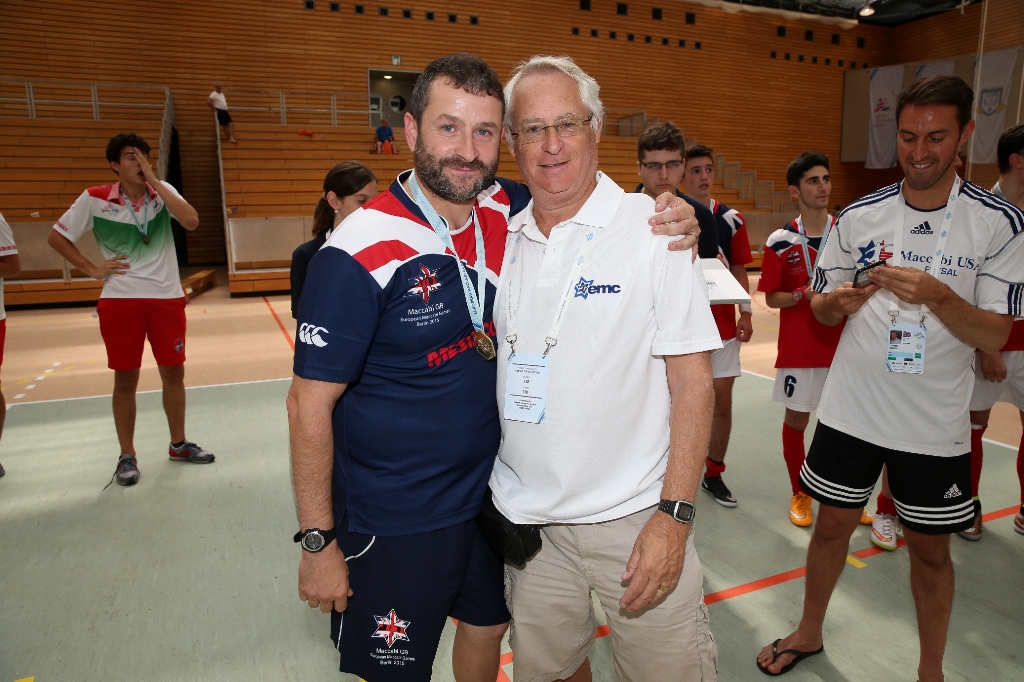 Adam Lustigman (left) with his father, Stuart
Maccabi GB, in partnership with UJIA and the Jewish Chronicle, is delighted to officially announce that the highly-decorated Futsal duo of Adam Lustigman and Phil Caplin will oversee the Team GB U16 Futsal Team at the 20th Maccabiah Games in 2017.
Lustigman, is hot off the heels of leading Great Britain's U18 Futsal Team to Gold at the European Maccabi Games 2015 (EMG2015) in Berlin. Next summer's tournament will be the fourth time he has managed a Futsal side, with his teams having experienced mixed success at International Games. In 2011, Lustigman took the helm for the European Maccabi Games, where the Team Maccabi GB Master Futsal Team won an impressive Silver medal. However, fast forward to the 19th Maccabiah Games in Israel and the same side just missed out on a medal, finishing in fourth place. That was followed by unprecedented success in Germany in 2015.
Joint-Managing with Lustigman will be Phil Caplin, a multi-cap Futsal Goalkeeper who has represented his country and Community and a number of major Jewish International Tournaments and led the Masters Futsal Team in Berlin at the EMG2015.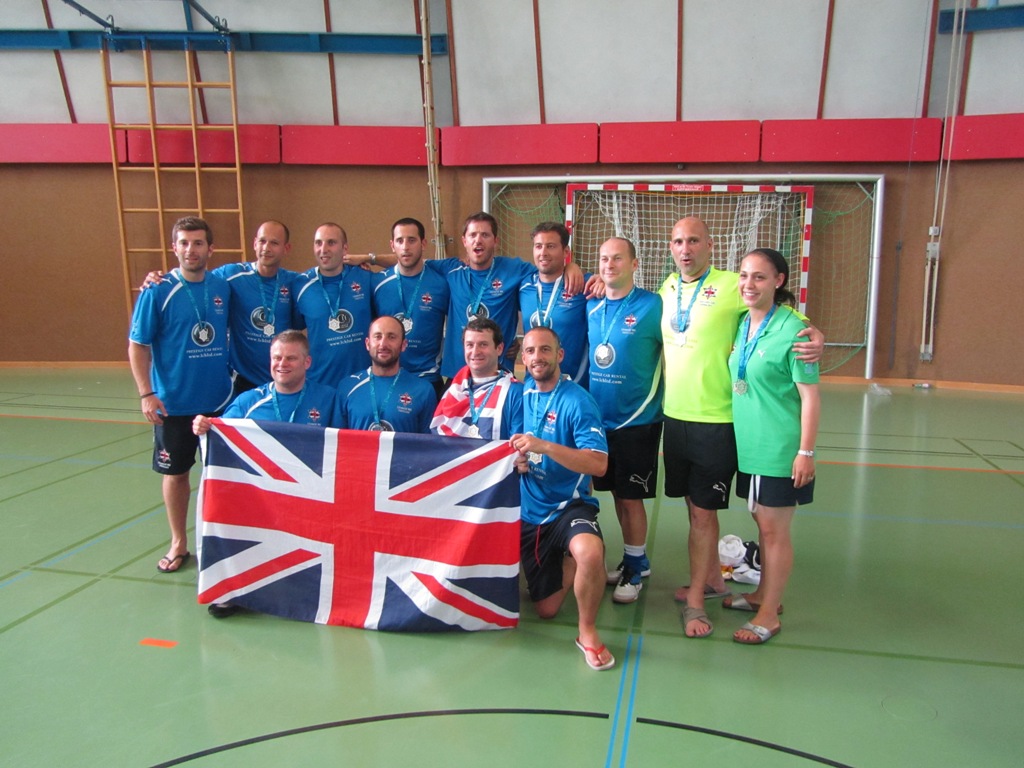 Phil Caplin (second right in yellow top) won Silver with Team GB at the EMG2011
Speaking about his appointment, the aims for 2017 and what level the current crop of players are at, Phil Caplin said, ""Having played Futsal for over 15 years (including National league level) and participated in many Maccabiah Games, it is a great honour to be announced as joint Under 16 Futsal manager for the forthcoming Maccabiah in 2017. It will be an amazing experience to represent Team GB once again with the objectives of the management team being to prepare a squad competing to its optimum level, capable of winning a Gold Medal. In addition, we will also ensure that every player enjoys the cultural, educational and social elements of a Jewish, world event as well as the sporting experience. Representing your country at the 'Jewish Olympic' will be an experience every player will remember for the rest of their lives. We are fortunate that many young players are already playing futsal at a good level, and getting coached to the best of their abilities, which we've never enjoyed previously and this adds to the excitement and optimism as well as the competition for selection."
Adam Lustigman added, "It is very exciting to be appointed as joint Under 16 futsal manager along with Phil, who is not only a very good friend of mine but someone whom I have selected for the previous three European Maccabi and Maccabiah Games. He has vast experience on the court, which will benefit our young squad greatly. As I learned from all my previous international Games, preparing a Futsal squad for competition is not all about selecting the best individual players but creating a camaraderie and spirit both on and off the court. Where Juniors are concerned we are also keen to involve the parents also, who are just as much a part of this incredible journey as those who lace up and play. The Maccabiah Games are, in a sense, a 'Once-in-a-lifetime experience' and creates moments you remember for the years that follow."
Applications for players for all Team GB sports can be found by visiting www.maccabigb.org/maccabiah-games or call 0208 457 2333
See the latest trial dates for Team GB
Sign up to the Maccabi GB Newsletter to hear all about our latest news and upcoming events first - just email enquiries@maccabigb.org