MACCABI GB AT HAND (AND FUT) TO PROVIDE HALF TERM SPORTS CLINICS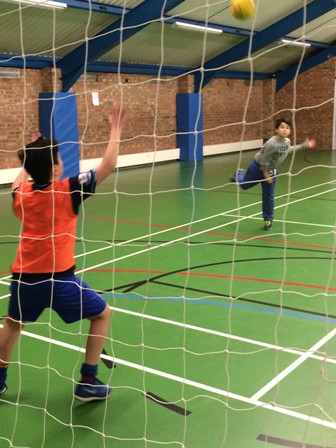 For some, the recent Half Term holidays was a time to relax. However, 20 young members of the Community decided to get active as they took part in Maccabi GB's Half Term Sports Clinics, where they developed their skills in Futsal and, for the first time, Handball.
The specialised two-day-clinics were held at 'Maccabi GB @ Kulanu' – the newly-managed indoor sports and events venue in Kenton – and were delivered by top-class Maccabi GB coaches.
Over the duration of the sessions the young Handball and Futsal enthusiasts from school years 5-8, attended the clinics to learn more about each sport and develop their skills, movement and techniques. By the end of each day those who took part were playing some exciting matches and showing off their newly learnt tricks.
Maccabi GB Sports Coordinator Alex Elf, who also plays for Maccabi GB Handball in the London Development League, was impressed with the quality of the young players in both sessions. Speaking about the clinics he said, "To have 20 young athletes who want to stay active and sporty is always positive. However, what was impressive was the commitment and passion of those who had never played either Handball or Futsal before and wanted to learn a new sport altogether. These players are getting to use a top-class facility in 'Maccabi GB @ Kulanu' and we used a lot of the drills the MGB Senior Teams run, so there was no better place to learn these sports this week."
He continued, "We hope to build on these clinics and want to see even more people attending the next ones we have planned for April. Maccabi GB has worked incredibly hard to develop sport, health and wellbeing activities within the Community – for all ages - and the benefits of this will see healthier, fitter Jewish families for years to come."
PHOTOS FROM THE FUTSAL CLINIC CAN BE FOUND HERE
For more information on upcoming courses please visit www.maccabigb.org/programmes-events