Maccabi GB celebrates International Women's Day
To celebrate International Women's Day 2019, we are sharing the inspirational stories of Maccabi GB Women. From Team Maccabi GB Athletes and to Stand Up Project Workers.
Check them out below: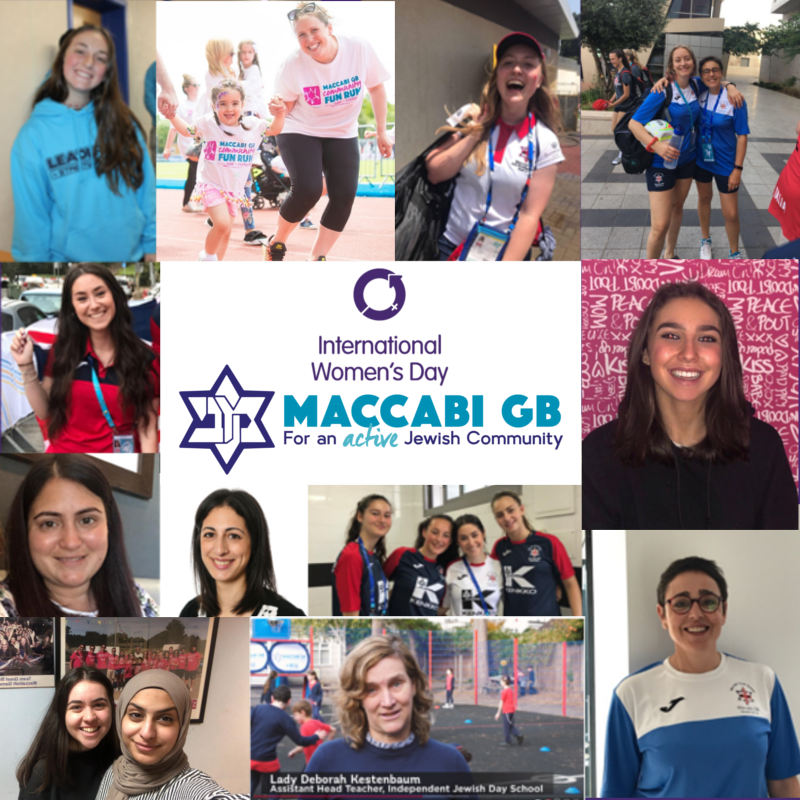 Lady Deborah Kestenbaum, Assistant Head Teacher of Independent Jewish Day School -
"Maccabi GB has always been a charity close to my heart. My husband and I have had a lot of involvement with Maccabi GB over the years and in my role as Deputy Head of IJDS, I have seen first-hand, the impact the charity has had on our girls. They have delivered PE in our school for many years now, and they supported our school ethos of providing equal opportunities to our girls in sport and physical activity. They have given our girls opportunities in PE, afterschool clubs and in their tournaments and as a woman, these opportunities for equality in sport for our girls is very high on my agenda. Being physically active and leading a healthy lifestyle and developing confidence through sport are such important parts of growing up and I enjoy working with Maccabi GB to support the needs and development of my pupils as they grow into the future of our Jewish Community.
I personally had very little sport at my Jewish High School and I missed out as a sporty child. I was therefore thrilled when my daughter represented Maccabi GB in athletics and swimming at the JCC Maccabi games in the States. I believe that thanks to Maccabi GB my granddaughter will have even more sporting opportunities."
Natalie Kenton previous Team Maccabi GB Netball Manager and Supporter - "As a netball coach & manager I'm always on the look-out for opportunities where our teams can flourish. Over the years I've attended countless Maccabi GB school tournaments and have seen how they engage hundreds of girls in sport. I too engage hundreds of girls in netball each week and so jumped at the opportunity to coach the Maccabi GB squad for the Maccabi Youth Games in 2018. It was amazing to do what I love with the support of a great organization and community, bringing together young netballers from different clubs, schools, teams, backgrounds and regions.
As always we are stronger together. I love working on joint projects with Maccabi GB – there's mutual trust, respect and confidence. We recently ran a training camp and tournament in London for the Israeli Junior Netball Squad – an event which would have been impossible without the support and engagement of our wider community.
Having grown a netball club from the ground up I've always been aware that as the club develops it has to adapt to the needs of the players and the community they play in. Maccabi GB provides our netballers with opportunities to compete on a local and international stage, to be part of something a little bit bigger, a little bit wider.
What do I love the most about being part of Maccabi GB? Well, I love the way we create opportunities for each child to make those around them proud. When they compete under the Maccabi GB banner they represent more than their team – it's family, school, country and their religion – what a gift!"
Yvonne Baron, Head Teacher Etz Chaim Jewish Primary School - "As the Headteacher at Etz Chaim Jewish Primary School, I have been working in partnership with Maccabi GB for the last three years to develop our PE provision. P.E. and school sport play a very important part in the life of Etz Chaim. We believe that P.E. and school sport contribute to the holistic development of our children and, through participation, our children build and learn more about our key values such as respect, co-operation and kindness for themselves and others. Maccabi GB supports us to achieve this through a range of extra-curricular opportunities such as lunch time and after school clubs, our annual Sports Days, inter school sports tournaments and the Maccabi GB Community Fun Run.
To complement the PE provision, Streetwise support us with a range of workshops which enhance our curriculum and develop the children's mental health and well being. During 'Friendship Week', Streetwise run sessions about antibullying; during Science Week they lead a workshop about healthy living, they support our Year 6 children with their transition to Secondary School and one of the most powerful workshops they lead discusses body image with the children in upper KS2. They also support our children and parents with Online Safety and with the teaching of Relationship and Sex Education. These opportunities empower the children and give them the skills, knowledge and confidence to make educated positive decisions.
Our partnership with Maccabi GB has enhanced the experiences we provide for our children and families. Their coaches encourage the children to engage with a wide range of sport and their educators bring expertise and create a space for the children to explore how they can stay safe in different contexts. Over the last three years, Maccabi GB has been open to feedback and has listened, often making small changes that make a big difference. We have worked together to ensure that Maccabi enhances our provision so that our children graduate from Etz Chaim with the skills and confidence to succeed in the real world."
Amy Ansell previous Team Maccabi GB Manager and Supporter - "My Maccabi GB journey began in 2005 when I played netball in the Maccabiah Games in Israel. It sparked a love of Jewish sport. I remember being totally overwhelmed by the sheer size of the event and seeing sporty Jews from the tiniest and most far flung parts of the world. It was an emotional time for me as I lost my father in April 2005 and competed only 3 months later. My Maccabi GB family supported me and essentially carried me through the Games. Four years later I captained the netball team and in 2011 I helped to set up the first ever U16 lacrosse team at the JCC Maccabi Games.
In 2012 my own family began to grow and Maccabi GB allowed me to keep an organisational role within the JCC lacrosse teams but also gave me to space to grow my family.
My proudest Maccabi GB moment most certainly came when we fielded an U18 lacrosse team at the 2017 Maccabiah Games. Having had my third child only 3 months earlier I took on the role of non-travelling chair but when July came round I couldn't bear to miss it. So me and my little babes flew out to surprise the girls. I think I was there for little more than 24 hours but it was worth it to stand on the sideline and cheer for my squad. Proud just doesn't cut it! It was utterly immense.
Now we are looking ahead to the U16s at the 2020 JCC & the Maccabiah in 2021.
I am grateful to Maccabi GB for supporting me always, on and off the pitch and court. I hope that I can inspire the next generation of girls in sport. I promise to get as many as possible out representing Maccabi GB and I hope that they will go on to love sport and Maccabi GB as I do."
Minnie Freed, Team Maccabi GB Maccabi Youth Games Bronze Medal Winner (right) - "My involvement with Maccabi GB started around this time last year when training for the Maccabi Youth Games held in Israel commenced.
From very early on, I knew that it was an organisation I'd like to be a part of. The coaches and managers engaged and inspired me so I naturally gravitated toward a more dominant role in my football team, mimicking my leaders. Being vice captain gave me a taster of what it would be like to be part of Maccabi GB's Streetwise Leadership programme. This weekend I will be experiencing my second leadership trip and I can say with certainty that it'll include a lot of discussion about Jewish values, enrichment sessions and, in true Maccabi GB style, a lot of fun and singing over Shabbat.
Participating in a girls football team over the summer really made me appreciate how far women have come as members of society and I highly recommended the experience to absolutely everyone!"
Debra Silver, Team Maccabi GB Manager, Physio and Challenge Tour Leader - "I have been involved with Maccabi GB as a manager and physiotherapist since 2009. In that time I have enjoyed supporting Maccabi GB in growing women's sport and physical activity through international games, challenge tour and their community sports days. I hope that through this I have been able to inspire female athletes to follow in my footsteps. I also led the medical team at the 2017 Maccabiah Games which as a female in a world of sport dominated by men was both a privilege and greatly appreciated to have been given the opportunity and I hope inspirational for coaches, managers and medical teams in the future"
Jessica Pinnick, Team Maccabi GB multiple netball medal winner and Young Maccabi GB Committee Member - " My Maccabi GB life started most likely since before I can even remember.
I remember being awestruck watching my brother and sister winning gold medals in the 2001 JCC Maccabi Games in Philadelphia. I recall so clearly the feeling of wanting to be able to represent my country like they had done so.
I remember going on camp at 7 years old with all of the 14/15 year olds doting on me, taking part in all the fun programmes wishing that I'd be able to lead one day too.
I also remember watching my Mum work tirelessly to launch a tour just for women. With her being my biggest role model it was truly inspiring to watch the project grow and see her take on these huge tasks and succeed as she did.
With this history of Maccabi instilled in me from a very young age and women being at the forefront of it, it's no wonder why it's such a huge part of my life now. I've been lucky enough to go to represent my country at 3 Maccabiot, twice where I lead some amazing women to win medals for our country, just like my siblings had before me.
I've lead the first ever Maccabi Youth Games Netball Team in 2018 where all three girls teams went on to win the only medals for Maccabi Great Britain, this too was something I'd hope to achieve from a young age.
And I have also been honoured to be a part of the Young Professional Committee for Maccabi GB, where we are organising events for Jews aged 18-30 to come together in a fun, comfortable and social environment.
Maccabi GB set the paving stones for me before I was born, and in turn I hope that I can continue on the legacy for future generations as it was done for me. Whether it be a young girl that watched my team play Netball in Israel or two my nephews who will hopefully one day be involved in Maccabi in some way, my wish is that I too can impact someones life the way Maccabi and its members has impacted me."
Baillie Newton Team Maccabi GB Maccabi Youth Games 2019 Gold Medalist - "I am so proud to have been chosen by Maccabi GB to represent our country and community in netball and even prouder my team brought home the gold medal.

When I first started playing netball at NNC my coach Nat inspired me to be the best netball player I could be and she has put in so much time helping us become the team we are today.

After my first match I knew netball was going to be a big part of my life and seeing the girls from Team Maccabi GB at the Maccabiah 2 years ago bring back the silver medal gave me something to aspire to.

Maccabi Youth Games was one of the best experiences of my life and from it I have made friends for life and now have friends all over the world. I had never been to Israel before and it was so amazing to see the culture and experience Israel with an amazing group of people.

I still love getting involved with Maccabi GB - playing in the netball league, community netball tournaments, training for the leadership course and the community fun run, and hopefully I will be lucky enough to compete in the Maccabiah in 2021."
Jess Tray, Team Maccabi GB Manager, medalist, JMT member, Leadership Tsvet Member and Young Maccabi GB Committee Member - "My involvement with Maccabi GB started about 10 years ago as a participant and then Tsevet member on the Streetwise Leadership programme. Since then, I've been lucky enough to manage the first ever U18 Lacrosse team at the 2017 Maccabiah Games and will be part of the Junior Management Team going to Budapest for the European Maccabi Games this summer.
The last 10 years at Maccabi GB have given me a strong appreciation for the benefits of sport, whether this be improved physical health and fitness, the invaluable life lessons (such as in leadership and teamwork) which can be learnt, friendships which form, or the proven positive impact sport has on mental health. My hope for my next 10 years at Maccabi GB is to continue the progress which has been made to increase the participation and appreciation of girls and women in sport within our community both at a casual and competitive level."
Zaynab Albadry and Talia Pins, Stand Up! Education Against Discrimination Project Workers - "We are Talia and Zaynab and we both work for Maccabi GB for a fantastic interfaith educational programme called Stand Up! Education Against Discrimination.⠀

Both of our decisions to work for Maccabi GB were not the most obvious ones- with Zaynab being from a Muslim background, she never envisaged herself working for a Jewish organisation, and Talia lacking in any sporting ability never thought she's be working for the biggest Jewish sport charity in the UK.⠀

Working at Maccabi GB has helped us to develop great relationships with inspirational women from both within the Jewish community and outside. Our involvement in Maccabi GB has allowed us to develop not only a strong and special friendship but it has provided us with an environment to break down barriers between our communities.⠀

Our favourite thing to do is discuss the differences and similarities between our two communities, and on some days we probably spend more time unpicking our traditions than anything else! Thank you Maccabi GB for giving us the space to do so!"
Chloe Jacobs, Team Maccabi GB Swimming Manager and Leadership Tsvet Member - "I've been involved with Maccabi GB for 7 years, starting with JCC Maccabi Games in Rockland, New York in 2012 for Swimming. During these Games, I won lots of medals and met so many amazing people and this is where I realised that I want to continue my journey in Maccabi GB.
I then moved onto competing at the Maccabiah Games in Israel in 2013 where I came away with a bronze medal which to this day is one of the greatest achievements in my life. I then went to Cherry Hill to compete in another JCC Maccabi Games where I came away with more medals and another amazing experience.
To continue my Maccabi GB journey, I became involved with the Streetwise Leadership programme where I took part in 4 years of the programme and then graduated. Since then, I have been part of the Tsevet for 2 years now where I get to pass my skills onto younger participants involved in Maccabi GB just like me. I am also now managing the swimming team for the European Maccabi Games in Budapest this summer! I am so excited to be involved in the Games from another perspective and can't wait to take part in another Maccabi GB experience!"
Yvie Curtis, Maccabi GB Youth Engagement Manager, Streetwise Leadership Manager and Team Maccabi GB Junior Management Team member - "I am Youth Engagement Manager for Maccabi GB, having worked for the organisation for nearly 6 years. Along the way I have taken part in 5 leadership programmes and managed 2.
In 2017 I was part of the Junior Management Team (JMT) at the 20th Maccabiah and last year I managed U16 Girls Football for the Maccabi Youth Games in Israel. This has to be one of the highlights in my 6 years. The girls' spirit, attitude and teamwork made for a special bond that celebrated the highs but also supported each other through the lows.
This weekend I will lead 90 young people at our Sports Leadership Weekend Away. This weekend is about Community, Jewish Identity, Education and so much more. I'm so proud to manage a programme that encourages personal development in an environment where both the females and males are strong, passionate and supportive members of our family." Yvie will this summer join #TeamMaccabiGB as Assistant Junior Team Manager for the European Maccabi Games.