MACCABI GB COMMUNITY FUN RUN HITS LANDMARK NUMBER IN RECORD TIME AS RACE STARTERS ARE ALSO ANNOUNCED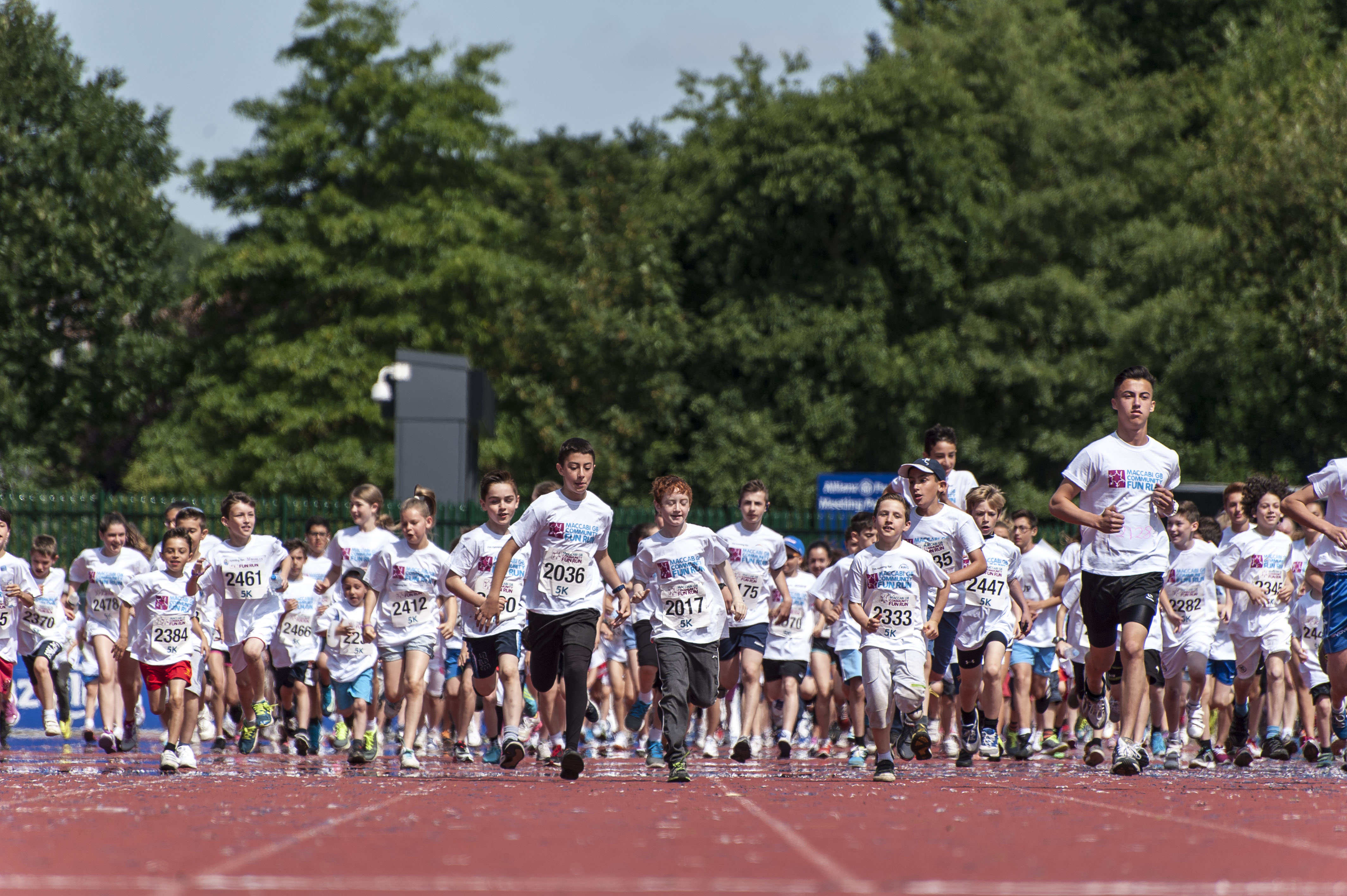 Maccabi GB is delighted to announce that this year's Maccabi GB Community Fun Run (MGB CFR) - the biggest sporting fundraiser in the communal calendar – has hit 1,000 runners in record-breaking time. The number is even more significant as the landmark was reached the same day as the event's 'race-starters' were announced.
The event, on Sunday 14th June 2015, will see the Mayoress of Camden, Daniela Pears, start the 10km distance; Nick Bitel, Chairman of Sport England, launch the 5km and 5km Walk distances; and the Mayor of Barnet, Councillor Mark Shooter, begin the 1km distance.
Last year's Maccabi GB Community Fun Run was the biggest to date, welcoming 1,500 runners and 1,500 spectators to Allianz Park in Barnet Copthall – the same venue as this year's event. At the same stage last year, sign-ups were at 500 runners. The significant rise has seen this number double and reach the 1,000 mark quicker than any other year. With registrations still open, runners regularly signing up and participants also expected to join in on the day, the 9th incarnation of the MGB CFR is forecast to be the biggest the event has ever seen – breaking more records in the process. This is also in addition to the record-breaking 48 Jewish charities who are involved – and who runners can raise much-needed funds for.
Emma Nagli, Maccabi GB's Events Coordinator who manages the MGB CFR, said, "To reach 1,000 runners quicker than any other year highlights how passionate the Community is about this event. There is a very even spread between the five race distances [10km, 5km, new 5km Walk, 1km and new Tri-Run (10km, 5km and 1km in one day)] which shows that people are really getting into the spirit of the day and finding a 'race' that's right for them. The 48 charities involved also deserve great credit for helping promote the event and they have certainly contributed to this impressive figure. This now looks like it will be the biggest Maccabi GB Community Fun Run in history and we encourage many more people to sign-up!"
As well as the five race distances attendees will be able to enjoy the Charity Fair, Family Fun Zone and new Health & Wellbeing Hub.
Registrations are still OPEN! So if you want to be a part of the largest Jewish sporting fundraiser in the UK you can sign up too via the Maccabi GB Community Fun Run Website – www.communityfunrun.org
The 48 organisations registered are: Aims2Cure, AJEX, Beit Halochem UK, British Friends of the Israel Guide Dog Centre for the Blind, British Friends of Reuth, Boys Town Jerusalem, Camp Simcha, Chai Cancer Care, CST, Emunah, GIFT, Hadassah UK, Holocaust Educational Trust, Israeli Dance Institute, Jami, Jewish Agency for Israel and Israeli Scouts, Jewish Blind & Disabled, Jewish Care, Jewish Child's Day, Jewish Genetic Disorders UK, Jewish Leadership Council, JLE, Jewish Volunteering Network, Jewish Women's Aid, JLGB, JNF UK, JW3, Kisharon, Langdon, Laniado Hospital UK, London Jewish Family Centre, Maccabi GB, Magen David Adom UK, Movement for Reform Judaism, My Israel, Nicki's Smile, Resource – The Jewish Employment Advice Centre, SEED, Shaare Zedek UK, Spread a Smile, Streetwise, TrainE-TraidE, UJIA, UK Friends of Schneider Children's Hospital, US Futures, WIZOUK, World Jewish Relief, Yachad.