MACCABI GB COMMUNITY FUN RUN LIVES UP TO ITS BILLING AS LARGEST JEWISH SPORTING FUNDRAISER IN THE UK THANKS TO RECORD NUMBERS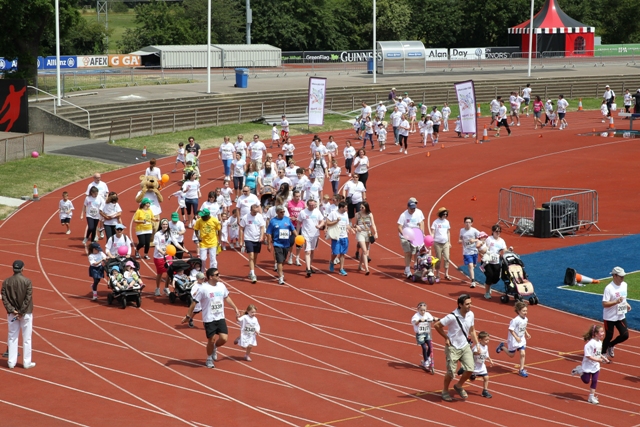 The Maccabi GB Community Fun Run 2015 (MGB CFR 2015) underlined its status as potentially the largest Jewish sporting fundraiser in the history of the UK as over 3,500 people – a new record - attended the event on Sunday to help raise funds for 48 communal charities – another record.
The event, hosted at Allianz Park Sports Stadium for the second year in a row, saw 2,000 runners, joggers and walkers of all ages and abilities attend from afar afield as France. They took part in five distances – the 10km, 5km, new 5km Walk, 1km and new Tri-Run (10km, 5km and 1km consecutively) – all designed to get them active whilst fundraising for fantastic Jewish causes.
The 48 charities involved on the day were Aims2Cure, AJEX, Beit Halochem UK, British Friends of the Israel Guide Dog Centre for the Blind, British Friends of Reuth, Boys Town Jerusalem, Camp Simcha, Chai Cancer Care, CST, Emunah, GIFT, Hadassah UK, Holocaust Educational Trust, Israeli Dance Institute, Jami, Jewish Agency for Israel and Israeli Scouts, Jewish Blind & Disabled, Jewish Care, Jewish Child's Day, Jewish Genetic Disorders UK, Jewish Leadership Council, JLE, Jewish Volunteering Network, Jewish Women's Aid, JLGB, JNF UK, JW3, Kisharon, Langdon, Laniado Hospital UK, London Jewish Family Centre, Maccabi GB, Magen David Adom UK, Movement for Reform Judaism, My Israel, Nicki's Smile, Resource – The Jewish Employment Advice Centre, SEED, Shaare Zedek UK, Spread a Smile, Streetwise, TrainE-TraidE, UJIA, UK Friends of Schneider Children's Hospital, US Futures, WIZOUK, World Jewish Relief, Yachad.
A record 1,650 participants pre-registered for the CFR faster than any other year with a further 350 signing-up throughout the day. In addition, 1,500 spectators were there to cheer on their family and friends, making it the largest Maccabi GB Community Fun Run to date, surpassing the 3,000 attendees from last year's event.
As well as the distances, attendees got to enjoy the Charity Fair, where they discovered more about the participating charities' work; took part in activities in the Family Fun Zone; and received talks and demonstrations from industry experts at the new Health & Wellbeing Hub – introduced to help members of the Community maintain an active and healthy lifestyle.
From the youngest participants – some of whom were only a few weeks old - who crossed the finish line in prams with their parents and grandparents, to those who trained specifically to take part in the day and, at the other end of the scale, avid long-distance runners, everyone did their part to make the Maccabi GB Community Fun Run memorable. Participants attended from across the UK and even from afar afield as France with Edwin Birstein travelling to London specifically for the event. There were even VIP event starters with Daniela Pears, starting the 10km distance; Nick Bitel, Chairman of Sport England, launching the 5km and 5km Walk distances; and the Mayor of Barnet, Councillor Mark Shooter, beginning the 1km distance.
Everyone who took part crossed the finish line on the stadium's athletics track to a rapturous applause and received their official Maccabi GB Community Fun Run medal.
With the final amount still being counted, it is predicted that hundreds of thousands of pounds have been raised across all of the charities and this figure is still rising. The final figure is expected to be announced later this week.
Event organiser, Maccabi GB's Emma Nagli, said, "This year was, without doubt, the biggest and best Maccabi GB Community Fun Run we have ever held. From the record number of charities to the record number of participants and even the record number of spectators it has been a fantastic day and one which will last in the memory for years to come. Every year we have ensured this event has grown to meet the needs of all those involved in the day. This year, with the introduction of the new routes [5km Walk and Tri-Run] and the Health & Wellbeing Hub, we were able to give the Community even more ways of getting active and, hopefully, remaining healthy alongside other Jewish people. It was so pleasing to see participants of all ages take part in the day and we want to say 'Mazel Tov' to those who took part.
"We also want to thank the 48 charities who were part of this enormous event this year. One of the reasons we broke the sign-up record so fast was due to the passion and drive by these organisations to recruit runners and we are proud to host this event where they all benefit. It is inspiring to see thousands of Jewish people taking an active role in supporting worthwhile, Jewish causes and it highlights the passion we all have in this Community."
Maccabi GB's Chairman Michael Ziff, who ran the 10km race, added, "The Maccabi GB Community Fun Run is becoming one of the most important and impressive events in the Jewish communal calendar. The team at MGB have worked for a number of years to get more communal involvement. The numbers of participants and attendees this year signify the immense work that has gone into the event. Every charity, synagogue and organisation in the community should now be taking part and in turn I hope we will move to double the number of participants in future years. I want to thank all those involved whether they be runners or supporters, charities or partners, and, of course, the team at Maccabi GB."
Lia Bogod, Volunteer Development Manager for the Jewish Volunteering Network, spoke about providing the event's volunteers, "We are delighted to have provided all the volunteers for the Maccabi GB Community Fun Run 2015 where they were asked to cover the areas of welcoming, registrations, marshalling, stewarding including car park, start and finish line, and more. JVN is pleased to support this major community event that is run by so many wonderful volunteers".
Colin Stodel who was volunteering on the registration desk said "I felt so appreciated as a volunteer by everyone who was there today and there was a fantastic atmosphere."
Since its launch in 2007 the Maccabi GB Community Fun Run has raised over £1,000,000 for a broad range of Jewish charities. Next year's event has already been announced for Sunday 19th June 2016. It will be a landmark occasion, marking the Community Fun Run's 10th year as well as being the first ever Maccabi Worldwide Community Fun Run, involving a number of Maccabi Delegations from around the globe.
A special thanks go to the sponsors and partner oranisations of the Maccabi GB Community Fun Run: CREDO, The Creative Clinic, Jewish Chronicle, Allianz Park, the CST, Squires Estates, Jewish Leadership Council, Jewish Volunteer Network, Express Vending, Concorde Graphics, West End Travel and Tescos.
Marcie Thomas, Tesco Barnet Community Champion, said "What a great opportunity to support the Maccabi GB Community Fun Run with post-race refreshments for participants. When we heard about the size of the event and the popularity within the Jewish Community, we jumped at the chance to be involved. It was insipring to talk to all the charities who attended, learn all about the fantastic community work they do and share information about the other charitable work I engage in within the Barnet Borough. It was my first Community Fun Run and I hope it's not my last!"

Photos can be viewed in our Photo Gallery