MACCABI GB COMMUNITY FUN RUN SETS A PERSONAL BEST FOR ITS 10TH ANNIVERSARY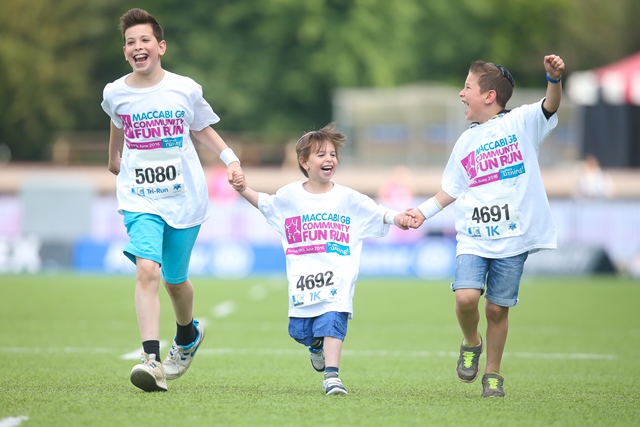 Record numbers mark historical day for Jewish fundraising
There were plenty of reasons to celebrate on Sunday as The Maccabi GB Community Fun Run 2016 (MGB CFR 2016) celebrated its 10th Anniversary whilst also cementing its status as the largest Jewish sports fundraisers in the UK by welcoming record numbers across the event. Over 4,500 people attended the day to help raise funds for 62 communal charities, both surpassing previous years. In another development, participants were able to run on behalf of seven Jewish Primary Schools – an MGB CFR first.
The event, hosted at Allianz Park Sports Stadium for the third year in a row, saw 2,500 runners, joggers and walkers of all ages and abilities attend from afar afield as Israel. They took part in five distances – the 10km, 5km, new 5km Walk, 1km and new Tri-Run (10km, 5km and 1km consecutively) – all designed to get them active whilst fundraising for fantastic Jewish causes.
A record 2,200 participants pre-registered for the MGB CFR faster than any other year with a further 300 signing-up throughout the day. In addition, 2,000 spectators were there to cheer on their family and friends, making it the largest Maccabi GB Community Fun Run to date, surpassing the 3,500 attendees from last year's event.
As well as the distances, attendees got to enjoy the Charity Fair, where they discovered more about the participating charities' work; took part in activities in the Family Fun Zone; and received talks and demonstrations from industry experts at the Health & Wellbeing Hub sponsored by Spire Bushey Hospital, which was set up to help members of the Community monitor their health and assist them in maintaining an active lifestyle.
From the youngest participants – some of whom were only a few weeks old - who crossed the finish line in prams with their parents and grandparents, to those who trained specifically to take part in the day and, at the other end of the scale, avid long-distance runners, everyone did their part to make the Maccabi GB Community Fun Run 2016 memorable. In another first for the event all those who took part in the 10km and 5km distances did so with a running chip in order to track their time.
This allowed for official winners to be announced for the first year ever:
10km
1st - Asher Brooks
2nd - Joshua Harris
3rd - Nick Lavan
5km
1st - Daniel Cohen
2nd - Jerry Cohen
3rd - Zev Grunwald
The 5km distance saw a Father/Son combination in first and second place with the younger of the two taking the crown. All runners of the 10km and 5km/5km Walk can see their times at www.fullonsport.com/result
Each distance began with VIP starters. Mark Regev, Israeli Ambassador to the UK, set off the 10km distance; Chief Rabbi Ephraim Mirvis launched the 5km and 5km Walk distances; and the Mayor of Barnet, Councilor David Longstaff, began the 1km distance.
Everyone who took part crossed the finish line on the stadium's athletics track to a rapturous applause and received their official Maccabi GB Community Fun Run medal.
With the final amount still being counted, it is predicted that hundreds of thousands of pounds have been raised across all of the charities and schools and this figure is still rising. The final figure is expected to be announced in the coming weeks.
Maccabi GB Head of Sport & Community Partnerships, Neil Taylor, who organised the event, said, "There are so many positives to say about this event it is difficult to know where to begin. I think, firstly, it has been an incredible and successful day. From the thousands of runners and participants to all the Jewish charities and schools who all make this event what it is, the enthusiasm and passion for today was palpable. The numbers obviously speak for themselves – more runners than ever, more spectators than ever and more fantastic causes to fundraise for. But we know the Maccabi GB Community Fun Run is about more than record-breaking. The event brings together all kinds of Jewish people – grandparents, long-distance runners, toddlers, those who train in the gym five times a week, those who walk to the shops once a week. And all these members of the Community, who have differing levels of religious observance, have come together for a greater cause, with no concern for anything other than to raise funds and get a little active as well. It's not a bad way to celebrate the MGB Community Fun Run's 10th Anniversary!"
Jessica Overlander-Kaye, MGB Head of Programmes, added, "This event is made by the Community. We want to thank all the charities, schools, sponsors, vendors and partners for making this day as amazing as it was. Finally, we want to thank the record-breaking participants and spectators for making this the biggest Community Fun Run and one of the largest Jewish sporting fundraiser in the history of the UK."
Since its launch in 2007 the Maccabi GB Community Fun Run has raised over £1,250,000 for a broad range of Jewish charities. Next year's event has already been announced for Sunday 11th June 2017. Maccabi GB's work has also been recognised by Maccabi Delegations from around the world as a global campaign is now underway to establish similar Community Fun Runs.
The 69 charities and Schools involved on the day were Aims2Cure, Aish, AJEX, All Aboard, Boys Town Jerusalem, British Friends of Rambam Medical Centre, British Friends of Reuth, British Friends of Shalva, Camp Simcha, Chai Cancer Care, Clore Shalom Primary School, CST, Emunah, Etz Chaim, ForCrohns, GIFT, Independent, Israel Guide Dog Centre , Israeli Dance Institute , JAMI, Jewish Agency for Israel , Jewish Blind & Disabled, Jewish Care, Jewish Child's Day, Jewish Deaf Association , Jewish Volunteer Network, Jewish Women's Aid, JLGB , Jnetics, JNF UK , JW3, Kisharon, Langdon, Laniado, Limmud , London Jewish Family Centre , Maccabi GB, Magen David Adom, Make Sense of It , MANNA - UK Branch of Meir Panim, Masorti Judaism Movement for Reform Judaism , Nicki's Smile, NIGHTINGALE HAMMERSON, North West Jewish Day School, Norwood, ONE FAMILY UK , ORT UK, The Paperweight Trust, Phone and Learn – PaL, Rambam Sephardi Community, Resource Centre, Save a Childs Heart, SEED, Shaare Zedek UK, Sinai School, Step By Step Kids, Streetwise, The Benji Hillman Foundation , UJIA, UK Friends of Schneider, United Synagogue, World Jewish Relief, Yachad, Yad Sarah, YONI JESNER FOUNDATION, Zichron Menachem , Akiva Primary School, Rimon Jewish Primary School.
A special thanks go to the sponsors and partner organisations of the Maccabi GB Community Fun Run: CREDO, The Creative Clinic, The Jewish Chronicle, Allianz Park, CST, Squires Estates, Jewish Leadership Council, Jewish Volunteer Network, JW3, Spire Bushey Hospital, Express Vending, Concorde Graphics and West End Travel.
Photos can be viewed from this week in the Maccabi GB Photo Gallery
SAVE THE DATE for the 11th Maccabi GB Community Fun Run - Sunday 11th June 2017