MACCABI GB HANDBALL PROVIDES TOUGH BARRIER FOR THAMES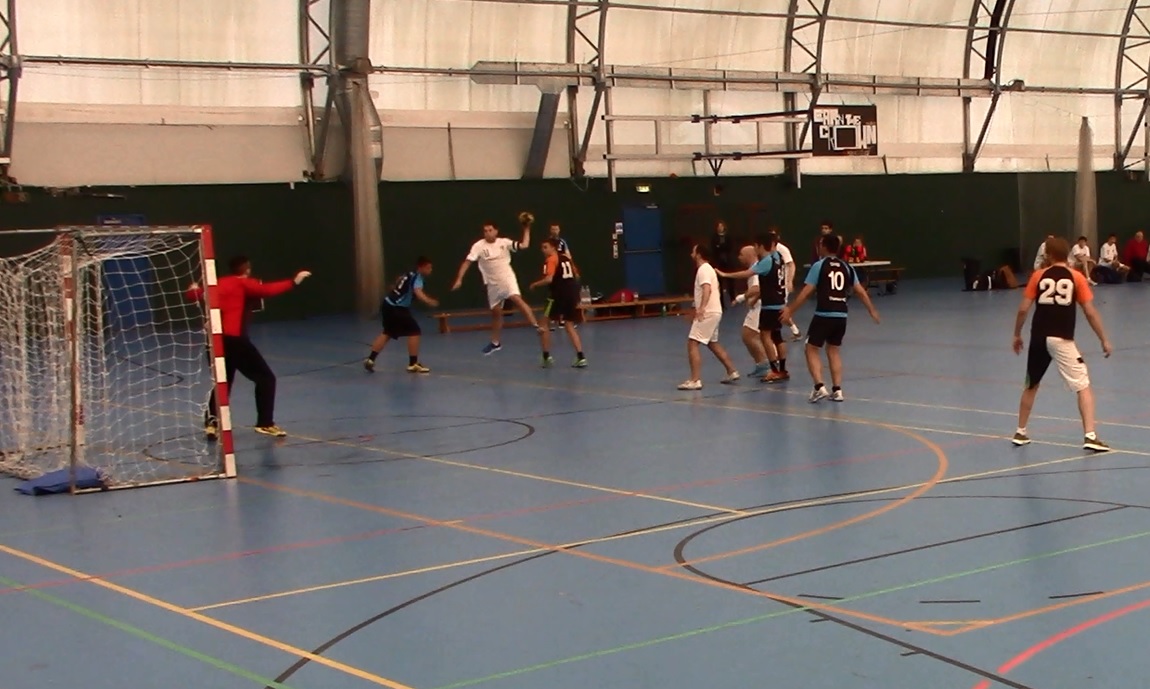 Thames Handball II 19 – 12 Maccabi GB Handball
Maccabi GB Handball players can feel extremely aggrieved not to come away from their recent England Handball Association (EHA) Regional Development League 2 match with three points as they took Thames Handball II the distance on Sunday at Score Centre, Leytonstone. The Community's top Handball side were leading up until the final moments, when a number of penalties and free-throws meant the score finished a frustrating 19-12 against.
Having played their recent games versus teams containing ex-internationals and players better-suited to higher divisions, this game pitted two evenly-matched, young sides against each other. Player Manager, Adam Goldsmith, had a full squad to choose from and shuffled the pack to allow for Yitzchok Mordfield and Adam Berg to get their first starts of the season.
The game started in a controlled fashion – both sides testing each other out before Thames took the lead, rifling a long shot past Keeper, Joshua Pinhass. This did not deter MGB as they went up the other end and earned a Penalty Throw after Back, Alex Elf, was fouled mid-shot. Tony Tropp missed the resultant throw, but got another chance almost immediately after with his second Penalty in quick succession. The ball flew past the opposition keeper, but this was to be Tropp's last action of the game as he had to be replaced by Adam Goldman after picking up an injury.
Elf got his first of three before Pivot, Yitchok Mordfield, scored his first goal for the club – on his Birthday, no less. Thames were not going to just roll over, and a barrage of shots came flying towards Pinhass' goal. However, the young shot-stopper pulled off a number of incredible saves. Two did manage to get through, but he then made an impressive save from a Penalty – his first of five Penalty saves on the day. The ever-powerful Back, Dean Caplin, also missed his own Penalty, before Daniel Sichel stole the ball from a Thames attack and Elf fed Goldsmith to notch his first, and MGB's fourth.
The Player Manager then conceded an unnecessary Penalty and the home side were back in with a shout. Another fine save from Pinhass, followed by a belter of a goal from Caplin, put the Slingshots back in control. Two more goals from Thames and some forceful finishing, following some silky skill, from Elf allowed Maccabi GB Handball to go in 7-6 up at the interval.
After half time, Maccabi GB Handball seemed to be in control and, hungry for their first win of the season, powered into a lead with goals from Centre, Adam Goldman – another with his first goal for the club – Captain, Liam Stein and Caplin with a free throw. Thames got one in return, but Pinhass was on fire with another two consecutive Penalty saves and the MGB defence ensured that little was getting through.
As the half wore on, the home side clawed their way back in with a couple of goals, before Pinhass' fourth Penalty save and goals from Goldsmith, Stein and Elf seemed to have Maccabi GB in the clear. However, in the final few minutes it all fell apart, as a number of soft fouls were called by the official. Despite Pinhass making his fifth and final Penalty save of the afternoon, there was little he or the rest of the team could do as MGB were reduced to six men. The extra player told and the referee seemed to have his whistle glued to his mouth as each minor contact was deemed worthy of a free throw or Penalty to Thames II. The buzzer went and Maccabi GB Handball were ruing what could have been a maiden victory.
After the game, Goldsmith said, "I actually left the court today feeling like we had won – not because of the score, but because of how well the boys played. This was the first time this season we have reached double-figures [in the 'goals scored' column] and I think, if Thames were honest, we were in control for most of the match. However, we have to cut out the errors and not give the referee any reasons to award so many fouls, regardless of who is officiating.
"I am really pleased for the players who got their first goals for the team. You could see how down the squad was with the result but, hopefully, they will see the level we need to be at and it will make them even hungrier to get the win next time we play this team."
Man-of-the-match for Maccabi GB Handball was Liam Stein, for his attacking impetus and for being a constant driving force to the team going forwards.
Goal scorers
Elf x3
Caplin x2
Stein x2
Goldsmith x2
Mordfield
Goldman
Tropp
Squad:
Dean Caplin
Liam Stein (Captain)
Daniel Sichel
Anthony Tropp
Adam Goldman
Alex Elf
Joshua Pinhass
Daniel Alexander
Joey Carr
Yitzchok Mordfield
Adam Berg
Adam Goldsmith (Player/Manager)
Maccabi GB Handball is still recruiting for players. Jewish athletes over the age of 16, and have good athletic ability, are encouraged to visit www.maccabigb.org/handball, email adam@maccabigb.org or call 0208 457 2333 for more info. No experience is necessary as Handball is a very easy game to pick up.
The team is sponsored by www.everythingasics.com – all Asics sports products at up to 20% off.