Maccabi GB hosts an audience with Tony Bloom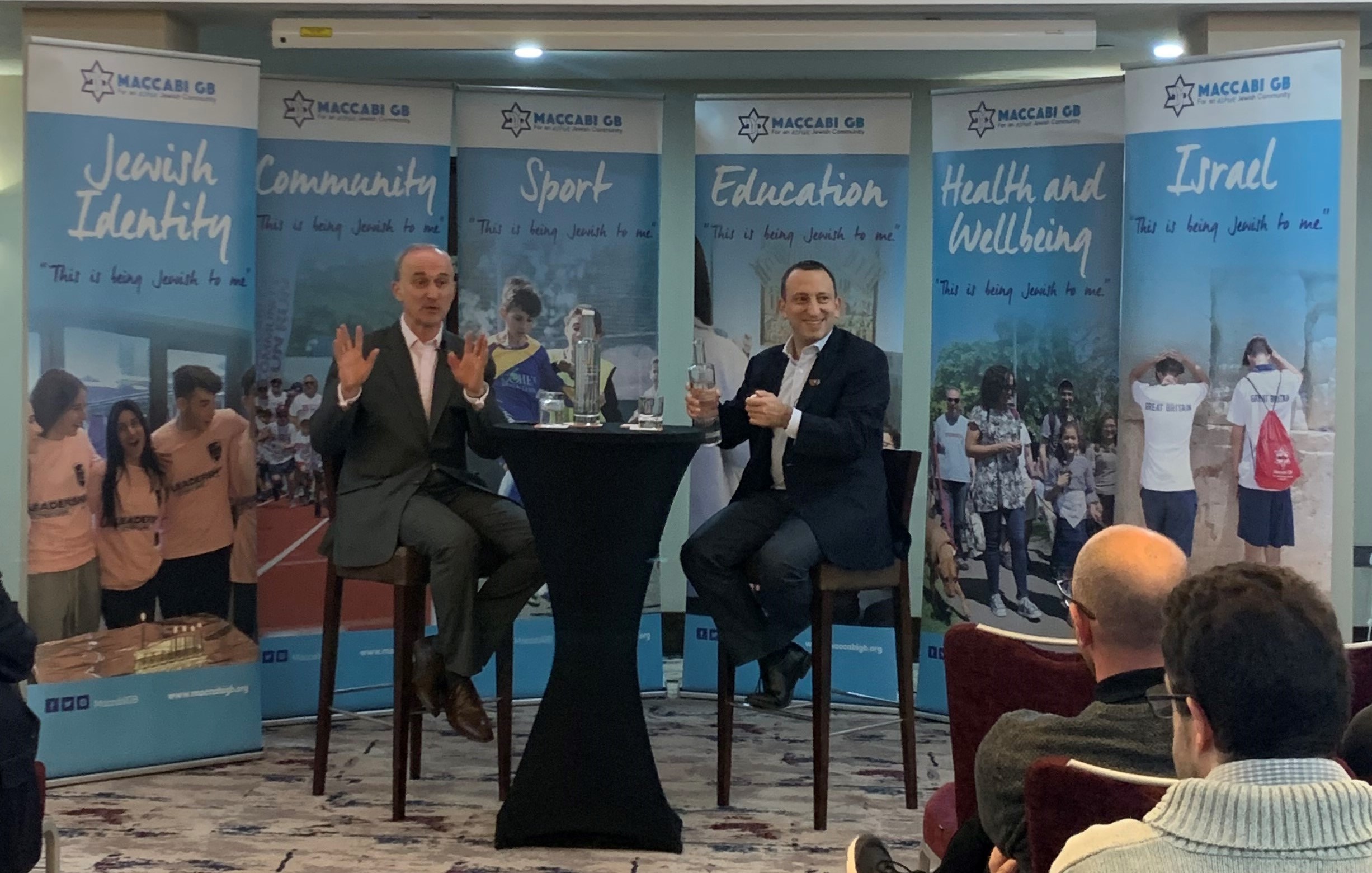 Over 100 people saw BBC Broadcaster Robert Nothman conduct a one-on-one interview with Brighton & Hove Albion (BHAFC) Chairman Tony Bloom on Wednesday night.
Tony spoke about all things Premier League Football, from what it takes it to run a professional football club, the transfer window, player selection and VAR, to the importance of community and the similarities between BHAFC and Maccabi GB.
Following the interview, Tony took questions from the audience which included how he balances the football risk with the business risk and his opinion on the impact streaming sites have on fans supporting their club.
The event also premiered the European Maccabi Games highlights film from this summer's Games as well as officially launching the 2021 Maccabiah Games.
Maccabi GB Chairman, David Pinnick started proceedings making tribute to Tony's commitment to supporting the community. He said, "Tony is a dedicated and hugely generous philanthropist. He supports his local community, both Jewish and non-Jewish in a quiet and understated way, always with the aim of improving the lives of those in his communities. We are delighted to have him here this evening as our special guest but even more fortunate to have him as a member of our community."
New Board Member, Joel Nathan, who is the Organisation's General Team Manager for the Maccabiah 2021 said, "It's not often one gets to hear from a Premier League Football Chairman, not least Tony Bloom who has been a great supporter of our Organisation. Tony and Maccabi GB have built up a great relationship and we have been fortunate enough to have sent many squads across all ages down to Brighton's superb training facility as we have prepared for International Games and hope that relationship will continues for years to come."
Assistant General Team Manager, Andrew Myers, spoke about the impact attending an International Maccabi Games has on its participants and the importance of our International Games Endowment Fund. "We do not want to just make gold medal winners. We want gold medal winners who are proud of their Jewish and British history and want to have an active role in our Jewish and British futures. Throughout my Maccabi experiences, I had not fully understood the challenges of getting athletes to the Games. There is so much that goes on behind the scenes to give each athlete who deserves to compete the chance to compete and this cannot be achieved without support from the community."
For more information or to apply to represent Maccabi GB at the 2021 Maccabiah Games please visit www.maccabigb.org/maccabiahgames or call 0208 457 2333.