MACCABI GB & JC SCHOOL SPORTS TOURNAMENT HAS 'WORLD CUP FEEL' AS SINAI FINISH TRIUMPHANT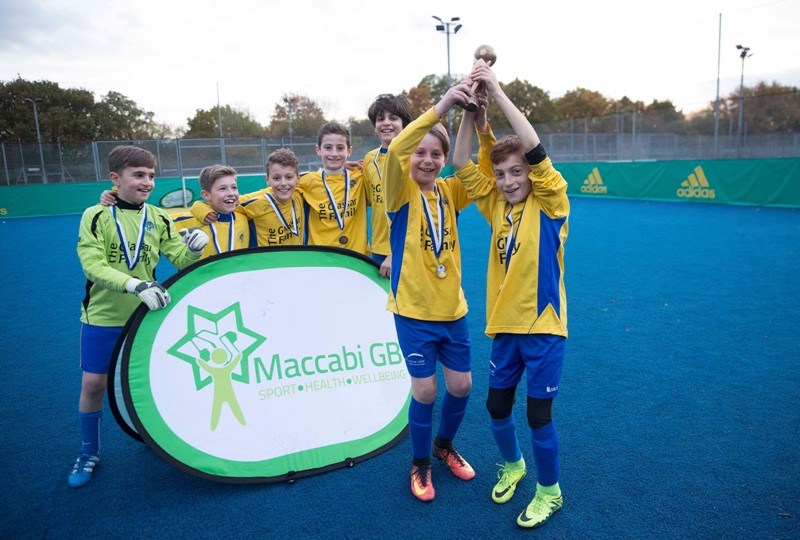 On Wednesday, an incredible total of 36 teams took part in the latest Maccabi GB (MGB) & The Jewish Chronicle (JC) School Sports Tournament – Years 5 & 6 Football – and, in doing so, welcomed more teams at an event of this kind than the FIFA World Cup, which usually hosts 32 teams.
The tournament, at Mill Hill PowerLeague, saw a total of 15 schools take part, with an incredible 330 young, Jewish footballers playing in the event and 140 spectators.
The sheer amount of players led to a number of top class performances. There was a combination of deft ball control and accurate passing mixed with attacking flair, all played in good spirit. As the competition reached the latter stages, the games became a goal-fest with apparently almost every player determined to get on the score sheet.
The Final saw Sinai's 'A' team take on Beit Schvidler 'A' and, just like the actual World Cup in Brazil in 2014, the match was decided via a goal in Extra Time, following a tense match ended goalless in regular time.
The afternoon concluded with the medals presentation to the victorious team.
Maccabi GB Sports Coordinator, Alex Elf, spoke about the latest MGB & JC School Sports Tournament, "What an impressive tournament this was today! The number of teams and footballers really made it feel like a World Cup to these players. I can't think of another Jewish organisation who brings together so many young, Jewish people in one venue to play sport. It's at events like this where Jewish friendships begin and, thanks to the skills on show here, you can tell that a lot of these players will be taking part in the MGBSFL [Maccabi GB Southern Football League] in the future. Mazel Tov to everyone who took part and thank you to all the supporters who came along to support in a welcoming atmosphere."
SEE ALL THE PHOTOS IN OUR PHOTO GALLERY