MACCABI GB OPEN RUGBY SQUAD READY TO RUCK AT 19TH MACCABIAH GAMES
Monday 24th June 2013, Hendon – Maccabi GB, in partnership with UJIA, are proud to officially announce the Team GB Open Rugby Squad who will be competing at this summer's 19th Maccabiah Games.
Managing the team will be Jon Tyler as Maccabi GB Rugby Chairman and Manager, in what will be his fifth Maccabiah Games as player or manager. Assisting him will be Mark Pettit, as Assistant Coach and Assistant Manager, who has semi-pro playing experience in New Zealand and at London Irish. He has also played in the last two Maccabiah Games. Also involved are the experienced Mike Filson and Jon Fienberg who will be competing in their fifth and third Maccabiah Games respectively. The surprise package for Team GB will undoubtedly be Head Coach, Elvis Seveali'i, a Samoan international who has represented his country at two Rugby World Cups.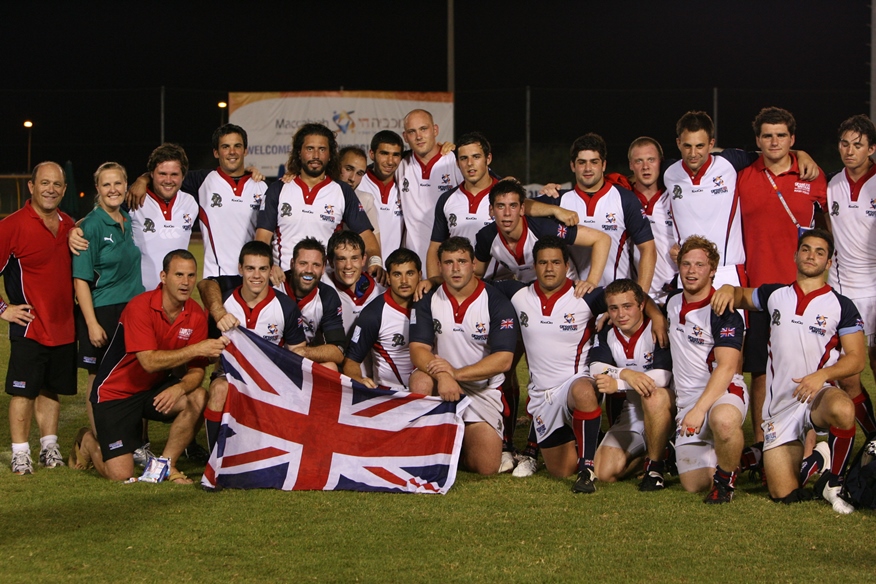 The side boasts a number of players who have played the game at a high standard and the players will be looking to avenge the Silver Medal they valiantly won in Israel at the 18th Maccabiah Games in 2009. These include Aaron Liffchak (ex-England Counties and Saracens player) as Player-Coach, who provides an unrivalled knowledge of the game along with a great set piece platform. Jake Henry, who played in the England Students team this year, will represent GB Students in the Student Games in Moscow before flying out to meet the squad in Israel. Also, Guy Tyler will act as Vice-Captain in what will be his second Maccabiah Games. He made a huge impact for the back line in every match four years ago and since then has been asked to play for the Israeli National team.
Leading the squad is Captain Sam Katz, who was named 'Most Outstanding Player of the Competition' four years ago when he was only 18. Since then Sam has played National League rugby with Loughborough Students and Rosslyn Park. This year he was Vice Captain of England Students and also represented England University 7's.
Katz commented, "I'm very proud to have been given the opportunity to captain my country for the 19th Maccabiah Games. My aim is to lead us to the Gold Medal that we were so close to winning four years ago. We have a relatively small squad compared to previous years, but one packed with talent across the board. There are a range of abilities from University level to National League players, which should mean that we have every chance of bringing back Gold. We're absolutely buzzing about the addition of Head Coach Elvis Seveali'i to our coaching set-up. He will add unbelievable experience and game management."
He continued, "The squad as a whole is a young one and more mobile than we've seen before. Fast and strong backs and aggressive forwards that can get around the park are going to provide a great combination. The boys have all been working hard on KPI testing to ensure we are the fittest team in Israel when we arrive. I am excited to represent the British Jewish Community and cannot wait to fly the flag for Team GB in Israel. There's nothing quite like a Maccabiah Games!"
The full squad can be found below:
Forwards: Aaron Cohen (Front Row), Jack Cohen (Front Row), Saul Gerald (Front Row), Nick Lewis (Front Row), Aaron Liffchak (Front Row), Dave Myers (Front Row), Adam Barnett (2nd Row), Alan Greenstein (2nd Row), Zak Nutley (2nd Row), Ben Chamberlain (Back Row), Max Hassell (Back Row), Aaron Radley (Back Row)
Backs: Mike Filson (Scrum Half), Zack Henry (Scrum Half), Sam Katz (Fly Half), Jon Fienberg (Centre), Guy Tyler (Centre), Adam Davidson (Centre/Back 3), Jake Henry (Centre/Back 3), Matthew Jacobs (Centre/Back 3), James Martin (Back 3).
Management: Jon Tyler (Team Manager), Elvis Seveali'i (Head Coach), Mark Pettit (Assistant Manager/Coach), Trevor Keys (Physio), Claudio Merkier (Chiro)
For the first time at a Maccabiah Games there is both a 15-a-side competition (with Australia, USA, South Africa, Canada, Israel, Chile and Great Britain competing) and a 7-a-side competition (with USA, Israel, South Africa and Great Britain). All games are to be played at the Wingate Institute of Sport in Tel Aviv.
The Open Rugby Squad is playing a warm-up match before they leave for Israel against a strong Invitational Team at the Allianz Park, home of the Saracens RFC, on Sunday 30th June. Kick off 6.00pm. The side would be delighted to have support from as many people as possible and entry is free.
For more information on Maccabi GB Rugby visit www.maccabigb.org or call 0208 457 2333.