MACCABI GB REPRESENTS ANGLO-JEWRY AT THE BARNET UNITY OF FAITHS FESTIVAL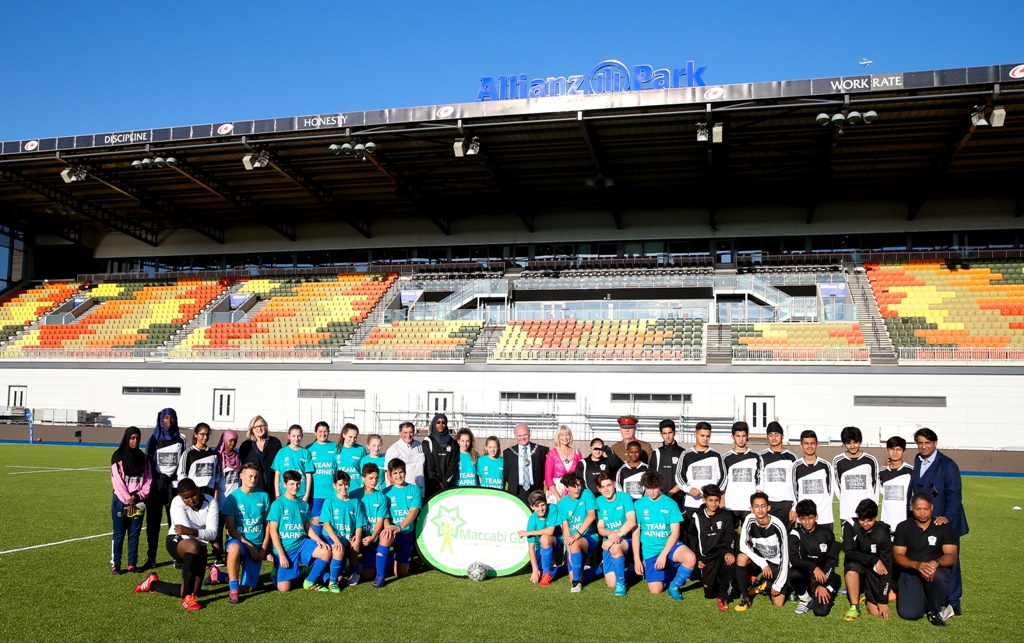 Maccabi GB (MGB) proudly represented the UK's Jewish Community on Wednesday as they were invited to be part of a celebratory interfaith youth football tournament to launch The Barnet Unity of Faiths Festival.
The Jewish Community's Sport, Health & Wellbeing organisation entered two teams – a boys and girls, many of whom represented Great Britain at this summer's JCC Maccabi Games in Stamford, Connecticut – who played in friendly matches against mixed teams of Muslim and Christian players, aged 16 and under. The event, at Allianz Park Stadium home of Rugby Premiership and European Cup Champions Saracens RFC, was organised by Borough of Barnet's Multi-Faith Forum in association with The Unity of Faiths Foundation Programme (TUFF). It utilised the latter's model of integration-through-football and was brought to Barnet for the first time.
The Mayor of Barnet, Cllr David Longstaff, started proceedings before hosting at a drinks reception in the Club's Main Stand. Saracens' 2015/2016 winning trophies were on display and there was also a fund-raising auction and entertainment as part of the celebrations.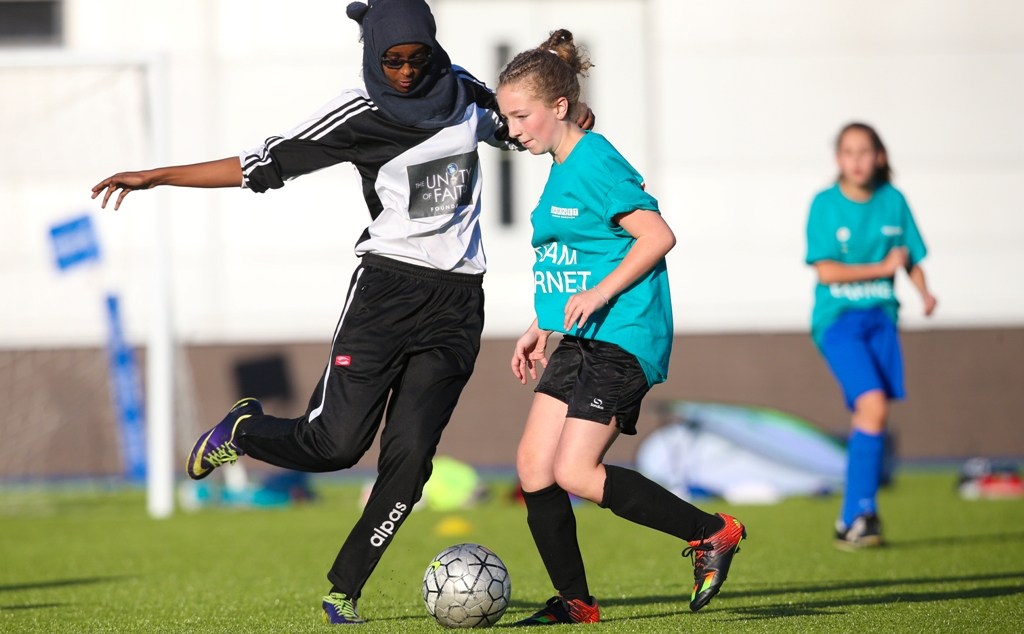 Speaking about Maccabi GB's involvement, Neil Taylor (MGB's Head of Sport & Community Partnerships), said, "When we were approached to be part of the The Unity of Faiths Foundation to be part of this festival event it was an occasion we could not miss. We [Maccabi GB] know all about how sport brings people together, so for us to represent the Jewish Community is a real honour. The young people involved today love sport – especially football – and do not see race or religion when they are passing a ball around, so initiatives like this tournament are a fantastic idea. We want to thank The Unity of Faiths Foundation for hosting this evening and well done to all footballers who took part."
Maccabi GB U16 Boys won their match 9-1 with Maccabi GB U16 Girls repeating the feat with a 6-2 victory.
The Barnet Unity of Faiths Festival (Celebration Barnet: Unity in The Community) will take place in Allianz Stadium on Spring Bank Holiday, 29th May 2017. The exciting and ambitious occasion will celebrate Barnet as a place where different faith communities from all over the world can live, work, study and play together. The free festival is being developed by a partnership of strategic Council, voluntary, sporting and business agencies across the Borough, and is intended to enhance community togetherness and knowledge between faiths in Barnet in a show of unity and understanding. It will be open to local residents of all ages, abilities and beliefs and will express diverse cultures through music, art, drama, food and sport.
The Unity of Faiths Foundation (TUFF, www.theunityoffaiths.org) is a secular charity founded to build bridges between people of different faiths and ethnicities. It counts The Pope as one of its patrons. In previous years, festivals in the London Borough of Ealing have attracted crowds of up to 35,000.
SEE ALL THE PHOTOS FROM THE EVENT HERE