Maccabi GB's Challenge Tour Returns from Israel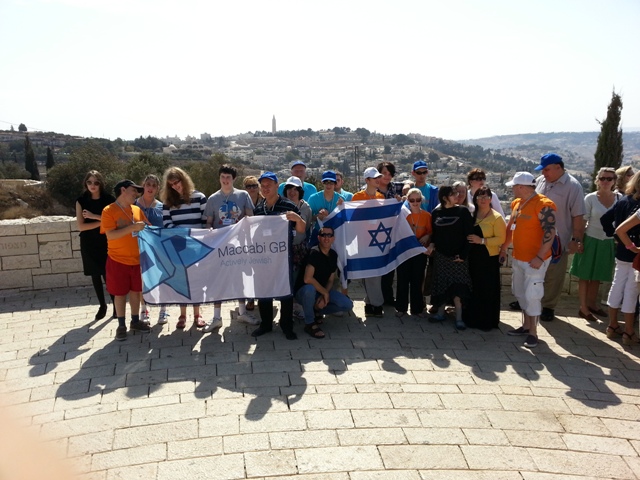 Maccabi GB's 2012 Challenge Tour returned from Israel this week having spent a memorable and exciting 10 days in the Holy Land. Whilst there, the 16 participants, who have either a physical or learning disability, explored many of the country's famous sights - such as Mount Carmel, the archeological tunnels underneath the city of Akko and even embarked on a night cruise on the Sea of Galilee. However, as the name suggests, they also participated in a number of challenges on a daily basis to experience a number of activities they perhaps would never usually face back in the UK – these included archery, paintball shooting and even an aerial assault course.
As well as seeing the sights, the participants even managed to meet a celebrity on their travels - current Israeli Minister of Foreign Affairs, Avigdor 'Avi' Lieberman. The impromptu meeting took place at Kfar Maccabiah thanks to Challenge Tour organisers, Stuart and Aviva Greenberg who arranged for the Member of The Knesset to answer questions and pose for pictures with the group towards the end of their trip.
Now in its 11th year, the Maccabi GB Challenge Tour of Israel provides people from the community, who have physical or learning disabilities, the opportunity to travel to places they may never have visited before, and to literally 'challenge' themselves whilst they are there.
This year's group catered for 15 participants, along with their family and volunteer carers, including 12 who were appearing on their first Challenge Tour.
Speaking about the Tour, co-organizer Stuart Greenberg said, "This year was one of the most successful and rewarding Challenge Tours I've ever been involved in. To have so many new faces was testament to how hard Maccabi GB is working in trying to offer something different to members of the community with a disability."
He continued, "There was obviously a lot going on in the UK during 2012, but you would never have guessed that with everyone who came to Israel talking about how much they looked forward to it all year! We always try to offer something new and unique to our participants and I can happily say we definitely did that this year. It was also a nice surprise to bump into Avi Leiberman too, and I want to thank him for taking his time to meet with us."

Check out pictures from the Challenge Tour 2012 here
For further details on the Maccabi GB Challenge Tour, visit www.maccabigb.org or call 0208 457 2333.