MACCABI GB'S FIRST EVER 'DANCE-A-THON' HAS THE COMMUNITY'S LADIES IN A TWIST…AND SHOUT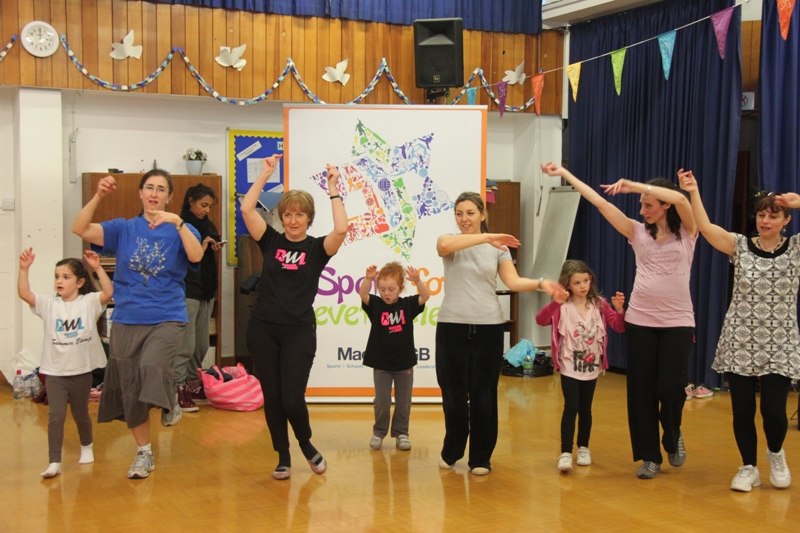 Maccabi GB and Dancing With Louise hosted the largest Ladies-only dance and fitness event of the year as women from all over the country journeyed down to London on Sunday to take part in the first ever 'Dance-A-Thon'.
Mothers, daughters, sisters and even grandmothers two-stepped along to the event, at Sinai School, from communities as far afield as Birmingham and Sheffield. It was the first time that an occasion like this has brought together women from all types of Jewish backgrounds to integrate, exercise and have fun all at the same time. It was particularly poignant for some of the participants who felt that this was the only way they could get some exercise with other women from the community.
One such attendee, Shelley (32) from Radlett, spoke about the opportunity the 'Dance-A-Thon' provided for her and her daughter, "What a fantastic afternoon! It is really great to be able to attend an event with other women where we can do something different to get active and feel good. As a religious Jew and full time mother, I find it difficult to do activities such as this where I can get some exercise with my child whilst feeling entirely at ease with those taking part along with me. I have had a brilliant time and I have already met a group of other women who are keen to take part in something like this in the future."
The 'Dance-A-Thon' was attended by 125 participants, who were put through their paces by Dancing With Louise's very own Louise Leach. The day was split into two – with a Mothers and Daughters class preceding a session for more experienced dancers. The first session also had a demonstration from Dancing With Louise's young dance troop.
Speaking about the impact of Maccabi GB's 'Dance-A-Thon', Event Coordinator Simone Stein, said, "This is one of the best women only events I have ever been involved in – as a participant or an organiser. To give these girls a platform where they can get some exercise with other ladies from the community is really important, and I think something that people underestimate. As part of our 'Sport For Everyone' Programme – where we provide a variety of sporting activities for all ages and all abilities – today really embodied that ethos. The fact we had people attending from across the UK speaks volumes as to how popular events like this can be in the future and we will strive to make sure this is the first of many for our community's ladies."
Speaking about her involvement in the event, Dancing With Louise founder, Louise Leach, said, "I want to say a big "Well Done" to all the ladies and children who made today such a pumping event and to Maccabi GB and their team who helped make the sessions so great! I am still buzzing and am also so proud of all the DWL dancers who performed today also."