MACCABI GB'S YOUNG ATHLETES LOOK TO STAMP THEIR AUTHORITY AT THE JCC MACCABI GAMES AS DELEGATION IS ANNOUNCED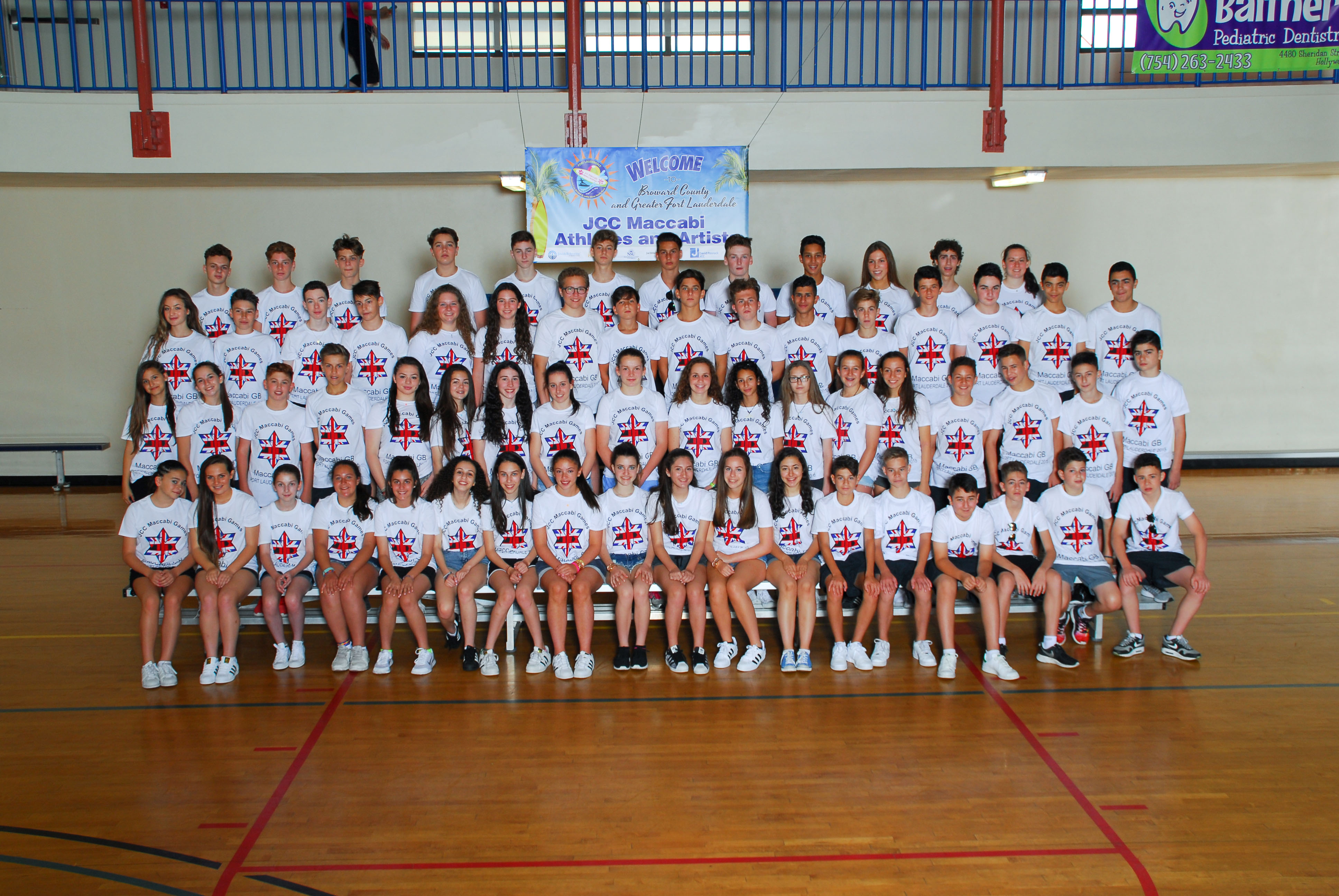 Maccabi GB's 2015 JCC Maccabi Games' Delegation
Maccabi GB, in partnership with UJIA and the JC, is proud to officially announce the representatives who will be competing on behalf of Team GB at this summer's JCC Maccabi Games in Stamford, Connecticut. The Games, from 4th-14th August 2016, are a chance for young athletes under the age of 16 to represent their country in America in a sporting environment, whilst experiencing social and cultural programmes with other young Jewish people from around the world. In a first for Great Britain the Delegation will be taking three performers to the JCC Maccabi Artsfest, a festival of performing arts, which runs simultaneously alongside the sports competitions.
The full Maccabi GB squad will consist of 60 athletes – 54 who will be competing or performing in their debut tournament on behalf of British Jewry – as well as a 13-person Management Team. They will be overseen by experienced Heads of Delegation, Janice and Ian Aarons. For many of the representatives it will be a chance to announce themselves to the Jewish sporting world as potential future Maccabiah and European Maccabi Games stars.
The full list of Squads and athletes can be found below:
Girls Lacrosse
Ellie Berg
Daisy Gershon
Jenna Jacobs
Gemma Jacobson
Georgia Koopman
Libbi Wise
Isabelle Brand
Kezia Levy
Zarah Kaye Clark
Taryn Onnie
Yves Schreiber
Managers: Nicole Sawdaye & Tash Roston
U16 Girls Football
Jessie Bloom
Natasja Collis
Eliana Jackson
Natasha Kingsley
Libby Poster
Lulu Rose
Rio Rosenberg
Ariela Silber
Emma Taylor
Natasha Williams
Managers: Alex Elf & Stacey Abendstern
Girls Dance
Jasmine Miller
Michal Weston
Francesca Magnus
Manager: Clare Dorset Purkis
U14 Boys Football (Red)
Grant Birke
Joseph Clifton
Joseph Furman
Jake Greenfield
Matthew Lee
Lev Lieberman
Asher Martin
Eytan Millan
Joshua Naftalin
Joseph Santhouse
Elliot Smith
Rafi Zamet
Managers: Liam Stein & Jordan Sapler
U14 Boys Football (Blue)
Joshua Baum
Nathaniel Case
Aaron Cowland
Dylan Heller
Jared Onnie
Lucas Schreiber
Callan Stepsky
Managers: Daniel Shafron & Joey Carr
Tennis
Adam Bolchover
Jake Jason
Louis Shaw
Joshua Hennes
Jasmine Randall
Manager: Sophie Conway
Table Tennis
Joshua Bolchover
Jonathan Gibson
George Maurice
Joe Newman
Joseph Sweiry
Manager: David Domb
Swimming
Lara Hugh
Noah Stewart
Lara Tobias Tarsh
Jason Pears
Manager: Natalie Sawdaye
Golf
Joseph Twyford
Artsfest
Abi Wander (Musical Theatre)
Sonny Gayer (Rock Band)
Delegation Heads: Janice & Ian Aarons
Media & Communications: Gilah Samuels
This summer's JCC Maccabi Games and JCC Artsfest will see over 1300 young, Jewish representatives from around 40 different delegations descend on Connecticut.
Speaking about the selection and the build-up to the Games, Natalie Sawdaye, said, "This is an exciting crop of youngsters who will be travelling to America for an experience like no other they have been a part of before. The JCC Maccabi Games are always a great opportunity for young, Jewish people to make friends from around the world and stretch those Jewish connections beyond the ones they have at home. Of course, the sporting element cannot be overlooked and we have some really talented sports stars who we are sure will be seen in Maccabi GB's colours for years to come.
"Finally, we are thrilled to be taking Team GB's first ever performers to the JCC Maccabi Artsfest. Abi and Sonny are raring to go and they're ready to show the rest of the world how much talent Great Britain really has! This is a new means for young people to represent their country and we hope to build on their efforts this year for future JCC events."
For further details visit www.maccabigb.org/jccgames