Maccabi GB Scotland Engagement Update
COMMUNITY FUN RUN
On 11th June 2017 The 1st Maccabi GB Scotland Community Fun Run took place at Rouken Glen Park, Giffnock. 80 people participated, raising money for a variety of local Jewish Charities with in excess of £1500 raised. This event held in co-ordination with the Maccabi GB fun run in London will feature in the community calendar on an annual basis. Individuals or charities wishing to become involved should contact Sue at Maccabi for details of next years event.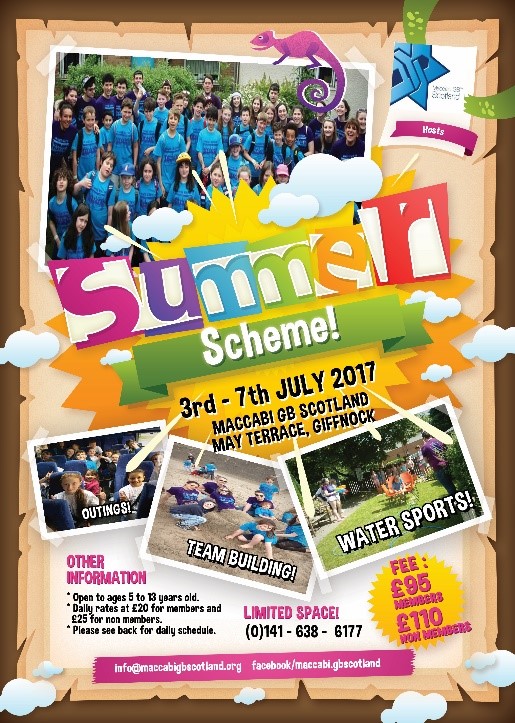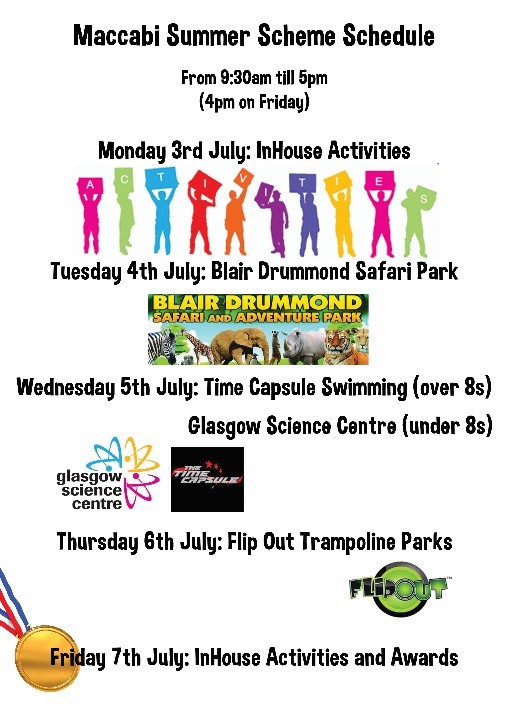 SUMMER SCHEME 2017
There are still a few places left for Summer Scheme. We have a very exciting programme this year. Check it out.
JUNIOR BADMINTON SECTION
A team of 8 players have been chosen to represent Maccabi GB Scotland in the East Renfrewshire Junior Badminton Competition. God luck to Ian and the team for Sunday 18th June.
SENIOR BADMINTON SECTION
Come down on a Monday evening for coached Badminton with Ian McAlister. Men 19.30 – 20.45 Women 20.45 – 22.00
JUNIOR FUTSAL SECTION
Will stop training at the end of June, If you wish to be involved for 2017/18 session and/or interested in being involved in the European Maccabi Games in Budapest 2019, let Sue know.
EARLY KICKERS FOOTBALL SECTION
Classes will be coming to an end. In Aug we are introducing a "block booking" system. Sue will keep you updated.
SENIOR TABLE TENNIS
Although the season does not start till August, practice sessions and social table tennis run on
Monday 19.30
Tuesdays 13.15
Thursdays 20.30
All welcome
BRIDGE
5 session run from Maccabi every week. Call the office for more details.
There has been a suggestion that we bring in a 6th session for beginners. If this interests you, please let Sue know.
Please see below for a full timetable of activity from Maccabi GB Scotland
Contact info@maccabigbscotland.org for more information