Maccabi GB switches gears to host the Community Cycle Day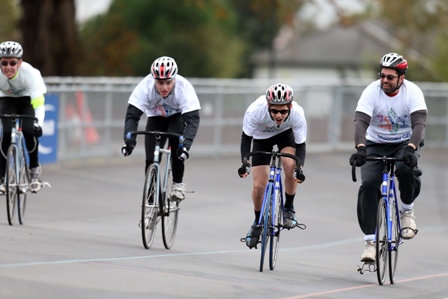 Sunday 28th October saw the first ever Maccabi GB Community Cycling Day at Herne Hill Velodrome in South London. The day, which was hosted at the old training ground of Olympic Gold Medallist and Tour de France Winner, Bradley Wiggins, was attended by over 100 people, including 50 keen cyclists. Participants had the opportunity to ride track bikes at a professional Velodrome, the only remaining venue from the 1948 Olympic Games, and receive some expert coaching from elite cyclist experts. It was a great opportunity for the participants to have a great day whilst getting a little exercise!
The day was split into two parts – One session was designed to help riders master the skill of track cycling, whilst the other was aimed at conquering the art of competitive cycling. The participants were taught the complexities of group cycling and got to experience the adrenalin rush in a 'Last Man Standing' cycling competition.
Speaking about the Community Cycling Day, Maccabi GB's Event Manager, Elizabeth Fishel, said, "This event could not have gone any better! It was amazing to see such a positive attendance, especially parents with their children. It was also very encouraging that so many people from our community are keen to get involved in cycling. Working closely with Herne Hill Velodrome and their professional coaches really added to the experience that we were able to offer the community and we will definitely be planning more of these days moving forward."
Maccabi GB has just launched a Sunday Morning Cycle Club for enthusiastic cyclists and the first will be taking place on November 4th. There are a limited amount of places available so for more information and to book your place please visit http://www.maccabigb.org/mgbcycling/.
Check out some more great photos from the Community Cycle Day in our gallery