MACCABI GB WEEKLY SPORTS CLUBS NUMBERS INCREASE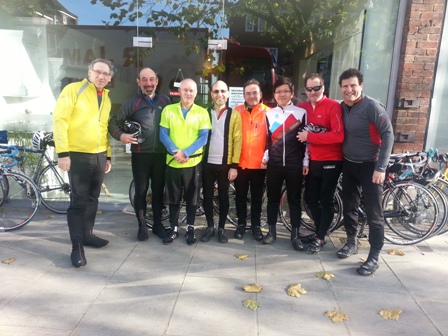 Since Maccabi GB launched its newest sports clubs, under the 'Sport for Everyone' banner, at the end of 2012, the number of people engaging in sport alongside other members of the Community has grown on a weekly basis.
Joining the already popular Netball, Futsal, Table Tennis and Water Polo Clubs - which were each attracting up to 30 players on a weekly basis – are Maccabi GB Weekly Badminton and Cycle Clubs. These newest editions now each host an average of 12 participants per week, with the numbers steadily increasing. This indicates the passion for sport within the Community.
Due to its growing popularity the Badminton Club, overseen by Maccabi GB Badminton Chairman John Roback, has recruited an ex-international player to coach its attendees. The Cycle Club, run by Nick Gendler and Paul Goodman, has also grown significantly and there are plans to double the riding groups to two in the Spring to incorporate riders of varying ability levels.
The benefits of these clubs are that members of the Community are able to participate in exercise alongside other Jewish sports-enthusiasts and that anyone, regardless of age, gender or ability, can get involved.
Head of Sports for Maccabi GB, Matt Travers, spoke about how important the 'Sport for Everyone' Programme has been, "The growth of our Weekly Sports Clubs, specifically the newer ones, in such a short period of time has been astounding. Here at Maccabi GB we strive to offer as many sporting opportunities as possible to the Jewish Community and the response shows how much people enjoy getting active. We currently have participants who hadn't exercised since their early 20's and now they are getting active on a weekly basis. I urge everyone, young and old, to come along to one of our sports clubs and give it a try."
In addition to the current Weekly Sports Clubs on offer, Maccabi GB plans to introduce a number of additional ones in the coming months, including Tennis and Track & Field .
To find out more information about Maccabi GB's Weekly Sports Clubs please contact Matt Travers on matt@maccabigb.org or call 0208 457 2333.