Mikayla Gleek raises over £1,200 in Bat Mitzvah challenge to raise money for charity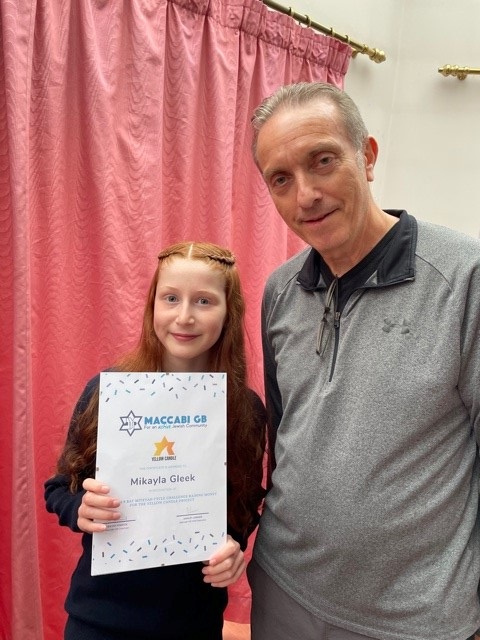 Monday 24th May, London – Mikayla Gleek, 12 celebrated her Bat Mitzvah on Saturday 22nd and Sunday 23rd May. For her Bat Mitzvah Mikayla decided to twin with Yad Vashem and place a focus on remembering someone who perished in the Holocaust. She then set herself a cycling challenge to cycle 50km in a day and chose to donate all funds to the Yellow Candle Project.
The Yellow Candle Project managed by Maccabi GB, is a practical and informal educational tool to remember Jewish Holocaust victims on the eve of Yom HaShoah, and broaden participants' understanding of the Holocaust, in the safe space of their homes.
With the help and support of family and friends, Mikayla has raised over £1,200 with all funds being donated directly to the Yellow Candle Project.
Cycling is something Mikayla has always enjoyed and she wanted to do something fun but also something to keep her active whilst raising money for Charity. With thanks to Mikayla's auntie Pippa who devised the route, Mikayla started her challenge on Sunday 2nd May at 10am, cycling 50km through four parks (Mill Hill park, Edgware park, Cannons park and Lyndhurst park). Members of her family including her grandma, cousins, her auntie and her friends supported Mikayla along the way.
Mikayla commented "I wanted to raise money for Charity to celebrate my Bat Mitzvah and I heard about the Yellow Project which remembers victims of the Holocaust and I decided that I wanted to raise money for this Charity".
Maccaabi GB Chairman David Pinnick presented Mikayla with an award and certificate in recognition of her outstanding achievement on Friday 21st May.
As part of the virtual Zoom celebrations and with the help of her Bat Mitzvah teacher Mikayla decided to split her Bat Mitzvah speech in 12 sections and after each section she lit a candle. One section of her speech was dedicated to Masha Golderberg who she was twinned with via the Yad Vashem Bat Mitzvah twinning programme. During the last section of her speech, family and friends were invited to light candles as way of including and uniting everyone.
Mikayla is continuing her fundraising work and her donation page is still open. If you would like to donate to Mikayla's page, please visit: https://www.justgiving.com/fundraising/sarah-gleek