IT'S 'DOG-MEET-DOG' AT MACCABI GB'S COMMUNITY DOG WALK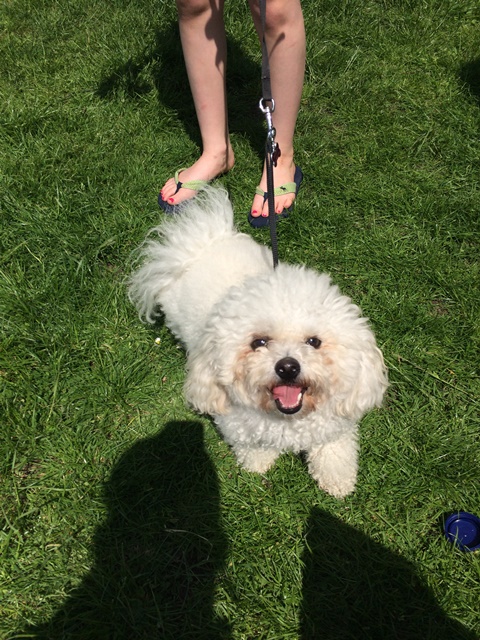 Mill Hill Park was the setting for cordial canines on Sunday as Maccabi GB hosted the Maccabi GB Community Dog Walk. Dogs of all shapes, sizes and breeds strutted their stuff on the dogwalk, with all profits from the event going towards the Maccabi GB Challenge Tour to Israel 2014. In total over £1,100 was raised, which will contribute towards the Tour for young, Jewish people with learning difficulties.
The unique event returned after a four year hiatus and saw members of the Community bring their furry, four-legged friends to the park which featured a purpose-made 'walking zone' for owners and dogs to walk together. This was followed by demonstrations from Northwick Park Dog Agility Club and TV personality Dima Yeremenko, who appeared on 'Britain's Got Talent' and 'That Dog Can Dance!".
The day also included a number of trade and private pet-related stalls and ended with numerous awards, including those for the 'Waggiest Tail', 'Fastest Sitter' and 'Best Dog/Owner Look-alike'. In total 75 dogs and over 200 humans attended the Community Dog Walk. Prizes for the winners were provided by specialist dog product companies such as Butch and Bess and Wagg, who were also event sponsors, along with the Wood Street Veterinary Clinic.
Speaking about the Maccabi GB's Community Dog Walk, Events Coordinator, Valerie Parnes, said, "Maccabi GB always aims to bring the Community a variety of sporting activities and when we had people (and dogs) pining for the Community Dog Walk to return, we didn't want to disappoint. Although there will always be elements of fun to these events we must look at the bigger picture and see that today has brought hundreds of people together to engage in exercise. The fact that all profits from the Community Dog Walk go towards the Maccabi GB Challenge Tour 2014 is an added bonus. We want to thank all those involved and who attended for contributing towards taking young, Jewish people with learning difficulties to Israel for the trip of a lifetime."
For further info and pictures call Maccabi GB on 0208 457 2333 or visit www.maccabigb.org
EVENT PHOTOS CAN BE FOUND IN OUR PHOTO GALLERY