PAN AMERICAN MACCABI GAMES 2015 RESULT: Maccabi Argentina vs Maccabi GB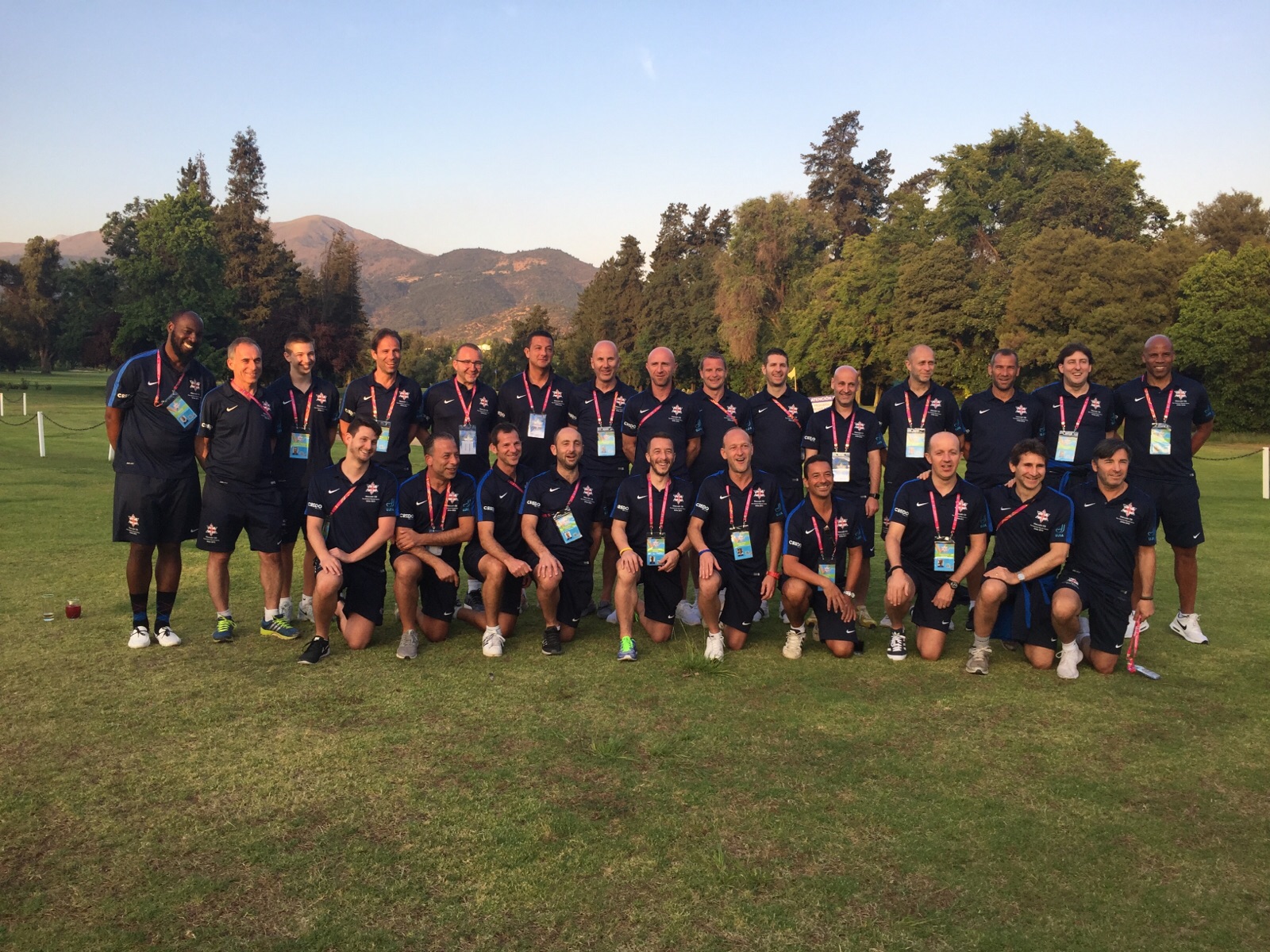 Masters 45+ Football - Result

Maccabi Argentina 1 - 1 Maccabi GB

Daryl Lazarus bagged his second goal in as many games as Team GB earn a respectful draw against pre-tournament favourites, Maccabi Argentina, to leave their hopes of qualifying from the group wide open.
Match Report
After a rest day following their 2-1 loss to USA it was back to business on Thursday for a match against defending champions Maccabi Argentina.
A different system allowed Team GB press rather than sit off and, as early as the 3rd minute, it paid dividends when Beck chased down a short throw from the Keeper, stole the ball and slid in Daryl Lazarus for a clear run at goal that he calmly slotted home.
But the dream start lasted barely 2 minutes. From a straight free kick Argentina's players were not tracked giving a free header across goal for Nestor to stoop low and head home at the far stick.
Maccabi GB kept up their work rate and when Brad Lazarus won a free kick 25 yards out he took it himself. His fine strike forced the keeper to push away. From the resulting corner came Team GB's best chance - the skipper recycled the initial ball to cross back in where Yardly,standing unmarked, flicked his header agonisingly wide.
This was a wake-up call to Maccabi Argentina and the Albiceleste started to play. They peppered many a shot onto Great Britain's goal, although a fine Davidson run and pull back was too close to the keeper for the away side.
In the Second Half Team GB rang the changes as they tried to keep up the intensity, but Argentina controled the tempo and ask most of the questions. MGB were resolute and in the end a point against a very good side was a fair one.
The evening fancy dress party saw a brilliant turn out by all before the Delegation headed to the centre where NYE was brought in by the most spectacular mountain top firework display for all the Maccabi Delegations in attandance.