PARTICIPANTS ARE SOHO ACTIVE ON LATEST MACCABI GB JEWISH WALKING TOUR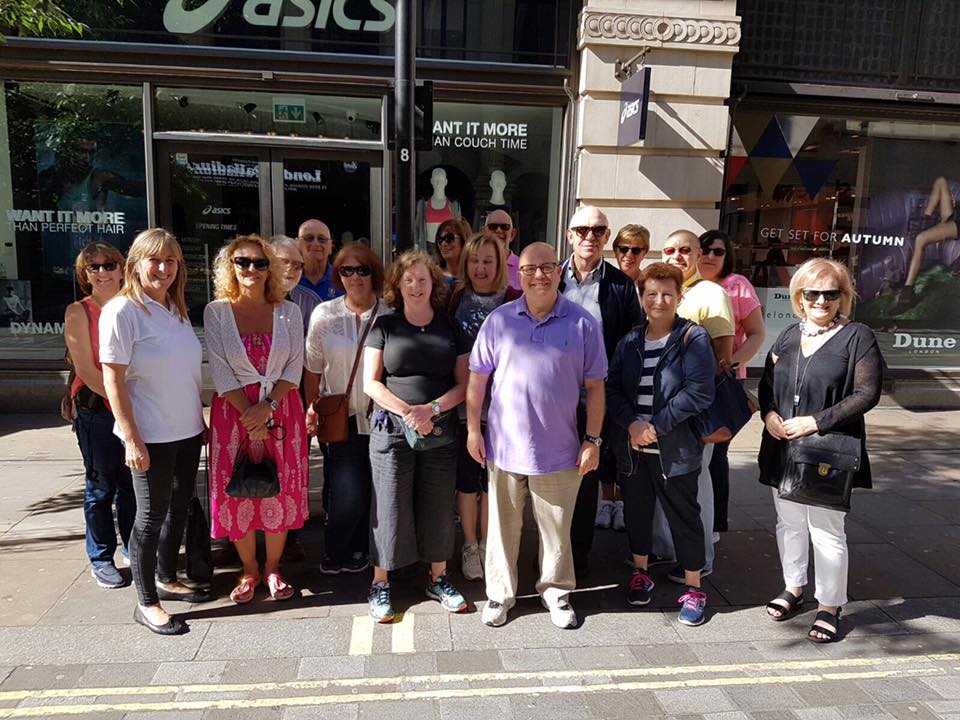 On Sunday, Maccabi GB – the Jewish Community's sport, health & wellbeing organisation - held the latest Jewish Walking Tour Of London which helped participants discover a number of Soho's hidden secrets, whilst exploring their Jewish roots and get some exercise at the same time.
The sold out, 21-person group met outside the London Palladium and immediately learnt about the Jewish connection of the TV show 'Night at the London Palladium', which was brought to television by Louis Winogradsky, better known as media proprietor, Lew 'Baron' Grade.
From here, the walkers were taken down Carnaby Street where they learnt about Irvine Sellar who developed The Shard but actually started out in the fashion business. Next up was Berwick Street, which housed a number of London's first kosher market stalls and a residence for members of the Jewish Community.
The guides took the group to The Pulteney School, which was predominantly occupied by Jewish students from 1914-1940, before visiting Clarion House - the home of Trident Studios where The Beetles recorded 'Hey Jude'. After visiting a refugee house for Jewish immigrants the Tour were taken past Norman's Coach & Horses Public House in Greek Street, which was infamous for having the 'Rudest Publican in London' (who just happened to be the son of the Jewish couple who established the business).
Rather aptly, the MGB Jewish Walking Tour of London concluded with a visit to the West End Talmud Torah & Bikkur Holim Synagogue and the Beith HaSepher Synagogue in Soho Square.
Maccabi GB Event coordinator Janice Aarons, who organises the series of Jewish Walking Tours, gave her thoughts on the latest trip, "This was definitely one of the best-received Walking Tours [Maccabi GB] has ever done. We often sell-out these groups, which highlights how seriously members of our Community take their health & wellbeing, and today was no exception. I think the historical, cultural and Jewish elements add something which you would not find if, say, you were going for a walk through your local park and the social aspect brings another reason why we have so many returning faces. We are becoming a real tight group! However, it is always fantastic to welcome new faces – as we did today – and all the participants bring something interesting to the event.
"As usual, this Walking Tour could only be put on with the exceptional work of our guides, Colin and Kathryn, and we thank them for taking this staple of Maccabi GB's Sport, Health & Wellbeing Programme to the next level. Here's to the next one, which I have begun planning already!
To join the next Maccabi GB Jewish Walking Tour visit www.maccabigb.org/walkingclub
For more up-coming Maccabi GB events, visit www.maccabigb.org/programmes-events