PENALTIES GALORE AS LATEST MACCABI GB'S GIRLS FOOTBALL TOURNAMENT SEES WOLFSON HILLEL CROWNED CHAMPIONS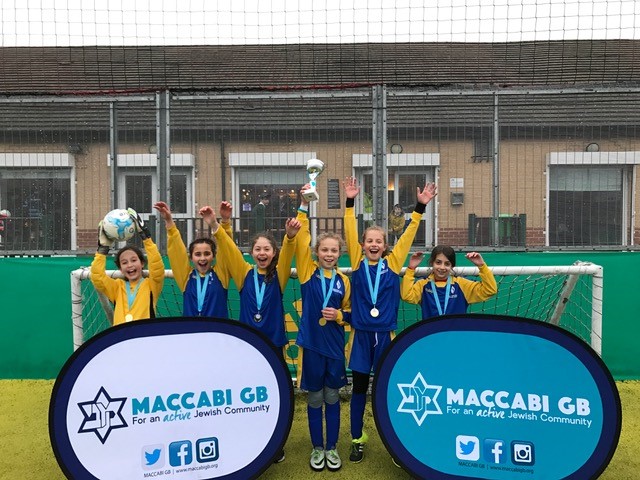 The latest Maccabi GB's School Sports Tournament ended in success for Wolfson Hillel on Wednesday, as they triumphed against 25 other teams to win the Years 5/6 Girls Football Tournament.
The event, at Mill Hill PowerLeague, welcomed 15 schools, who brought 26 teams to play between them. In total, over 230 young people were engaged in the event.
Every match was exciting with a competitive edge, with the latter stages of the tournament producing some good displays from the footballers on show.
The Semi-Finals were a timid affair, with all four teams playing it safe and forcing a penalty shoot-out but it would be Sinai A who would take on Wolfson Hillel in the Final.
The Final was a very close game with both sides playing cautiously and trying to create a break-through. When the game ended in a draw a period of Extra Time was played but this too ended goalless so penalties were again needed. It continued to be neck and neck but it was Emily Weizman who scored a neat penalty to crown Wolfson Hillel champions and claim the winner trophy!
The afternoon concluded with the medals presentation and the trophy was awarded to the winning Wolfson Hillel team.
Maccabi GB's School and Sports Manager, Alex Elf, spoke about the numbers engaged in the girls competition, "To have over 230 young girls here this afternoon is fantastic and their competitive spirit really showed with nearly every finals game going to penalties. All the players have had a great time and that is exactly what we want. All the players were well supported by their parents and teachers and to have this much support for girls football at this age group bodes well for our future girls and ladies teams."
For a full list of Community Schools sports tournaments and events visit www.maccabigb.org/programmes-events