PROGRESS FOR 'SLINGSHOTS' DESPITE HEAVY LOSS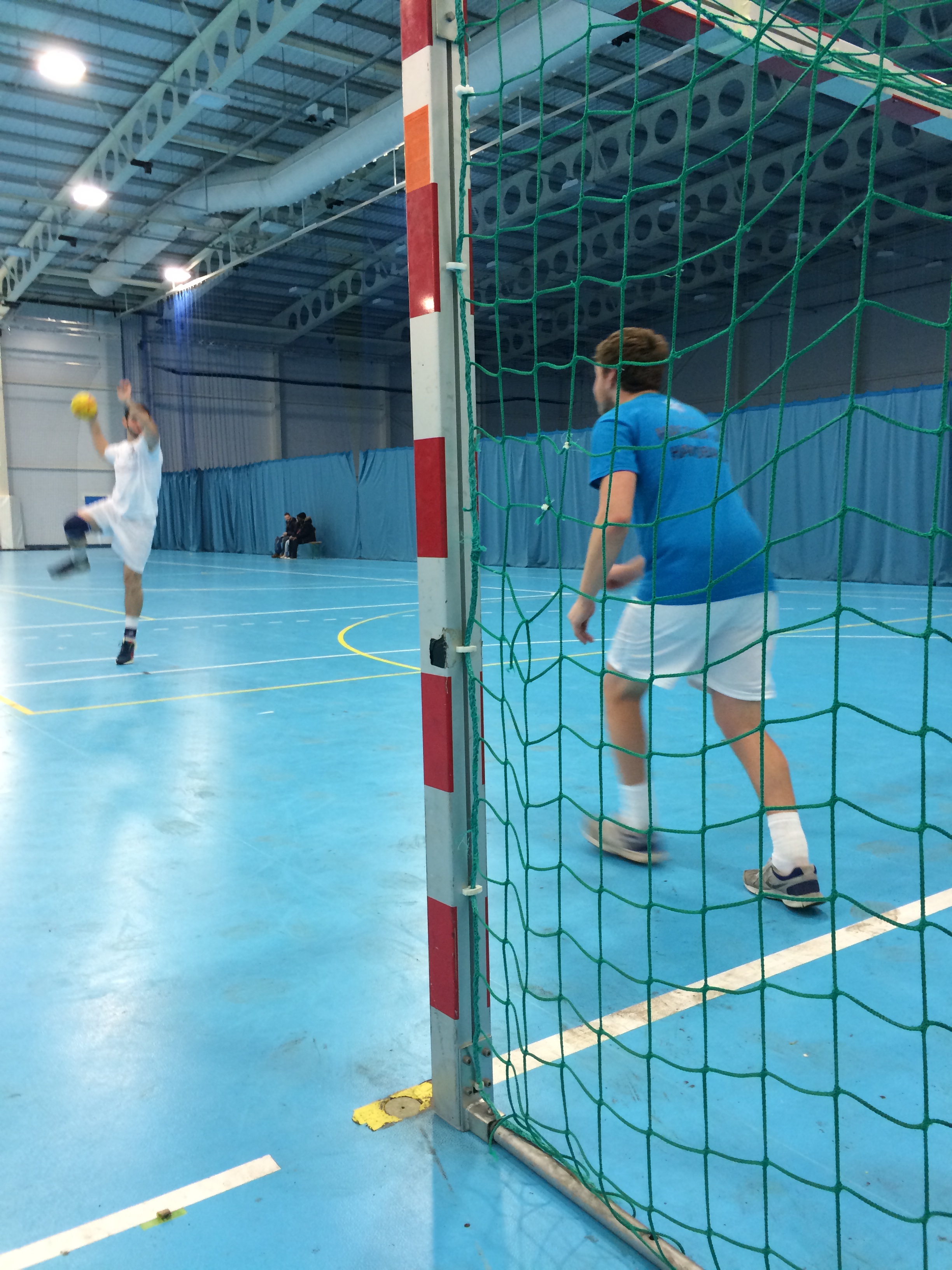 Maccabi GB Handball 8 – 33 Ruislip Eagles
Maccabi GB Handball returned to the court for the first time in over a month following their 28-6 London Regional Division 2 League defeat to Fulham Hawks. It was one bird of prey to another as they faced Ruislip Eagles – a team who they had also come across in a pre-season friendly.
A strong line-up was initially named by Player/Manager, Adam Goldsmith. However, he had to replace England Handball veteran Tony Tropp, at Centre after an injury in warm-up. Having spent the previous game devoid of much attacking impetus, Maccabi GB Handball (or the 'Slingshots' as they are affectionately known, after King David's weapon of choice), spent weeks honing their repertoire of offensive plays. This had an almost immediate impact as Dean Caplin and Goldsmith combined to test the Ruislip keeper.
Despite MGB looking more comfortable on the ball, passing it around their opponents area, stringing some promising plays together and creating six one-on-one counterattacks, their defensive play was a real hindrance and Ruislip's movement was too much for the boys in white to take. Had the likes of Captain, Liam Stein, Alex Elf and Goldsmith hit the back of the net then confidence would have instantly skyrocketed. They did not, and their team was made to pay in kind.
Caplin managed a hat-trick before he came off in the second half injured, Tony Tropp came on to add another before the break and MGB Man-of-the-Match Alex Elf notched a double – the second with a sublime piece of Handballing skill - to show that Maccabi GB had potential. However with the Eagles' Antoine Binet scoring an impressive 9 goals and Marc Fayemi running the show, the away side was tearing their opponents apart to go ahead by a 13 goal deficit at the break.
If Maccabi GB Handball were to make any dent in the scoreline they would have to do so with a man down on two occasions. Winger, Joey Carr – who had been solid in defence all morning – collected a Sin Bin for a foul on Michal Nobrega and, not longer after had he served his sentence, Pivot Daniel Sichel suffered a similar punishment for an illegal foul on Ruislip's Binet. With a man down on two occasions the Community's top Handball Team capitulated and let in a barrage of goals, with Binet smashing in another three to take his total to 12 on the day. Despite first goals of the season from Stein and Goldsmith it was to end another frustrating day for MGB.
Alex Elf, MGB's Vice Captain, spoke about the game, "Although the score suggested a hammering, it was not the case in the first half and any spectator could see how far we've come in such a short space of time [since the Club was founded in May 2014]. We are improving week-on-week and, if we were more ruthless with our chances – and there were plenty – the 'goals for' column would look a lot different. Each game is a new learning curve for us and I know that we will get better each match."
Next up for the Maccabi GB Handball is a home fixture against Islington Handball at SportHouse on Sunday 16th November, 2:15pm throw-off.
Scorers
Caplin x3
Elf x2
Stein
Tropp
Goldsmith
Squad:
Dean Caplin
Alex Elf
Liam Stein (Captain)
Daniel Sichel
Anthony Tropp
Joshua Pinhass
Joey Carr
Yitzchok Mordfield
Adam Berg
Adam Goldsmith
Maccabi GB Handball is still recruiting for players. Jewish athletes over the age of 16, and have good athletic ability, are encouraged to visit www.maccabigb.org/handball, email adam@maccabigb.org or call 0208 457 2333 for more info. No experience is necessary as Handball is a very easy game to pick up.