Record Breaking Community Fun Run Adds More Colour To Communal Fundraising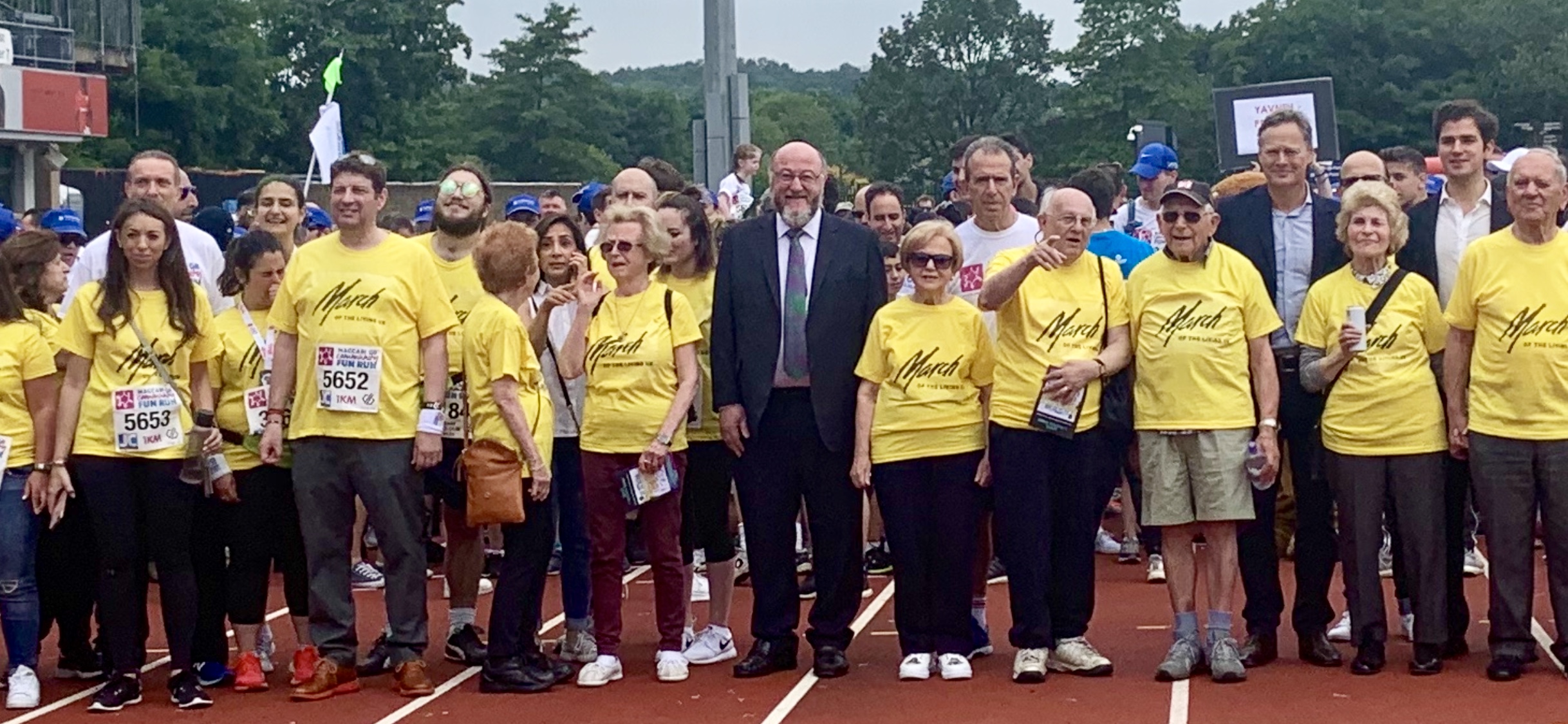 Chief Rabbi Ephraim Mirvis with Holocaust survivors at 1km start line
The 2019 Maccabi GB Community Fun Run surpassed all previous records as it saw over 7,500 members of the community raise funds for an incredible 85 community charities and schools.
The popular new addition of the Colour Run meant a record breaking number of runners ascended on the world class Allianz Park. A fantastic 3,000 people participated in the running events with well over 4,500 spectators cheering them on from the stands.
As well as the Colour Run members of the community also took part in the 10km, 5km Walk, family favourite 1km and challenging Tri-Run where all three distances were combined.
Each run began with VIP starters who congratulated participants on their efforts of raising vital funds for the communal organisations. Lord Lieutenant launched the 5km distances; Israel Ambassador Mark Regev set off the 10km distance; and Chief Rabbi Ephraim Mirvis began the 1km distance.
As they crossed the finish line on the stadiums athletics track, each participant was congratulated with a brand new Maccabi GB Community Fun Run medal.
Runners and supporters took part in the lively Fun Zone which hosted activities for the whole family including arts and crafts, glitter and face painting, and Cloud9 inflatables. They could also learn more about the charity or school they opted to raise funds for by visiting the packed Charity Fair. Health and Wellbeing sponsors, The Elms Sport in Schools, arranged different activities for everyone to take part in and ACE lifestyle kept the runners moving in the Colour Party zones.
The Maccabi GB Community Fun Run was part of a worldwide event with 25 other cities hosting the event this year.
The 2018 event broke the £2m mark and with the final amount still being counted, it is predicted that hundreds of thousands of pounds have been raised across all of the charities and schools, with the final figure being announced in the coming weeks.
The 85 charities and Schools involved on the day were: 45 Aid Society, Aims2Cure, AJEX, AJR Charitable Trust, AKIM, All Aboard, Arts Therapies for Children, Beit Shvidler Primary School, Boys Town Jerusalem, British Friends of Israel Guide Dog Centre, British Friends of Rambam Medical Centre, British Friends of Shalva, Brondesbury Park Synagogue, Camp Simcha, Chai Cancer Care, Chana, Clore Shalom School, CST, Edgware & Hendon Reform Synagogue, FD-UK, Gesher Primary School, GIFT, Hamifal, Hampstead Garden Suburb Synagogue, Hasmonean Primary School, Herut UK, Israeli Dance Institute, Jake Cohen's Journey, Jami, Jewish Blind & Disabled, Jewish Care, Jewish Deaf Association, Jewish Life Centre (Elstree & Borehamwood), Jewish Museum, Jewish Womens Aid, JLGB, Jnetics, JNF UK, JVN, JW3, Kisharon, Langdon, Leket UK, Liberal Judaism, Likrat Moldova (LivingStone Association), Little Bicks Nursery, London Jewish Family Centre, London School of Jewish Studies, Maccabi GB, March of the Living UK, Masa UK, Masorti Judaism, Migdal Emunah, My Israel, Nightingale Hammerson, Noa Girls, Norwood, Ohel Sarah UK, ORT UK, Phone and Learn, PJ Library in the UK, Play On, Project ImpACT, Raphael Jewish Counselling, Reform Judaism, Resource, Respite Kids, Rosh Pinah Primary School, Save a Childs Heart UK, Shaare Zedek UK, Shenley Synagogue, Stand Up! Education against Discrimination, Streetwise, The Malki Foundation, The Together Plan, UJIA, UK Friends of Schneider Children's Hospital, United Synagogue, Work Avenue, World Jewish Relief, Yad Eliezer, Yavneh Nursery, Yavneh Primary School, Yellow Candle Project and Yoni Jesner Foundation.
A special thanks go to the sponsors and partner organisations of the Maccabi GB Community Fun Run: Vitality Health Insurance, Saracens, Squires Estates, Dare2b, Canowater, The Elms Sport in Schools, MT Finance, Osem, Robin Ruth UK, Cloud 9 Leisure, Jewish Volunteer Network, The Jewish Chronicle, Creative & Commercial, everydayhero, Ultimate Promotions, Allianz Park and The Community Security Trust.
A special thanks must also go to everyone who donated prizes for our amazing raffle.
Stacey Abendstern, Maccabi GB Community Fun Run Manager said "This was by far, the biggest and best Maccabi GB Community Fun Run we have ever held. It was unbelievable to see so many members of the community get active and raise funds for a charity or school that is important to them, all under one roof. We are so proud to have surpassed all previous records and shows the important place this event has within our community and charities. The addition of the Colour Run events this year proved to be the key to this year's success with over half of the participants taking part in that event alone."
"We want to thank the incredible 85 charities and schools who were an enormous part of this special event and of course our amazing sponsors and partners who help make the Maccabi GB Community Fun Run possible. As the UK's leading provider of Jewish, sport, health and wellbeing, it is so inspiring for us to see thousands of Jewish people taking an active role in supporting worthwhile, Jewish communal causes."
Maccabi GB CEO Martin Berliner added, "This year's Maccabi GB Community Fun Run was the biggest and best yet. The community each year embrace the importance of this event in the Jewish calendar and the colour run certainly added value to the day's events. My highlight was greeting the five holocaust survivors who took part in the 1k, we were honoured and privileged that they attended. I cannot fault the Maccabi GB team and they should take a lot of pride in what they have achieved, not just today but in the lead up to the event as well. Thousands of people came out to support this event today - it just gets better and better."
Maccabi GB Chairman David Pinnick concluded, "If I had to choose my favourite Maccabi GB day in a full year's calendar of outstanding work – it would undoubtedly be the Community Fun Run. Whether it's couch to 5km or running with your grandchildren, we strive to make a difference to the lives of our community. Yes, we provide sport, but today's event also shows the importance in providing health and wellbeing activities. We believe collaboration and partnership is the way forward for our community and we will continue to grow and develop the Maccabi GB Community Fun Run year on year. Bringing together 85 Jewish Organisations all with the same objective on this ONE day is so very special. This year there will be over 25 Maccabi Community Fun Runs Worldwide, I am immensely proud that it started here in London with Maccabi GB."