RECORD-BREAKING MACCABI GB COMMUNITY FUN RUN 2015 TOTAL FUNDRAISING FIGURE ANNOUNCED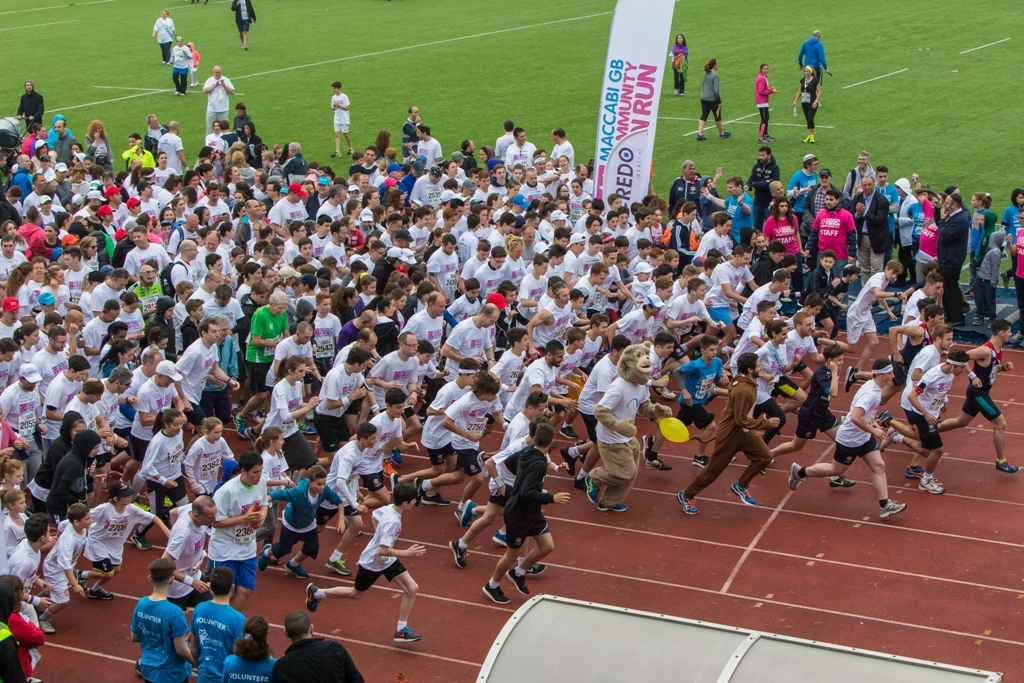 Following its record-breaking success last month, which welcomed more people than any other UK Jewish communal sporting fundraiser, the Maccabi GB Community Fun Run 2015 (MGB CFR 2015) continues to break more records as the official fundraising figure was released today at an incredible £210,000 – more-than-doubling last year's figure of £100,000.
This number was raised by the 2,000 runners (who took part in one of five race distances - the 10km, 5km, 5km Walk, 1km and Tri-Run) for the 48 record-breaking Jewish charities, all present at Allianz Park on Sunday 14th June 2015.
Jennifer Thake from Aims2Cure spoke about her charity's involvement in the event, "Aims2Cure had the most fantastic experience at the Maccabi GB Community Fun Run, we were overwhelmed! We were so lucky to have over 133 runners take part for us and our fundraising went through the roof thanks to this day. As a Jewish organisation we are so proud to be part of such an amazing, amazing event. It really was a wonderful sight to see thousands of runners all begin their races and to see how satisfied they were to finish. The amount of young people who came along to raise money for all the charities was inspiring. We have had emails from participants and spectators saying how much they enjoyed the day and that they want to do it again next year! Everyone at Maccabi GB was been so helpful, right from the start, and we were impressed with the organisation and smooth running of the whole event."
Spencer Gelding, Chief Executive of Beit Halochem, added, "In my opinion, the Maccabi GB Community Fun Run is the best Community event of the year."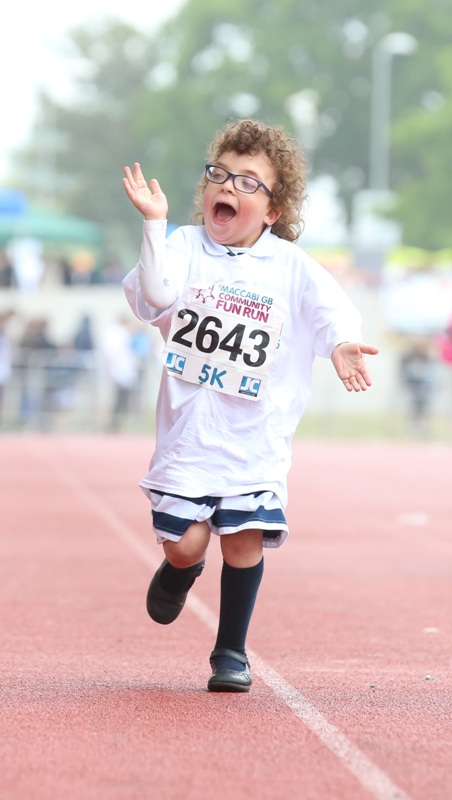 Speaking about the final fundraising figure Maccabi GB's Emma Nagli, who oversaw the event, said, "This is an incredible day for the 48 Jewish charities, and for the Community as a whole. We are absolutely delighted that we can host an event which helps raise funds for so many wonderful causes and, at the same time, brings Jewish people together to take part in a bit of exercise, no matter which distance they participated in. All the runners, spectators, charities, sponsors, volunteers, exhibitors and staff should be incredibly proud that they have made a difference and given tzedakah in a big way!"
The 48 charities involved on the day were Aims2Cure, AJEX, Beit Halochem UK, British Friends of the Israel Guide Dog Centre for the Blind, British Friends of Reuth, Boys Town Jerusalem, Camp Simcha, Chai Cancer Care, CST, Emunah, GIFT, Hadassah UK, Holocaust Educational Trust, Israeli Dance Institute, Jami, Jewish Agency for Israel and Israeli Scouts, Jewish Blind & Disabled, Jewish Care, Jewish Child's Day, Jewish Genetic Disorders UK, Jewish Leadership Council, JLE, Jewish Volunteering Network, Jewish Women's Aid, JLGB, JNF UK, JW3, Kisharon, Langdon, Laniado Hospital UK, London Jewish Family Centre, Maccabi GB, Magen David Adom UK, Movement for Reform Judaism, My Israel, Nicki's Smile, Resource – The Jewish Employment Advice Centre, SEED, Shaare Zedek UK, Spread a Smile, Streetwise, TrainE-TraidE, UJIA, UK Friends of Schneider Children's Hospital, US Futures, WIZOUK, World Jewish Relief, Yachad.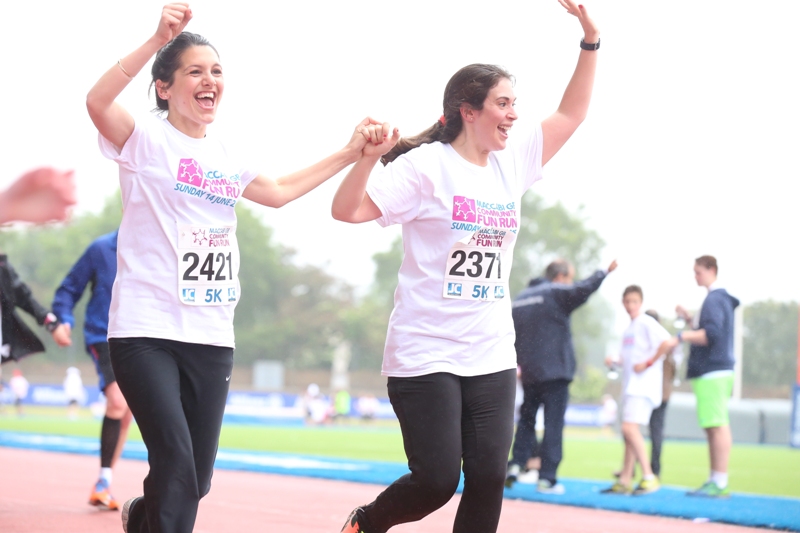 Since its launch in 2007 the Maccabi GB Community Fun Run has raised over £1,000,000 for a broad range of Jewish charities. Next year's event has already been announced for Sunday 19th June 2016. It will be a landmark occasion, marking the Community Fun Run's 10th year as well as being the first ever Maccabi Worldwide Community Fun Run, involving a number of Maccabi Delegations from around the globe.
A special thanks go to the sponsors and partner organisations of the Maccabi GB Community Fun Run: CREDO, The Creative Clinic, Jewish Chronicle, Allianz Park, Squires Estates, Jewish Leadership Council, the CST, Jewish Volunteer Network, Express Vending, Concorde Graphics, West End Travel and Tescos.
All photos can be viewed in the Maccabi GB Photo Gallery.