Registration Now Open for the UK's Largest Jewish Sporting Event – the Maccabi GB Community Fun Run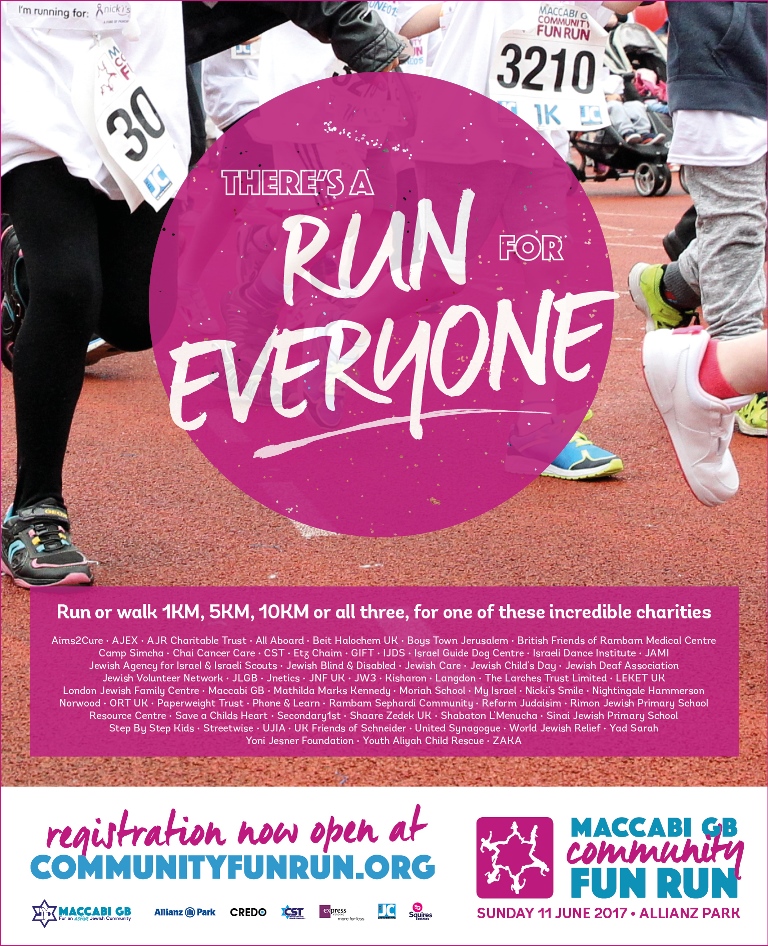 Maccabi GB is delighted to open registration for this year's Maccabi GB Community Fun Run (MGB CFR) – the UK's largest Jewish Sporting event.
The event, which engaged over 4,500 members of the community in 2016, will once again return to Allianz Park on Sunday 11th June. This year's MGB CFR will see over 70 Jewish charities and schools come together to raise funds for worthwhile causes.
The Community can choose from five events - 1km, 5km, 5km walk, 10km and the Tri-Run (all three distances). As well as this, attendees will be able to enjoy the Charity Fair, Family Fun Zone and a Health & Wellbeing Hub.
Neil Taylor, Maccabi GB's Head of Sport and Community Partnerships, said "Over the last 10 years, the Maccabi GB Community Fun Run has raised £1.5 million for Communal charities and schools. This year's event is will see over 70 organisations making it the biggest and best yet. It really is an amazing day which sees people of all abilities come together to raise funds for an active Jewish Community, so make sure you register now, start training and we'll see you on the 11th June!"
Registration is now open! So if you want to be a part of the largest Jewish sporting event in the UK you can sign up via the Maccabi GB Community Fun Run Website – www.communityfunrun.org
The organisations registered are: Aims2Cure, Aish, ,AJEX, AJR Charitable Trust, AKIM, All Aboard, Beit Halochem UK, Boys Town Jerusalem, British Friends of Rambam Medical Centre, Camp Simcha, Chai Cancer Care, Chana, CST, Etz Chaim Jewish School, GIFT, Independent Jewish Day School Academy, Israel Guide Dog Centre, Israeli Dance Institute, JAMI, Jewish Agency for Israel, Jewish Blind & Disabled, Jewish Care, Jewish Child's Day, Jewish Deaf Association, Jewish Volunteer Network, JLGB, Jnetics, JNF UK, PJ Library in the UK, JW3, Kisharon, Langdon, LEKET UK, London Jewish Family Centre, Maccabi GB, Mathilda Marks Primary School, Moriah Jewish Day School, My Israel, Nicki's Smile, Nightingale Hammerson, Norwood, North West Jewish Day School, ORT UK, Paperweight Trust (The), Phone and Learn – PaL, Rambam Sephardi Community, Reform Judaism, Resource Centre, Rimon Jewish Primary School, Save a Childs Heart, Schools, Secondary1st, Shaare Zedek UK, Shabaton L'Menucha, Sinai School, Step By Step Kids, Streetwise, The Larches Trust Limited, UJIA, UK Friends of Schneider, United Synagogue, World Jewish Relief, Yad Sarah, Yoni Jesner Foundation, Youth Aliyah Child Rescue, ZAKA.