Safely exercising outdoors - Lockdown 2.0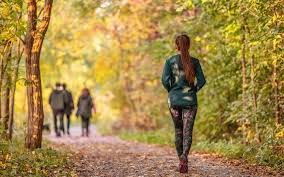 Lockdown 2.0 – Exercise tips
Lockdown 2.0 is here and with the gyms and leisure centres having shut their doors our thoughts have turned to how we can keep ourselves safe during the longer, colder and darker nights.
Being active is not only an important part of keeping oneself physically fit, but it is also crucial to keeping ourselves mentally fit and healthy. 30 minutes of exercise a day is scientifically proven to improve our mood and health, so it is vital that we keep up that aspect of our daily routine.
A simple change you can make would be to switch your workout from the evening to earlier in the day. The lighter mornings can help to boost your mood, provide an added feeling of safety and you'll get the satisfaction of completing a daily task before you start work for the day.
Technology – How can you use it whilst exercising outdoors?
Technology can play a large role in keeping us safe whilst outside. One such way is using apps that send your location to specified contacts. On an iPhone you can use the Find My Friends app and on the Android platform you can use the Google Location sharing. This will give real-time updates to contacts you choose whilst you are out and about exercising.
If you don't have a suitable smartphone then ensure before you leave you let someone know the exact route that you're taking and how long you think you'll be out for.
Can I exercise with another household?
With the lockdown rules allow you to meet one person from another household for exercise, there is always the option to catch up with a friend or family member for your run or walk. If you get some company for your run, then try to make sure that you go at a pace where you are able to hold a full conversation but still getting a little out of breath to get the biggest benefits.
What should I wear whilst exercising outdoors?
A crucial element of taking part in activities outside is the clothing you wear and the equipment you use, if you are exercising early in the evening then it's a must to wear bright, reflective clothing. A lot of workout clothes now have this feature as a standard but it's always good to double check before you leave by turning out the lights in the room and looking into the mirror to be aware of where the reflective parts of your outfit are.
Does it help to listen to music whilst exercising?
Speaking from personal experience I find it a struggle to get out and about without listening to my favourite music or the latest episode of a podcast and whilst I would advocate to do anything that will get you active it's important to make sure that the sound levels aren't too high that it prevents you from being aware of your surroundings. You should adjust the volume levels so that you can hear someone call your name and the traffic on the roads. It may take some fiddling but once you find the sweet spot you will be used to the background noise of your environment and it will help your awareness of what is happening around you.
How can I exercise indoors?
If you're still unsure about exercising outside then home workouts are always an option, the internet has a plethora of resources to choose from and our own Maccabi GB YouTube page has a number of seated workouts and PE lessons that are suitable for any age range. If that's not to your taste or you're looking for something a little more 'on your feet' then there are thousands of videos ranging from stretching, HIIT workouts and strength building sessions that you can do from the comfort and safety of your own living room, just make sure you have enough space!
Written by Jordan Sapler
School and Sports Manager
Maccabi GB
Phone: 020 8457 2333