SLAM-DUNK FOR MACCABI GB'S SECONDARY SCHOOL BOYS BASKETBALL TOURNAMENT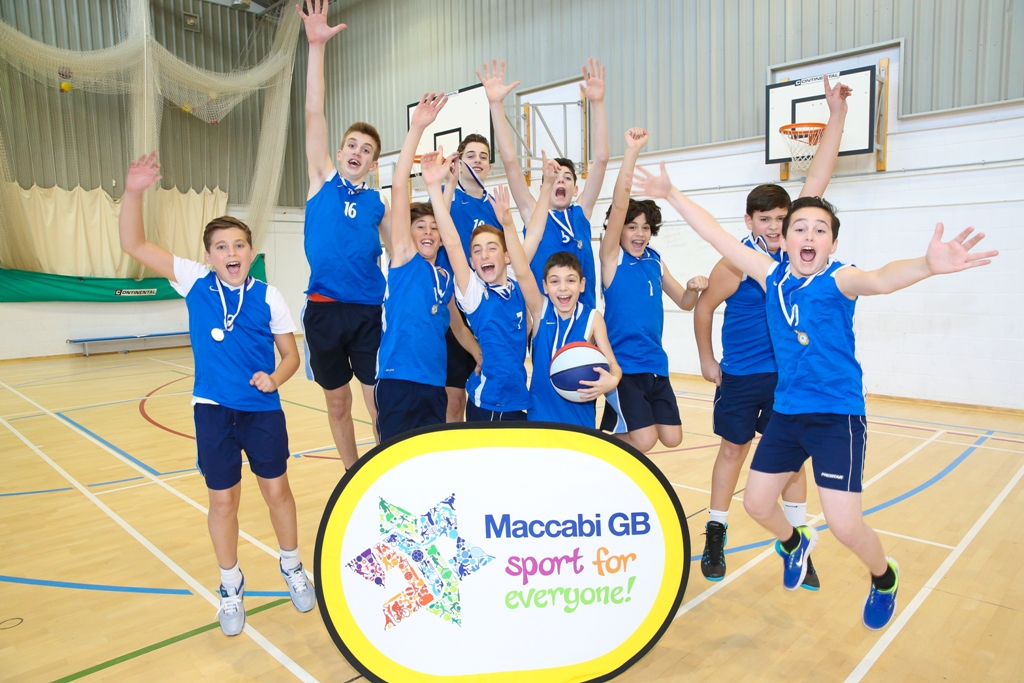 JFS, King Solomon and Hasmonean had a bounce in their step on Monday as they came away with the winner's trophies from Maccabi GB's Secondary School Boys Basketball Tournament.
The event, at JFS in Kenton, was the first School Sports Tournament of 2014 and continued the success off the back of last year's involvement in the Community's schools, which saw over 5,000 school children engaged in Maccabi GB events. This tournament welcomed six Secondary Schools who brought 16 teams between them. In total, over 120 boys took part in the competition.
The year groups were split into three – Years 7 and 8 competed in a 5-team-round-robin league, with the top team winning outright. This leg of the tournament saw many boys playing who were featuring in their first ever Maccabi GB School Sports Tournament with other Jewish sportspeople. JFS dominated the group and finished the day winning all of their games. Years 9 and 10 followed the same format in a 6-team round robin group, with King Solomon crowned the victors after some outstanding performances. The Year 11+ group played in a 5-way tournament with Hasmonean and Yavneh tied on points at the top of the group. The winners' medals were awarded to Hasmonean who scored the most points throughout the afternoon.
Maccabi GB's Head of Sport, Matthew Travers, gave his thoughts on the afternoon's competition, "The Basketball tournament always produces some great play and you can see the enthusiasm the young players have for the sport. With recruitment for the European Maccabi Games 2015 starting it is great to see such a wealth of talent here competing today."
Team Maccabi GB Basketball Coach, Tamir Grant, attended the event to recruit some new players, "I am really impressed with what I have seen here today. Some of the players taking part have been involved with Maccabi GB Basketball for some years, but there are quite a few new players who I hope will be representing Maccabi GB in Berlin in 2015".
For a full list of Community Schools Sports Tournaments and events visit www.maccabigb.org/programmes-events and visit www.maccabigb.com/photo-gallery to see pictures from this competition.