SLAM-DUNK FOR MACCABI GB & THE JC'S SECONDARY SCHOOL BOYS BASKETBALL TOURNAMENT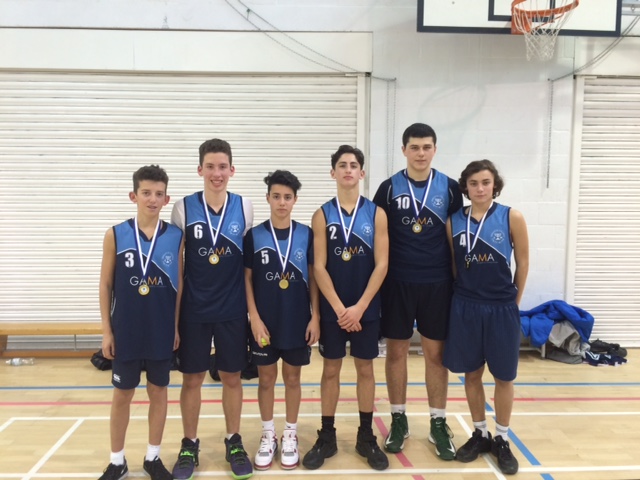 King Solomon had a bounce in their step on Wednesday as they came away with two winner's titles from the Maccabi GB & Jewish Chronicle Secondary School Boys Basketball Tournament. Immanuel College also claimed a victory in the annual event.
The event, at JFS in Kenton, welcomed five Secondary Schools who brought 15 teams between them. In total, over 120 boys took part in the competition with some really strong basketball being played throughout.
The year groups were split into three – Years 7 and 8 competed in a five-team-round-robin league group, with the top team winning outright. This leg of the tournament saw many boys playing who were featuring in their first ever Maccabi GB & JC School Sports Tournament with other Jewish sportspeople. King Solomon dominated the group and finished the day winning all of their games.
Years 9 and 10 followed the same format with a showdown game between hosts, JFS, and Immanuel College to determine the winning side. Immanuel just edged the game to win by one point and claim their winners' medals.
The Year 11+ group played in a 5-way tournament with JFS and King Solomon battling it out to come first. After an epic final match between these two sides the tournament was decided with a last-second basket it was King Solomon who ended the day as champions.
Maccabi GB's Head of Sport, Matthew Travers, gave his thoughts on the afternoon's competition, "The quality of basketball being played today was incredibly high and this bodes well for future Maccabiah Games and other international events. I am sure we will see many of the players here go on to represent Team Maccabi GB in the future. Alongside the quality and intensity of play was a real sporting spirit and all the teams deserve credit for being a part of such a great tournament."
For a full list of Community Schools Sports Tournaments and events visit www.maccabigb.org/programmes-events